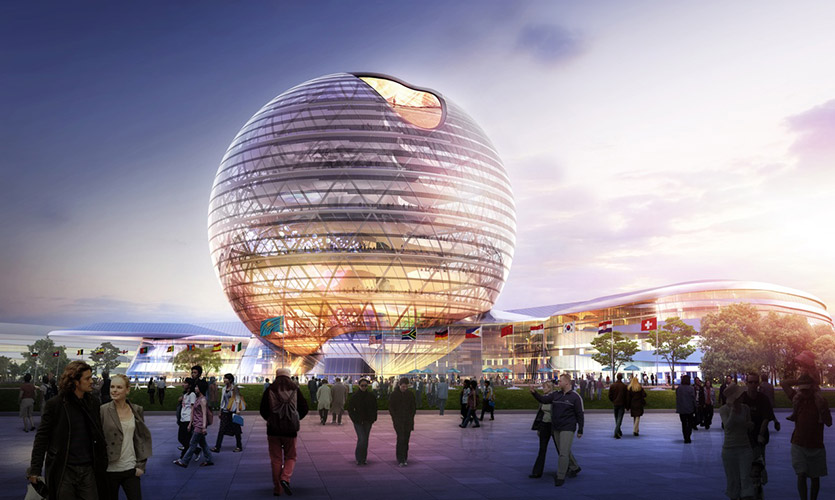 Kazakhstan's EXPO 2017, an international exposition featuring the theme of "future energy," opened with much fanfare on June 9 in Astana, the country's capital.
The large spherical building that houses Kazakhstan's national pavilion, the "Nur Alem," was the centerpiece of the event's opening ceremonies, which included an impressive display of fireworks and a laser light show. No doubt, the glittering reflective glass of the building will continue to wow the three million visitors the government anticipates between now and September, along with the various state pavilions which opened to the public on Saturday, June 10.
This "wow" effect is exactly what the government hopes for. President Nursultan Nazarbayev proudly exclaimed back in November 2012, when Astana was chosen to host the exhibition, that EXPO 2017 "is Kazakhstan's greatest achievement at the international level since independence." He has also said that it will "showcase to the international community" the achievements of independent Kazakhstan.
Kazakhstan has come a long way economically since it gained independence in 1991. But with President Nazarbayev in power for 25 years, it has not had an election that could be considered free and fair by independent monitors. The government restricts fundamental freedoms and has become increasingly intolerant of any sort of display of discontent.
In recent years, Kazakh authorities have increased their heavy-handed response to peaceful protest, imprisoned activists and journalists on politically motivated charges, shut down critical media outlets, and closed independent trade unions. Authorities have also imposed burdensome reporting obligations on nongovernmental organizations, targeted critics with the overbroad criminal offense of "inciting social discord," and more recently, harassed prominent human rights groups with lengthy, time-consuming, but most of all unjustified tax inspections.
Kazakhstan craves international recognition. Yet mega events like EXPO 2017, while impressive, should not distract from the serious human rights problems in Kazakhstan, or from the human costs of the government's repressive policies.
I am thinking of the two Kazakh trade union activists who – from their jail cells in Astana – will not be able to attend the concerts or visit the pavilions. On April 7, Nurbek Kushakbaev was sentenced to two and a half years in prison for the so-called "crime" of advising workers on how to stage an effective and peaceful strike. Amin Yeleusinov was sentenced to two years on May 14 on politically motivated charges of embezzlement of trade union funds. The trade unionists were arrested after protesting authorities' shutdown of the country's largest independent trade union, the Confederation of Independent Trade Unions of Kazakhstan.
Or take the case of Larisa Kharkova, the president of that confederation, who spent the better part of the last two years trying to comply with Kazakhstan's repressive trade union law, which the world's most authoritative labor rights body, the International Labour Organization, has criticized and expressly called on Kazakhstan to amend. After authorities closed down the union on January 9, law enforcement opened a criminal case against Kharkova in what appears to be retribution for her activism.
Foreign investors – many of whom recognize the importance of upholding international labor standards – should take note that while the government claimed it was creating a better system of social partnerships and modernizing trade unions, the reality is that they decimated Kazakhstan's independent trade union movement. The government also forces employers' organizations to join a state-controlled employer's organization.
Others too have felt the hand of Astana's repressive and intolerant policies. Max Bokaev and Talgat Ayan, activists from western Kazakhstan, are serving five-year prison sentences because they and others dared to peacefully protest against the government's proposed land reforms in 2016. After large-scale discontent with the proposed reforms, President Nazarbayev signed a moratorium to halt consideration of the proposals for five years. Meanwhile, Bokaev and Ayan still languish in prison.
The authorities' actions against its various critics have created a menacing atmosphere. On May 14, Ramazan Yesergepov, a prominent government critic and journalist, was viciously stabbed by two unidentified assailants on an overnight train journey to Astana, where he planned to brief European diplomats about imprisoned activists and journalists. It has been several weeks since the attack, and while it looks like Yesergepov will recover, there is no sign that the police have made any meaningful progress in their investigation.
Kazakhstan aspires to be one of the top 30 most developed countries by 2050. No one can fault Astana for seeking out opportunities like EXPO 2017, but the government's rights-violating policies are an impediment to such economic aspirations. Astana should take immediate and meaningful steps to lift undue restrictions on freedom of assembly, speech, and association, and release imprisoned activists.
Dignitaries and high-level foreign officials such as the presidents of Switzerland and Finland who are expected to visit EXPO 2017 this summer should remind Astana that if Kazakhstan genuinely wants to occupy a place at the table of the world's most developed economies, the government has to uphold its international labor and human rights commitments.
EurasiaNet.Org, 12.06.2017