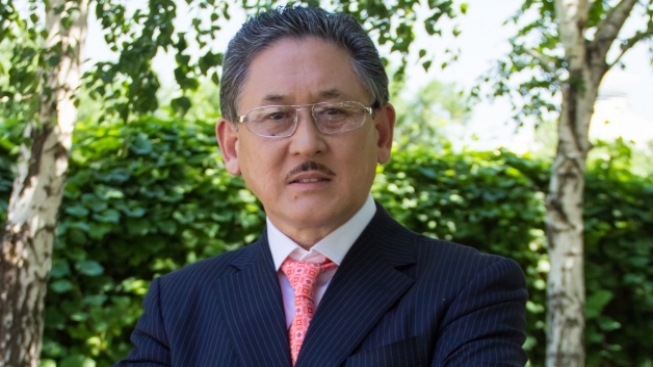 Kazakhstan's anticorruption agency says it has detained the chief editor of the Central Asia Monitor newspaper and the executive director of Radiotochka.kz news website on suspicion of fraud — another in a widening array of arrests of journalists in the country.
The National Anti-Corruption Bureau said in a press release on November 15 that Bigeldi Gabdullin was using media under his control to attack government officials by publishing articles about them. According to investigators, Gabdullin later sought money from the officials in exchange for desisting from negative reporting about them.
The officials targeted in this scheme allegedly lobbied for Gabdullin to receive government contracts through a system of media subsidies known as the state order. The objects of the claimed blackmail operation later had positive articles about them appear in the media, investigators claim.
Gabdullin is accused of targeting the government of Zhambyl region with this approach and pressuring it into paying him 10 million tenge ($29,000). Seven state bodies were blackmailed by Gabdullin in this way, anticorruption officials said.
Gabdullin is being held in a detention facility in the capital, Astana, pending investigations. Neither Gabdullin nor his representatives have commented on the accusations against him so far, but Radiotochka.kz has said it is continue to operate as normal.
This marks the second high-profile arrest of a journalist within the past year in connection to the state order — a contentious arrangement that media experts say undermine the development of a sound and independent media landscape. The system was established in 2010 and consolidated funding for government-friendly outfits. State media outlets get expenses covered through the system, while private sector peers are required to compete for allocations.
According to a profile by Vlast.kz, 61-year old Gabdullin headed the Tan television station in the 1990s, as well as the newspaper Novoe Pokolenie ("New Generation) and XXI Vek ("21st Century). He was at one stage the deputy head the Republican People's Party of Kazakhstan led by a former prime minister, Akezhan Kazhegeldin.
In January 2001, Gabdullin faced charges of insulting President Nursultan Nazarbayev after running reports in XXI Vek alleging corruption among top officials.
Kazhegeldin left for exile in the West in 1997 and Gabdullin followed suit and left for the United States some years later, citing alleged persecution.
Gabdullin returned to Kazakhstan in 2004 and set up Central Asia Monitor. Earlier this year, he was elected to the city council of Almaty with the ruling Nur Otan party.
The previous case involving the state order related to Seitkazy Matayev, the head of the Kazakh Journalists' Union, who was sentenced to six years in jail in October on charges of defrauding government agencies of around $1 million. Rights activists said the case was politically motivated and an attempt by the authorities to silence a relatively independent voice.
Kazakhstan has drawn concern from international advocacy groups and some foreign governments for a perceived clampdown on freedom of expression in recent times. In response to a wave of antigovernment protests earlier this year, the government embarked on a mass campaign of arrests and detentions of activists and reporters alike.
EurasiaNet.Org, 15.11.2016