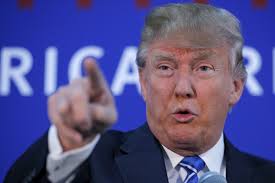 Central Asia has looked at Donald Trump's election to the US presidency and some of it likes what it sees. The rest seems unbothered.
Kazakhstan's President Nursultan Nazarbayev fired off a note of congratulations to his counterpart-to-be and suggested that Trump drop in for a visit.
"I believe that under your leadership, the United States will remain a mainstay in the preservation of stability, security and prosperity in the entire world," Nazarbayev said in the statement.
The haste and palpable warmth of the statement are hard not to see as a ringing endorsement. Nazarbayev, like Russia's Vladimir Putin, clearly see in Trump a figure untroubled by such trifles as the promotion of democracy and human rights.
When Hillary Clinton last visited Kazakhstan, in 2010, she made a point of raising the plight of a jailed human rights defender, Yevgeny Zhovtis, while also hailing Astana for its progress on human rights.
Maulen Ashimbayev, a member of parliament with the ruling Nur Otan party, predicted that Trump's victory would prove beneficial to Kazakhstan by virtue of the prospect of improving relations between Washington and Moscow.
"Of course, to guarantee something is impossible, but some progress is possible between these two countries. This will certainly have a positive impact on Kazakhstan insofar as Kazakhstan has a multivector foreign policy. We are interested in maintaining, developing and strengthening our relations with the United States. Russia is a key partner in all spheres. And so improvement of relations between the United States and Russia is in line with our interests," Ashimbayev was cited as saying KazInform state news agency.
The MP also said that Kazakhstan expected to continue cooperating with the US on security issues.
"Kazakhstan is an active member of the antiterrorist coalition. We help the US and other countries in the fight against terrorism," he said. "I think that our relations with the US will remain stable."
Kazakhstan's currency, the tenge, slipped slightly against the dollar as news emerged of Trump's certain win in the fight for the White House, but experts quizzed by one website predicted this would only be a short-term blip.
"His policies are more beneficial to Kazakhstan because relations between Russia and the US have a direct impact on our economy. If the sanctions are lifted, Kazakhstan will earn new potential for import and export. As for the currency, all its movement in the past few days has been related to the elections. Everything will calm down as soon as Trump is installed as president. These are just temporary oscillations," Orazaly Sabden, director of the economy institute at the Education and Science Ministry, told Informburo.kz.
The punditry has expressed similar thoughts in Kyrgyzstan, which is also curious to see how US-Russia relations will evolve.
Political analyst Sheradil Baktygulov said the impact of a Trump White House on Kyrgyzstan would only be indirect, since there are few direct points of shared interest between the nations.
"Uzbekistan and Kazakhstan can have a foreign policy dialogue with the US. But Kyrgyzstan had only one thing — the Manas air transit center. But with its departure, there are no more grounds for dialogue," Baktygulov told 24.kg news agency.
Kyrgyzstan is a substantial recipient of US assistance in a number of areas including health, education and security. Although Trump's foreign policy positions are not always wholly coherent, the general tenor of his rhetoric has been customarily addressed at insular and national interests, which may spell trouble for aid programs.
At the more authoritarian end of the region, the latest chapter of the Trump phenomenon is being viewed, if at all, only half-attentively. And the scant attention is more than certainly mutual.
Uzbekistan is going through its own presidential transition, so minds there are concentrated for now on developments in their own election due for December 4. Tashkent is at present dabbling with a form of ersatz political and diplomatic thaw, which would have presented an engaged Western community with interesting opportunities for reshaping policy toward the region, as suggested in a recent Carnegie Endowment for International Peace report.
"Uzbekistan could assume a higher place in US regional diplomacy if a post-Karimov government proves to be less repressive and more reform-oriented. It is arguably the most important country in the region from the standpoint of security and US engagement in Afghanistan. Although US policy aims to reduce America's involvement in Afghanistan, as long as leadership role and to help put Central the United States has an interest in the security of Afghanistan, Uzbekistan will remain an important partner," the report noted.
This approach envisions am informed and multifaceted strategy, but the incoming US leader has not indicated he views relations with security partners as requiring such nuanced terms. Instead, it can be widely expected that Washington's policy on Uzbekistan will become ever more dominated by the security agenda, if that is even possible.
It is a similar picture in Tajikistan, and early reactions to Trump's victory in Dushanbe reflect that position.
Saifullo Safarzoda, deputy head of Tajikistan's presidential Center for Strategic Studies, hailed Trump for his "courageous character" and said the US electorate had rewarded him for his "honest statement and actions."
"During the election campaign, he was much criticized for the fact that he was in favor of normalizing relations with Russia and with its leader Vladimir Putin. I am convinced that Trump will achieve a lot of positive things in the development of Washington's relations with [post-Soviet] countries, including with Tajikistan," Safarzoda said.
As the most isolated country in the region, Turkmenistan has not yet even publicly acknowledged the election. With Ashgabat keeping Western energy majors at arm's length from its substantial gas riches, the interest of US investors may be flagging, sapping the vitality of Washington's diplomatic interest in the country at the same time.
This seems a pity since it is probable that Trump would feel at home surrounded by gaudy, pointless, expensive and money-losing architecture.
EurasiaNet.Org, 09.11.2016