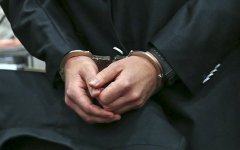 A Kazakh businessman was sentenced to 21 years in prison on Monday on charges including plotting a coup against veteran President Nursultan Nazarbayev.
Tokhtar Tuleshov, best known for running Shymkentpivo, one of the former Soviet republic's largest breweries, was subjected to a closed trial before a military court in the capital Astana, and reporters were only allowed to hear the verdict.
His detention in January raised eyebrows in the oil-rich nation as observers found it hard to believe a medium-tier businessman could plan and lead a coup against Nazarbayev, in power since 1989.
At the same time, unusually for a Kazakh businessman, Tuleshov ran the Kazakh office of a Russia-based organization called the Centre for the Analysis of Terrorist Threats.
Its website published anti-Western and pro-Russian articles, including one alleging that Islamic State militants were sending reinforcements to Ukrainian nationalists.
Tuleshov has been imprisoned since January but Kazakhstan's National Security Committee accused him in June of inciting and bankrolling a series of protests against land reforms in April and May which forced Nazarbayev to delay the planned changes.
On Monday, Judge Yerbol Akhmetzhanov read out the verdict and a long list of crimes for which Tuleshov had been convicted. Those included planning to violently seize power in the nation of 17 million and running an international criminal group involved in murder and kidnapping.
It was unclear whether Tuleshov had pleaded guilty, and his family's lawyer declined to comment.
Nazarbayev who has run the country first as a communist boss and then as president, tolerates little dissent. In 2008, a local court found his former son-in-law Rakhat Aliyev, tried in absentia, guilty of plotting a coup. Aliyev died last year in an Austrian prison awaiting trial on charges of murder.
(Reporting by Raushan Nurshayeva; Writing by Olzhas Auyezov; Editing by Mark Trevelyan)
Reuters News Agency, 07.11.2016