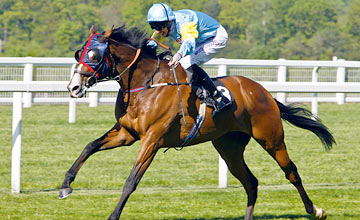 There is nothing special about Taraz, who runs in a 0-80 handicap at Pontefract (5.40) but there's plenty out of the ordinary about the four-year-old's owner, Nurlan Bizakov, all the way from Kazakhstan.
I thought Kazakhstan might have been owned by Stan Powell, along with neighbouring Uzbekistan, Kyrgystan and Turkmenistan because Powell owned The Brianstan, Le Johnstan and several other stans.
Unfortunately, Powell died 16 years ago and it turns out that Kazakhstan, although having a population of less than 20 million, is huge - two thirds the size of the whole of the European Union, excluding the UK.
It's also got enormous mineral wealth and a correspondingly enormously wealthy group of entrepreneurs, among them Nirlan Bizakov. Business practices in Kazakhstan can be unsettling and in 2000, having been controversially ousted as chairman of the Shymkent oil refinery, Bizakov's armed supporters briefly occupied the refinery and reinstated him.
In 2007 Bizakov became chairman of Kazphospate, with offices in Taraz. I'm not sure what the state of play is now but in 2010 Bizakov bought Hesmonds Stud and started buying well bred and costly bloodstock.
In 2011 he paid 1.7 million guineas for a yearling filly subsequently named Nazym, unraced and now living at Hesmonds Stud, and 1.2 million guineas for Testosterone. Despite the apparent clue in the horse's name, Testosterone was a three-year-old filly who, having cost €15,000 as a two-year-old, had won a Group 2 and Group 3 race in France and finished second in the Group 1 Prix Vermeille. Sent to Ed Dunlop, Testosterone won once more - a Listed race at Nottingham in 2013 but died later that year.
So far, Bizakov's most successful racehorse has been Askar Tau, a 145,000 guineas yearling who won the Group 2 Lonsdale Cup and Doncaster Cup in 2009 and the Group 3 Sagaro Stakes in 2011 when trained by Marcus Tregoning.
Bizakov, 52, has 22 horses in training, mainly with Roger Varian and David Simcock. His light blue and yellow colours are likely to be even more in evidence in future years, perhaps depending on the price of oil and phosphate. Hesmonds Stud houses 26 mares, 17 foals and 16 yearlings and it will be interesting to see how they fare.
Cheering for Ingram
It will be nice for Bizakov if Taraz wins at Pontefract but it will be even nicer for Roger, Sharon and daughter Rhiain Ingram if Encapsulated wins a 0-65 handicap at Chelmsford (6.50).
Sometimes you want a horse to win purely because it will mean something to a trainer for whom a win isn't an every month event.
Roger and Sharon have been working away at their Epsom yard for almost 25 years. Likeable and dedicated, they have never had a really good horse, although Boule D'Or won two good handicaps at Nad Al Sheba in 2005.
Their most prolific season was in 1997, with 17 winners, but since 2005 double figures have proved elusive. When Dragon Dream won at Kempton on Monday it was the yard's first success since April.
Encapsulated has a realistic chance. Go on!
www.racingpost.com, 14.09.2016