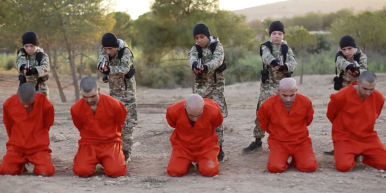 ISIS often features Central Asia's children in its propaganda videos, labeling them "Cubs of the Caliphate."
Following a series of defeats on the battlefield and a loss of control over strategic cities such as Fallujah in Iraq and Manbij and Jarabulus in the north of Syria, the so called Islamic State (ISIS) again revived its online propaganda activities through the Al Hayat Media Center.
In the last ten days of August, ISIS issued two colorful magazines, one in French and one in Arabic, linking to more than 15 video and audio clips promoting violence and the brutal killing of prisoners and civilians. After thorough analysis of these materials one gets the impression that ISIS is trying to compensate for its military defeats with promotional activity. These videos often depict children from Central Asia as heroes who came to Syria with their parents and joined the ISIS youth fighting group, "Cubs of the Caliphate."
On August 26, ISIS released a horrific, but professionally cut, video–titled "Nations United Against You"–in which five boys (who look to be 10 to 12) are shown killing captured Kurdish militia troops. The children in the video are wearing military uniforms, while the prisoners are in orange prison outfits.
Enjoying this article? Click here to subscribe for full access. Just $5 a month.
One of the children, identified as Abu al-Bara al-Tunisi (the Tunisian), addresses the Kurdish fighters in Arabic, promising more violence and saying the battle against them has not yet begun. The other children are identified as Abu Ishaq al-Masri (the Egyptian), Abu Abdullah al-Britani (the Briton), Abu Fu'ad al-Kurdi (the Kurd) and Yusuf al-Uzbeki (the Uzbek).
Al-Tunisi addresses Western countries in the video as well, saying "USA, France, Great Britain, Germany – neither humans nor genies will help you! Prepare your coffins, dig your grave, you will face the fate of these people." Al-Tunisi and the children shoot the hostages in the back of their heads, shouting "Allah Akbar."
Among the "executioners," who are barely out of diapers, is a boy labeled Yusuf al-Uzbeki, which means his ethnic origin is Uzbek. Al-Uzbeki appears to be one of the leaders of the children's group.
Through this video the main ideologist of ISIS, Abu Muhammad al-'Adnani, wanted to deliver to the global community the message that the possible fall of Raqqa, the capital of the Islamists, will not stop the "holy war" against "disbelievers" since the children of the Caliphate are capable of continuing the jihad. Indeed, for the last three years ISIS has managed to rear a new generation of jihadists, ready to wage war against the West in the future.
Western media paid particular attention to this video, since among the executioners there was a boy from the English county of Kent named JoJo who was identified by his father. JoJo's mother, 47-year-old Brit Sally Jones, divorced her husband and fled to Syria in 2013, where she joined ISIS. Later she accepted Islam and changed her child's name to Khamza. According to the Quilliam Foundation, an anti-extremist organization, there are about 50 British-born children living in areas under ISIS control.
This is not the first video featuring children from Central Asia. Terrorist organizations like ISIS, Jabhat al-Nusra, the Taliban, the East Turkestan Islamic Movement, and Imam Bukhari Jamaat have used children from Central Asia–from Uzbekistan, Kyrgyzstan, Tajikistan, Kazakhstan, and Uyghurs from Xinjiang in China–in their propaganda material. Videos often contain footage of military training of children, executions of prisoners, and suicide bombings.
Recently, Central Asians saw on YouTube a terrible video of a teenager, Babur Israilov from Jalal-Abad in southern Kyrgyzstan, on his way to becoming a suicide bomber. In the video, Babur cries before being sent to his death in an armored car laden with explosives in Fua, Syria. One of the fighters gathered around encourages him, saying in Uzbek that Satan intervenes at crucial moments to confuse a Muslim's mind, so he should think only of Allah. Further in the video sentimental Arabic music plays, the armored personnel carrier moves, and, at the fatal moment, the bomb explodes. According to Radio Free Europe/Radio Liberty, Babur Israilov was a member of an extremist group of Uzbeks–Imam Bukhari Jamaat–which fights alongside Jabhat al-Nusra in Syria.
Just like the father of the British boy JoJo, resident of Suzak district in the Jalal-Abad region of Kyrgyzstan Tahir Rahitov saw his son Babur via video. According to Tahir, his wife died in 1995 and the boy was raised by his grandmother. In November 2013 Babur left for Russia in search of work. In March 2014 he arrived in Syria via Turkey, joined Imam Bukhari Jamaat, and fought alongside Jabhat al-Nusra against the government of Bashar al-Assad.
On January 13, 2015, ISIS released through Al-Hayat Media a short video titled "Uncovering An Enemy Within." The video presents segments from the confessions of two men whom ISIS says were spies working for the Russian intelligence services. The men are executed at the end of the video by a young Kazakh boy. He executes the men by shooting them from behind, one of them several times. The child is then seen proudly raising his gun in the air while smiling, while a caption reads: "Honor stands firmly in the land of the caliphate, above the corpses of disbelief that lay humiliated under the feet of these young mujahideen. The examples of Mu'adh and Mu'awwadh resonate in their hearts, fueling an unyielding fervor to inflict death upon the enemies of Allah..."
In early April 2016 Islamic State's propaganda center, Furat Media, posted a video in which a resident of Osh, Abu Amin, was sitting with his grandson and calling the people of Central Asia to come with their families and protect the Caliphate, where, he said, all conditions have been created for bringing up children in the spirit of Islam. In March 2016, ISIS spread a video called "Message from the heart to the lands of Kazakhstan" in which Marat Maulenov, the son of a resident of Kazygurt district of the South Kazakhstan region, in a camouflage uniform and holding a weapon, threatens Kazakh President Nursultan Nazarbayev, calling him "qafir." A young man says in Kazakh: "Oh, Nazarbayev, bear in mind...our arms are here, but our eyes are focused on Kazakhstan."
On December 19, 2015 the Imam Bukhari Jamaat released a video online which shows a training camp and school for the group's Central Asian children. The 18-minute video shows dozens of children receiving schooling and military training in Syria. The children, who range from under 10 years old to their mid-teens, are seen reading the Quran, learning Arabic, practicing mathematics, and learning Sharia. The children are then shown partaking in physical exercises, including running and mock boxing matches. In addition to the physical exercises, the children are also taught how to handle and fire weapons.
In a video released on September 24, 2015, the Turkestan Islamic Party (TIP) showcased several children attending a training camp for children in Idlib province. The video was produced by Islam Awazi, the official media branch of the TIP. In a tweet to advertise the video, the jihadist group called the children "little mujahideen." Prior to that Uyghur jihadists produced two videos, on July 4, 2015, and on April 24, 2013. In the videos, the children, some of whom appear to be no older than six, are shown firing handguns, AK-47 assault rifles, and a PKM machine-gun from various positions.
The TIP has long operated in Idlib alongside the al-Nusra Front. The Turkestan Islamic Party also operates in China as well as Central and South Asia and is thought to have scores of fighters and its leadership located in Pakistan's tribal areas and in Afghanistan. The TIP is largely made up of ethnic Uyghurs and fights with the aim of creating an Islamic state in the Chinese province of Xinjiang.
According to the special services of Kyrgyzstan, about 140 minors have been taken from Kyrgyzstan to training camps in Iraq and Syria. The vast majority of children are under the age of 14, with an estimated 85 children under the age of 10. Authorities have not reported how many children have come to the Islamic State from Kazakhstan, Tajikistan, Turkmenistan, and Uzbekistan. According to human rights organizations more than 600 children from Central Asia are in ISIS-controlled areas of Iraq and Syria. Most children were brought into the conflict zone by their parents.
According to various estimates, there are 4,000 Central Asians fighting with various groups in Iraq and Syria. Estimates of the number of children from the former republics of the Soviet Union vary, and no one can pinpoint the exact number.
The president of the Quilliam Foundation, Noman Benotmane, performed a conceptual analysis of children in the Islamic state. He said, "It is clear that enrolling (to establish quantity) children into the armed groups is now a major problem in Iraq and Syria, with many organizations, including ISIS, Jabhat al-Nusra (JN) and the Free Syrian Army (FSA) recruiting children and adolescents."
According to the "Children of the Islamic State" report, there are several categories of children in the "Caliphate" – children of foreign fighters, children of local fighters, abandoned children, children that are forced to enroll (either from ISIS-controlled orphanages or those that are abducted), and voluntary recruits. Together they form what is known as "Cubs of the Caliphate."
Recently Brett McGurk, the State Department's point man in the battle against the Islamic State, said the militant group has lost 47 percent of the territory it previously controlled in Iraq and Syria, a sharp reduction in the size of its self-declared caliphate. Thirty percent of the foreign fighters who joined the Islamic State's ranks have returned home, according to a report by the Committee of the United Nations Security Council.
On August 4, 2016, U.S. President Barack Obama said that the Islamic State militant group has shifted tactics from seeking new territory to using terrorist attacks outside its strongholds in Iraq and Syria after losing ground militarily there to the U.S.-led coalition.
With the weakening of ISIS and the loss of its fighting spirit, Central Asian citizens who fought on the side of ISIS have begun to return. According to Kyrgyz security services representative Rakhat Sulaimanov, 20 children have already returned from Syria in 2016 and were held criminally responsible (those who returned from Syria are involved mainly in two articles of the Criminal Code of Kyrgyzstan: 226-4 "participation in armed conflicts or military actions" and 375 regarding "Mercenary" behavior).
Recently the Ministry of Internal Affairs of Tajikistan declared to their citizens who are in the Islamic State that if they will voluntarily return and repent for their involvement in the wars in Syria, Iraq, and other countries, then they will be exempted from criminal liability. But few have taken Dushanbe at its word.
Kyrgyzstan, Tajikistan, Kazakhstan, and Uzbekistan law enforcement agencies have no clear work plan that deals with the "children of Caliphate" who return from Syria. Central Asian governments have failed to develop a program of prevention of children at home similar to what exists in Great Britain. It is an important priority for government agencies to integrate former religious extremists into a new peaceful society, and bring them back to civilian life. However little has been done in this area so far. The power structures, social institutions and local authorities of the Central Asian states are unable to work with radical Islamic groups. Similar to the past, security agencies prefer to work through repressive methods. Police officers and prosecutors drive religious radicals and minorities deep underground through arrest, prosecution, and intimidation, detaching them from both the society and the state. But this does not solve the problem of Islamic radicalism. Indeed, extremists use accumulated anger and resentment toward the authorities to recruit more members.
Uran Botobekov has a PhD in political science and is an expert on political Islam.
The Diplomat, 20.09.2016