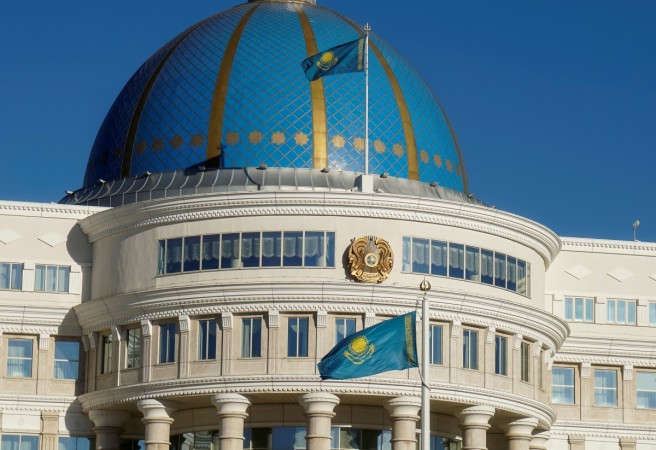 A weakening economy has triggered top-level changes in oil-rich Kazakhstan by President Nursultan Nazarbayev.
Kazakhstan President Nursultan Nazarbayev is apparently planning "transition" of power that could see his daughter Dariga Nazarbayeva's son Nurali head the oil-rich Central Asian republic. The speculation of a possible, albeit gradual move by Nazarbayev has been triggered by top-level political changes announced last Thursday.

In a brief announcement, Nazarbayev, in a presidential decree, had "dismissed" Prime Minister Karim Massimov and replaced him with First Deputy Premier Bakytzhan Sagintayev.
Why advertise with us?

Massimov was appointed as the chief state spy, or head of the National Security Committee, also apparently as a stop-gap measure.

The developments, seen in the context of the country's efforts to revive growth in the wake of falling crude oil prices, are the first steps to an eventual "transition" of power by Nazarbayev, says a report.

"To appoint Karim Masimov, Chairman of the National Security Committee of the Republic of Kazakhstan, dismissed the Prime Minister of the Republic of Kazakhstan.

"The Government of the Republic of Kazakhstan to perform their duties until the new composition of the Government of the Republic of Kazakhstan.

"To impose temporary charge of the Republic of Kazakhstan Prime Minister Bakhytzhan Sagintayev to Abdirovich - First Deputy Prime Minister of the Republic of Kazakhstan," the decree read.

Nurali Aliyev, Deputy Mayor of Kazakhstan's capital Astana since 2014, is the son of Dariga Nazarbayeva, a Kazakh lawmaker and Deputy Prime Minister of Kazakhstan since September 2015, and manages her business interests. He is being seen as a potential successor to Nazarbayev.

"The young man, now in his early thirties, has nevertheless been tipped as an eventual candidate for the future presidency, should Nazarbayev decide to "skip a generation," The Times of Central Asia said in a report on Monday.

The move could see the end of Nazarbayev's 25-year-old rule at a time when the global crude oil price fall has upset the economies of many oil-rich countries.

"The collapse of oil prices has sunk the nation's currency and inflation has surged to the fastest since 2008. Nazarbayev pledged this year to revive growth by selling government assets, overhauling state institutions and fighting corruption. The 76-year-old leader is also seeking to map out a transition from his rule," Bloomberg had reported last week.
International Business Times, 12.09.2016