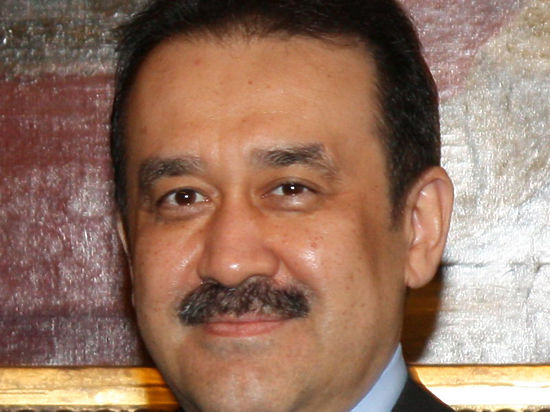 The latest shift in Kazakhstan's highest echelons of state power has almost immediately led to speculations concerning the eventuality that the head of state, now 76, but apparently still in good health as opposed to his ailing peer in Uzbekistan, is preparing the ground for his succession.
Last week, Prime Minister Karim Massimov was removed from his post by the head of state and appointed Chairman of the National Security Committee of Kazakhstan. His successor as Prime Minister, former First Deputy Prime Minister Bakhytzhan Sagintayev, is known as a little-outspoken career executive but unconditionally loyal to the president.
Following the reshuffle Bloomberg reported, "The collapse of oil prices has sunk the nation's currency and inflation has surged to the fastest since 2008. Warning of a 'real crisis', Nazarbayev pledged this year to revive growth by selling government assets, overhauling state institutions and fighting corruption. The 76-year-old leader is also seeking to map out a transition from his rule, with his eldest daughter Dariga having been named deputy premier in 2015 after serving as deputy speaker in parliament."
The spectre of putsch-attempts
It all looks to be pretty much beside the point. It is Massimov's new job as the head of the National Security Committee which is the true eye-opener in the sequence of affairs. He is the first non-professional holding the post of chief state spy.
The post now held by Massimov was previously occupied by Alnur Mussayev, from May 1997 till September 1998, and from August 1999 till May 2001. He was later ousted over his alleged role in a putsch attempt masterminded by his deputy who was no one less than Rakhat Aliyev, the notorious son-in-law of President Nazarbayev who was to end up hanging himself in an Austrian prison cell in early 2015.
The man in function during the interval was Nurtai Abykayev, who lost his job for his role in the sale of old warplanes to North Korea.
Abykayev reappeared in August 2010, succeeding the short-lived career of Adil Shayakhmetov who had only held the post since early December 2009 but was removed for his alleged role in another putsch conspiracy supervised by a high-ranking official at the Prosecutor-General's office, Murat Musabekov.
Potential successors
Aliyev's wife Dariga Nazarbayeva, now tipped by many as a possible successor of her father, divorced her husband Aliyev keeping their son Nurali under her wing. Nurali, appointed deputy mayor of Astana in 2014, spends most of his time as chief executive of a number of holdings that control the business interests of his mother, most of which left to her after Rakhat Aliyev's downfall, and keeps a low profile. The young man, now in his early thirties, has nevertheless been tipped as an eventual candidate for the future presidency, should Nazarbayev decide to "skip a generation".
But should that be true, then there are other scions tipped for the job – and once more the importance of the Security Committee appears there. "Kazakh President Nursultan Nazarbayev has signed a decree on the appointment of his 37-year-old nephew, Samat Abish, as the first deputy chairman of the National Security Committee. Earlier, he held the post of the deputy chairman of the Committee," the Russian newsreel ia-centr.ru reported on December 31 last year. "Lieutenant-General Vladimir Zhumakanov was appointed the chairman of the National Security Committee yesterday. Former chairman of the National Security Committee Nurtai Abykayev was appointed a deputy of the Kazakh Senate."
Zhumakanov is now "presidential adviser" and his organization is being supervised for the first time by a non-insider. Suggestions that Zhumakanov could be "in the waiting room" biding his time in a bid for the presidency should be dismissed – not in the least because he is not an ethnic Kazakh. The same is true for Massimov who is known as an Uyghur. In the eyes of the public and its opinion makers, being a "true Kazakh" is an absolute precondition for the post of President of Kazakhstan – after all, exactly that triggered the wave of revolt that shook Kazakhstan back in 1986.
Choice between conservatism and uncertainty
The main trouble is that in a country where the public excels in indifference when it comes to democratic principles, the issue of "succession" remains focused on ambitious individuals – inside or outside the family – rather than issues of public interest. It leaves players in the entire game with the hapless choice between keeping things as they are and staring into a dark hole. Calling in factors such as the national economy is pointless: Kazakhstan is not a global power and even those are unable to change the course the global economy is taking.
Speaking in general, geographic, economic, social and political factors both concerning internal conditions within various communities and involving cross-community relations form a complex determining the status of communities, including their statehood, in which various factors are much less obvious and much more intertwined than often assumed. The formation of nation-states, whether born out of domestic tradition or out of aggression and expansion, is being interpreted as a process that is now complete, and any change or disruption seen as an attack on an order that lacks any historical logic altogether. At least, this is how things appear to be seen in Kazakhstan...
The Times Of Central Asia, 12.09.2016