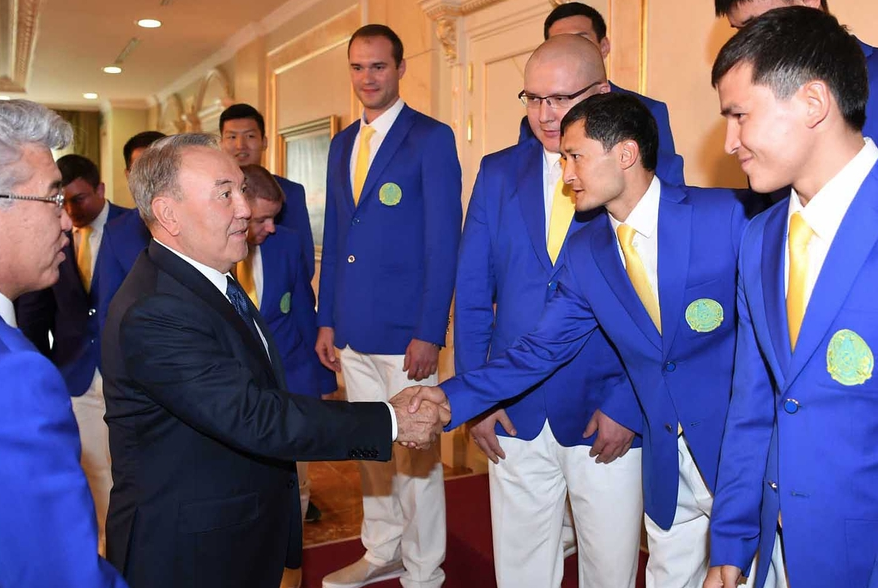 Discoveries of drug cheating by some of Kazakhstan's sporting heroes have injected a dispiriting note into preparations for the upcoming Olympics Games in Rio de Janeiro.
The euphoria inspired by the record medal haul of the 2012 London Games is long gone and expectations for these Games are modest. Disappointment for Kazakhstan would be doubly crushing, as success in sport is intended not just to foster patriotism, but is also a core part of the state project to boost the nation's standing overseas. The country recently made a strong bid for Almaty to host the 2022 Winter Olympics, only to lose out in a narrow vote to Beijing.
"Sport in Kazakhstan has a symbolic power for both domestic and international audiences. The voluminous amount of state funding being plowed into sport and sporting events demonstrates how the president views sport as a powerful political tool," Rico Isaacs, an expert at Oxford Brookes University on Kazakhstan and its use of soft power, told EurasiaNet.org.
Kazakhstan will be represented in Rio by 104 athletes across 26 disciplines. The country's traditional strong suits are sports emphasizing strength and brawn, like boxing, wrestling and weightlifting. In athletics, Olga Rypakova will be hoping to repeat her London gold-winning performance in the triple jump.
But the shadow of doping has cast a gloomy cloud over the squad. In June, many were shocked to learn that double Olympic champion Ilya Ilyin, the golden boy of weightlifting, had been found to have violated anti-doping rules both at the 2008 Beijing Olympic Games and at the 2012 Games in London. Three other gold medal winners from the London Games — Svetlana Podobedova, Maia Maneza and Zulfiya Chinshanlo — also fell foul of doping rules in samples from 2012 that were re-tested recently. All four are suspended from competing in Rio and may lose their medals if the findings are upheld.
There is no underestimating the importance of sport to the government and to President Nursultan Nazarbayev personally. The generous state funding to which Isaacs alluded is funneled through the Astana Presidential Sports Club, an umbrella organization founded in 2012 that throws cash at soccer, hockey and cycling teams.
Significantly for these Olympics, individuals like the now-disgraced weightlifter Ilya Ilyin are also beneficiaries of the club's largesse. In 2012, weightlifting accounted for four of Kazakhstan's record haul of seven gold medals. The weightlifting team escaped an outright ban from the Rio Olympics, but it is facing a one-year ban from international competition after the Games, and the 10 licenses it was originally allocated were cut to eight.
The weightlifting team includes two current World Champions — Nijat Rahimov, who previously represented his native Azerbaijan in international competition, and Belarusian-born Alexandr Zaichikov — so Kazakhstan still has a good chance of having medalists in this sport.
It may be a slim consolation for Kazakhstan's public relations agenda, but the fallout of the weightlifting scandal has been somewhat mitigated by the greater clamor over the cheating scandal engulfing Russia.
"The impact of the doping scandal, while a blow to the image of the country the regime has been seeking to export, will most likely be limited. Western media reports on the scandal are focused predominantly on Russia, rather than the other countries involved," Isaacs said.
Unlike Russia, which has adopted a belligerent stance over systemic doping allegations, Kazakhstan has taken a conciliatory approach. In June, Prime Minister Karim Masimov called for investment in a domestic, high-tech laboratory to avoid "unexpected surprises" in the future. In June, work at Kazakhstan's World Anti-Doping Agency (WADA) accredited laboratory in Almaty was suspended for four months after the failed drug tests from 2012 came to light.
Kazakhstan is taking no chances with the athletes it is sending to Rio. Between July 20 and August 1, all the competitors were tested, with the samples sent to the WADA laboratory in Dresden, Germany, for analysis. Any violations will be met with tough sanctions, Kazakhstan's National Olympic Committee has warned. From the very top, the message is to keep calm and focus on the Games. "Your job is to win, to fight," Nazarbayev told Kazakhstan's Olympians at a July 4 meeting, urging the athletes not to be concerned with "the situation with all these anti-doping measures that are incomprehensible to many."
What is more comprehensible to many is that low oil prices and the knock-on effect of a downturn in Russia are battering Kazakhstan, and that is translating into cutbacks for sports. Budget cuts at the Astana Presidential Sports Club are having a particularly adverse effect on Kazakhstan's most recognizable competitive brand — cycling's Astana Pro Team.
Budget woes are prompting the loss of established talent and creating difficulty in drawing big new names. Astana's leader, 2014 Tour de France winner Vincenzo Nibali, signed for the newly-formed Bahrain Merida team on August 3. And earlier this year, Astana was linked to the rising star of world cycling, Peter Sagan, but it was announced on August 1 that the 2015 Road Cycling World Champion would instead be joining Germany's Bora-Hansgrohe team from next season.
The Astana cycling team has had plenty of doping problems of its own, and last year it narrowly avoided being banned for the 2016 season after five of the team's riders tested positive for banned substances at the end of 2014.
Ahead of the Olympics, Astana is working hard to get people back behind its sports projects. A project called "Root for Our Guys, Be Closer to Sport" is handing out a schedule of Rio events in shopping malls in the capital to stoke public enthusiasm for the Olympic team's efforts.
This all goes beyond sports. The Games offer Kazakhstan a chance to regain a sense of optimism that has been ebbing amid economic hardships, doping scandals, unprecedented protests against land reforms and sporadic outbreaks of suspected terrorism. With the country gearing up to celebrate its 25th anniversary of independence from the Soviet Union later this year, the feel-good factor is in need of a reboot.
EurasiaNet.Org, 04.08.2016