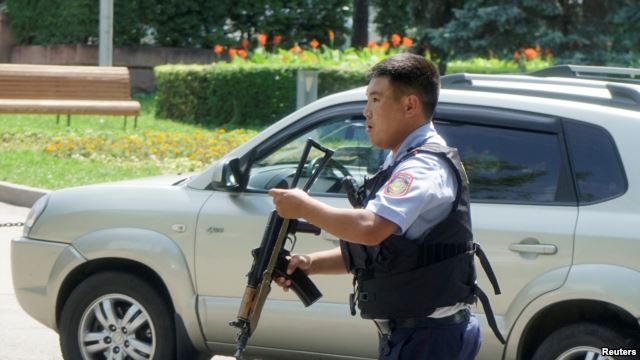 There were widespread protests against government land-reform plans in late April that culminated in countrywide rallies against government policies on May 21. Hundreds of people were arrested in the days leading up to and on the day of that protest.
Then in June, an armed group roamed the streets of the northwestern city of Aqtobe in an incident that left 28 people dead, most of them from the armed group, and that has just been followed by a killing spree by a lone gunman in the commercial capital, Almaty.
Certainly, these are occurrences the general population would like to be informed about, especially when the situation is evolving rapidly. But it has been difficult to receive accurate information -- or sometimes even any information -- from media and officials, especially from the country's president, while these events unfolded.
In this most recent incident, on the morning of July 18, reports said policemen in Almaty had been shot, that attacks might be happening at three places in the city simultaneously, and that people should stay indoors.
Some local television channels "decided" to suspend broadcasting. So many of those who heeded the warning to stay indoors were left to use cell phones or the Internet to receive information about what was happening in Almaty. Kazakh officials have warned repeatedly against relying on information spread via social networks.
Some of those television channels that went off the air explained they had planned to do maintenance at that time and stuck to their schedules, despite the crisis situation unfolding in Almaty. When they did resume broadcasting, many of the channels had prepared reports about events in Almaty. The Khabar channel had a reporting team at the scene when it came back on the air in the early afternoon.
The temporary suspension of broadcasting is actually to be expected. Regulations adopted in 2014 obligate owners of media outlets -- print, radio, or television -- to hand over texts of their reports to the local "komendatura," the officials in charge of preserving order during a state of emergency, 24 hours before the reports are published or broadcast.
No one at the television stations said that was the reason for being off the air, but management is surely aware of these rules.

​​After the suspect in the attacks was apprehended in Almaty, President Nursultan Nazarbaev said, "It is important to rigidly suppress panicky rumors...and inform the public about Almaty events."

It was a quick response from Nazarbaev, since he remained silent and out of the public eye for several days in the wake of the June 5 attack in Aqtobe and after the unsanctioned demonstrations on May 21.
The Kazakh president seems lately to prefer allowing top officials to speak when crises break out, but this, too, has led to some confusion, mainly due to what appears to be a rift between the Interior Ministry and the National Security Committee (KNB).
Commenting on the Almaty attacker, KNB chief Vladimir Zhumakanov, who was appointed to his position at the end of last year, said the assailant was a terrorist who had been imprisoned for robbery and had fallen under the influence of Islamic radicals while incarcerated.
The Interior Ministry later portrayed the Almaty attacker as a petty criminal who, having been released from jail, decided to target police in revenge for being imprisoned. Interior Minister Kalmukhanbet Kasymov said on July 19 that the gunman said during questioning that his initial plan had been to attack judges and employees of the Prosecutor-General's Office.

Following the June 5 violence in Aqtobe, when police were still searching for fugitives, KNB chief Zhumankanov was shown on television on June 7 briefing President Nazarbaev about the situation. Zhumakanov told Nazarbaev there was information earlier that day about an attack on a kindergarten and children's summer camp. But shortly after that, the Interior Ministry released a statement denying there were attacks at either place.
Kazakhstan has been relatively free from acts of violence, mass killings, terrorism, and large-scale unrest throughout its nearly 25 years as an independent country. Incidents so far in 2016 have shown authorities still need to learn some things about how to respond to such crises when they occur.
RFE/RL's Kazakh Service, known locally as Azattyq, 20.07.2016