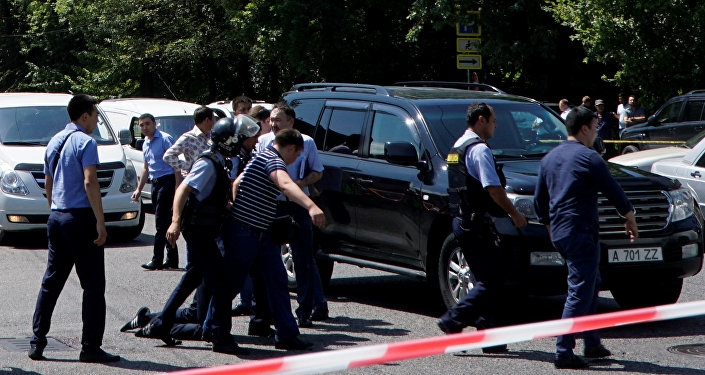 In the wake of the deadly Almaty shootings, authorities in Kazakhstan are drawing up measures to step up the fight against extremism and considering the creation of a fingerprint and DNA register.
"Penalties for crimes of an extremist or terrorist character will be intensified through an increase in the minimum and maximum prison sentences. Rules will be brought in on the confiscation of property as a mandatory form of punishment for extremism and terrorism," National Security Committee chief Vladimir Zhumakanov said at a government meeting on July 19.
The measures proposed had been drawn up before the July 18 events in Almaty, which authorities have said were the single-handed work of 26-year old Ruslan Kulekbayev, but they are now being discussed with fresh urgency.
One plank of the suggested new measures includes tightening control over the circulation of firearms.
"It is planned that there will be a strengthening of control over the circulation of firearms, and administrative penalties for violating rules in that area will be made stricter," Zhumakanov said.
Interior Minister Kalmukhanbet Kasymov proposed at the same meeting that citizenship be stripped from people that had left the country to join extremist organizations overseas.
Kasymov's ministry is now developing legislation on fingerprinting and DNA registration that will be brought to parliament by the end of the year. No details are forthcoming yet, however, about who would be included in such registers, which have sparked concern about privacy rights and ethical-legal objections over citizens' right to presumption of innocence elsewhere in the world.
The issue of the role that religious extremism played in the Almaty attack remains somewhat contentious, however. Zhumakanov said in the hours after the events that the gunman, Kulekbayev, had been radicalized while serving a prison sentence.
Kasymov offered a complementary or contradictory version, depending on the perspective. He said that Kulekbayev was taking revenge for earlier convictions and decided to mow down all policemen that appeared in his way. Kasymov said the gunman first went to a courthouse and waited for around half an hour in the hope of coming across a judge to shoot, but he eventually became fed up and walked to the nearby police station instead. Kasymov denied reports that Kulekbayev had been shouting "Allah hu akbar," as some eyewitnesses claimed.
"When correspondents take interview from some woman that says how she supposedly was standing next to the Almaly police precinct and saw a gunman running out, and then she says 'I didn't know where to call (...) he was crying Allah hu Akbar,' well, that just a big lie. And that's what we saw on the internet," Kasymov told reporters after the government meeting.
Bet that as it may, officials are now talking again about how to stamp out religious radicalism. The need for action in this area was made a top priority in 2011 after the last wave of apparently terrorism-linked violence, but gradually slipped down the agenda.
Culture and Sports Minister Arystanbek Muhamediuly talked at the government meeting about the steps being taken this time around.
"First, stop the activities of unregistered missionaries. We are proposing a law ... broadening the options for prosecution for illegal religious missionary activity, especially where this concerns followers of religious currents," Muhamediuly said.
Muhamediuly said another approach would be to increase control over the transportation, production, publication and distribution of religious material. Amendments to the law are also being considered to give his ministry greater discretion over enforcing regulations on religious pilgrimages abroad, which would "reduce the opportunity for Kazakhstan's citizens to be infected with radical ideologies," he said
The minister suggested it might be advisable to press the Spiritual Directorate of the Muslims of Kazakhstan — in effect a para-statal religious affair body — to draw up standards on proper religious customs.
In their entirety, the spirit of these measures appears designed to further marginalize and criminalize non-mainstream religious movements. The unwieldy, top-down imposition of faith standards may be problematic to implement for a government that has struggled to articulate any ideology beyond the boosting of economic indicators and political and social continuity at all costs.
Most of the official proposals are catered primarily toward enhancing deterrents, although it is questionable how effective such methods can ever truly prove. It is debatable that the group of men that sowed terror through the western city of Aktobe last month would have acted otherwise had they known they might face longer prison sentences for their actions. Proposed methods of preventing radicalization, meanwhile, notably avoid addressing any issues that might nourish marginalization and frustration, since doing so would inevitably imply a tacit failure on the part of the government.
One exception came from Tamara Duisenova, minister for health and social development, who spoke of her concern at youth unemployment.
"The number is 686,000 people. These are the self-employed and unemployed. A part of these live in rural areas. These are mainly young that did continue education after finishing schools, people without education, people with criminal records and the unemployed," she said.
Yerlan Karin, a terrorism expert affiliated to government-run institutions, has ben less circumspect.
In an interview published in state newspaper Kazakhstanskaya Pravda, Karin suggested a sobering list of factors behind the creeping sense of social despair.
"The reason for radicalization in Kazakhstan are marginalization and criminalization, especially among the young. Of course there are also other problems, like unemployment, low salaries and corruption, which intensify the problems of social inequality in society and create the conditions for those preaching radicalism," he said.
EurasiaNet.Org, 20.07.2016