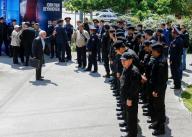 Hundreds of Kazakhs have taken to the streets in a rare series of public dissent against President Nazarbayev


Kazakh police derailed a fresh protest against land reforms on Saturday by detaining several activists and blocking access to the main square of Almaty, the Central Asian nation's biggest city.

Hundreds of Kazakhs have taken to the streets in several cities over the last two weeks in a rare series of public dissent against President Nursultan Nazarbayev's government.

Their main demand is the reversal of a legal reform aimed at launching large-scale farmland privatization, which would allow foreigners to lease local plots for up to 25 years, up from 10 years under the current regulations.

Nazarbayev has tolerated little dissent in running the former Soviet republic, a major oil producer, since 1989. He relented somewhat to the recent protests this week by delaying the reform until the end of this year, but warned that further rallies would meet a tough response.

On Saturday, police pre-emptively detained several political activists ahead of a planned rally, including those who had no plans to attend, one of the detainees and an opposition politician told Reuters.

One activist, Mukhtar Taizhan, wrote on his Facebook page that he had been detained as he left his house in the morning and taken to a police station where he spent four hours with another activist before being released without charge.

On Thursday, Taizhan wrote on Facebook that he would not take part in the protest following Nazarbayev's move.

Opposition politician Amirzhan Kosanov said several other activists had also been detained but no one had been charged.

"I am not stepping outside because they are waiting for me too," he told Reuters by telephone. "This looks like a pre-emptive move to ensure (activists) do not attend the protest."

Dozens of police also cordoned off part of Almaty's main square where protesters planned to gather, and preventing people who were arriving one by one or in small groups from entering. Reuters correspondents saw police detain a handful of protesters who tried to evade the cordon.
Reuters, Almaty
Sat May 7, 2016