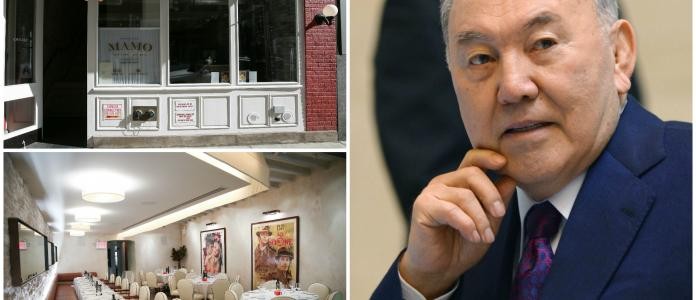 Even Borat would have laughed at the security precautions the president of Kazakhstan took during a dinner in Manhattan — as the Central Asian strongman demanded waiters at a posh Soho restaurant be replaced with his own lackeys, his dishes be disinfected with vodka, and a doctor test every morsel of food for danger, sources said.
Nursultan Nazarbayev was so worried about his safety during his visit to the celebrity hangout Mamo on Monday that he garrisoned the eatery with security guards. "He had eight people from the [US] Secret Service inside the restaurant," a witness told The Post. "As well as 15 to 20 people from his own security detail. Outside the restaurant, it was insane."
Nazarbayev, 75, even had his food tested by an underling, as if he were some kind of ancient king instead of a modern national leader.
"He had his personal doctor go into the kitchen, as well, to test all the food," said a spy.
The doctor inspected the Mamo fare by placing it "into little tubes," the source said. He then relayed the results to the president's staff in the dining room through "an earpiece," sources said.
All the grub passed inspection and the presidential party — which included himself and some close family — looked "really impressed' with the meal, which included truffled pizza, penne with lobster, a burger and roast chicken. It was all delivered to the president by Nazarbayev's own "personal servants" instead of restaurant waiters, a source said.
And in another twist, all the plates to hit the president's table had to be "disinfected with vodka — all of them." It was not clear why.
All of the security unnerved other diners in the restaurant, whose clientele includes Samuel L. Jackson, Jay Z and Beyoncé.
"I hope we are secure," one diner was overheard wondering. Another shot back, "I think this is the most secure dinner you've had in your entire life."
It's not clear why Nazarbayev was so paranoid, though he has run Kazakhstan unopposed since 1991 and has been accused of silencing critical media and stamping down opposition. Kazakhstan has been satirized by comic Sacha Baron Cohen in the 2006 film "Borat."
The Consulate General of the Republic Of Kazakhstan did not return a request for comment on Tuesday.
Daily News, 6.04.2016