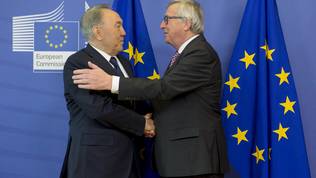 On Wednesday, there was an event held in the EU, which usually doesn't gather much attention, but the combination with other events made it attractive. We are talking about the visit of Kazakhstan President Nursultan Nazarbayev to Brussels.
Yes, no mistake. We are talking about the same president of the largest Central Asian republic, who has been in power since ... the year when the Berlin wall started collapsing in Europe (1989). As First Secretary of the Communist party of the Kazakh SSR, Nazarbayev did not change course after the country separated from the USSR in 1991. His rule remained as authoritarian as before. Nazarbayev is the ideologist behind the Eurasian economic union, created 20 years after he announced his idea back in 1994. Kazakhstan, however, has the second richest deposits of natural gas in Eurasia after Russia. This is why it is an important partner to the EU, which is trying to get away from Russian energy geopolitics.
At their meeting on March 14th in Brussels, the Union's foreign ministers agreed on five principles for relations with Russia, the second of which is intensifying relations with the countries from Central Asia. Last year, the EU and Kazakhstan signed an agreement for partnership and cooperation, which has already been ratified by Kazakhstan, as President Nazarbayev announced after his visit to the European Commission. According to EC President Jean-Claude Juncker (Luxembourg, EPP), the EU is Kazakhstan's most important partner. President Nazarbayev added that 50% of the country's trading volume is with the EU and that 50% of investments come exactly from the EU. This however, did not stop Nazarbayev from adding that China and Russia remain Kazakhstan's most important partners.
Where is the problem?
Juncker was laconic during the brief statements, after which no questions were allowed. He said that he raised the subject of rule of law during his conversations with the Kazakh president, so he would not repeat himself in front of journalists. "I have known the president for a long time and I know, that he treats this problem very seriously", added Juncker, never missing to name him his friend as well. After this the word was given to Mr Nazarbayev, who thanked for the congratulations from the EU on the event of the presidential elections last year, which, in his words, were praised by observers from 60-70 countries for being free. This, however, is not so. In the statement of the European External Action Service of April 27, 2015 it says that, according to the mission of the Organisation for Security and Co-operation in Europe (OSCE), preparation for the elections was effective, but voters were not given any choice of political alternatives.
It also says that there were considerable limitations to the freedom of expression as well as to the media environment. There is not a single word of praise in the statement. It is underlined that to the EU it is important that Kazakhstan responds to the OSCE's recommendations prior to the parliamentary elections in 2016. Kazakhstan did not respond as it becomes clear from the reaction of the European External Action Service to the elections of March 21 of this year. It says in the service's statement that Kazakhstan needs a full reform of the legal framework, for it limits basic civil and political liberties. Besides, serious procedural mistakes and irregularities were detected during the voting and the counting of votes. Nevertheless, Jean-Claude Juncker does not see it as important that he lays out the EU's position on this matter in front of journalists, among which there are also representatives of Kazakhstan media.
And all this just days after the European Parliament adopted on March 10 of this year a critical resolution about Kazakhstan. It condemns the "deteriorating climate for the media and free speech in Kazakhstan". The EC, however, does not find it necessary to remind Nazarbayev that the EU is unhappy. Everyone says their words and they go. Lost media time.
Just a week earlier, on March 21, President Barack Obama made a demonstration of the new approach to authoritarian regimes, not used to answering journalists' questions. During his historic visit to Cuba, which ended the decade-long freeze of American-Cuban relations, Barack Obama gently and carefully forced his host Raul Castro to answer journalists' questions, after which he admitted that President Castro and he continue to have serious differences, including ones regarding democracy and human rights. "And President Castro and I have had very frank and candid conversations on these subjects". The USA recognise Cuba's right to decide its own path. It is a sovereign state and so Cuba's future will be decided by the Cubans, stressed Mr Obama.
At the same time, the USA will continue to speak on behalf of democracy, including when it is about the right of the Cuban people to decide their own future. Obama accepted with open arms the criticism of his Cuban colleague about poverty and inequality in the US. After that he gave the floor to questions. There were some to President Castro, who initially attempted to shun them by playing absentminded, but was gently urged by Barack Obama. It got to the point where Raul Castro complained: "You are asking too many questions to me. I think questions should be directed to President Obama", he said. This, however, did not stop Obama, who asked for one more answer to the journalist Andrea Mitchell from NBC. "Okay, now I'm done, but Señor Presidente, I think Andrea had a question for you just about your vision. It's up to you. He did say he was only going to take one question and I was going to take two. But I leave it up to you if you want to address that question. Andrea, she's one of our most esteemed journalists in America, and I'm sure she'd appreciate just a short, brief answer", said Obama.
Castro decided to respond with a long and sharp reply. "I know that if I stay here, you will ask 500 questions. I said that I was going to answer one. Well, I answered one and a half. President Obama has already helped me out with the answer here, Andrea", Castro began. Then he decided to counterattack by deciding that he should be asking the questions. "There are 61 international instruments recognised [about human rights]. How many countries in the world comply with all the human rights and civil rights that have been included in these 61 instruments? What country complies with them all? Do you know how many? I do. None", said the Cuban president and appealed that the issue was not politicised.
Surely this press conference will make it into the textbooks. It already received wide coverage in American media. The New York Times came out with a wide material on the subject, focusing exactly on the success of Barack Obama in making Raul Castro answer journalists' questions. Whether a change for the Cuban media environment will follow is yet too early to say. The moral of the story here is that President Barack Obama made it very clear that the USA had learned their lesson. Unfortunately, not the case with Europe, whose "soft power" until recently was based exactly on these "intrinsic" values. As the Turkey-EU meeting showed two weeks ago, the EU appears unable to defend its values, even when attacked at home turf. At home, it proves unable to even say in front of TV cameras what it does not like about an authoritarian state like Kazakhstan, even with the risk that Nazarbayev would say what he does not like about the EU. Such attitude reveals the huge problem that the EU has with itself – in the name of trading or geopolitical gain it keeps silent about things, in which it otherwise swears as in its own Bible.
Or covering works of art in order not to offend a visiting leader of a theocratic state, as Italy did during the visit of Iranian President Hassan Rouhani earlier this year. Both him and PM Matteo Renzi denied. According to international media, however, not only were the naked statues covered from the sight of the Iranian head of state, but there was no wine served at the official meals. Something France refused to do (also with Rouhani). President Obama's lecture, mere days after the humiliating flight of sparks between Jean-Claude Juncker, Donald Tusk, and Ahmet Davutoğlu showed once more how weak Europe has become in the last few years. So much so that it is even unable to draw power from the very values it believes in.
This poses the question does it really believe in these values if it is not ready for a self-sacrifice in their name? And if it is not prepared to say openly and with no reserve that in Europe women are equal to men and can dress as they please; that alcohol is permitted with the relevant restrictions for adolescents; that everyone can follow whatever religion he or she pleases, provided it does no harm to others; that yes, we do have problems with the rule of law and freedom of speech, but we are fighting this, because life is better in a democracy, that thousands of people died for and we respect their memory.
Translated by Stanimir Stoev
www.euinside.eu, 31.03.2016