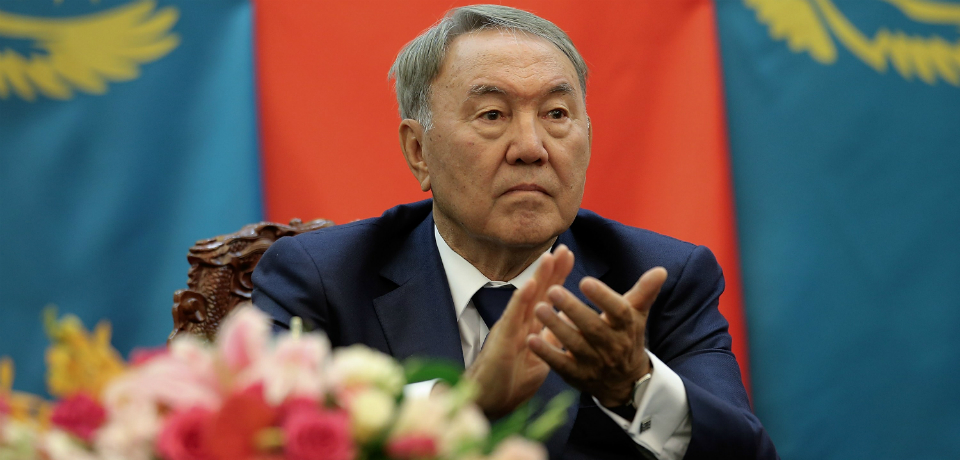 Nursultan Nazarbayev has presided over Kazakhstan since 1989. During that span, the president consolidated his grip on power over the media, the economy, and the political process, amassing a slew of of landslide victories for himself and his loyal, rubber stamp legislature. But as the 75-year-old autocrat now enters the twilight of his rule, one question looms large for the fate of the nation of Kazakhstan and its vast oil-wealth: Who, or what, comes after Nazarbayev?
On the surface, Sunday's parliamentary elections look like more of the same for Kazakhstan: a sweeping win for the president's party in a vote with no real opposition, and one the Organization for Security and Cooperation in Europe said was neither free or fair. But despite the predictable result, there are early signs the wheels may be in motion for a succession scenario in a country that has only known strongman rule.
Speaking to reporters after casting his vote in Astana, the capital of Kazakhstan, Nazarbayev said he could entertain changing the political system to grant more authority to parliament.
"We have a presidential system. We could talk about a redistribution of power between different branches — the presidency, parliament, and the executive," said Nazarbayev, before calling on other countries "not to rush" Kazakhstan on the path toward democracy.
Nazarbayev has offered vague plans to open up the country's tightly controlled political system in the past, but no measures have been taken. But many analysts are wondering how much longer the aging president can delay laying the groundwork for a successor.
Following the vote, attention focused on Dariga Nazarbayeva, the president's eldest daughter and current deputy prime minister. In the coming days, should Dariga become speaker of the house, or another high ranking post, it could solidify her position as an heir to the presidency, said Camilla Hagelund, senior analyst at Verisk Maplecroft, a risk management firm in the United Kingdom.
"The planning is starting, but there is no clear path forward yet," Hagelund told Foreign Policy.
Dariga was once considered the likely successor, but a major scandal involving her ex-husband Rakhat Aliyev may have tarnished her chances. Aliyev, a former Kazakh diplomat and high-powered businessman, went into exile in 2007 after being accused of money-laundering, murder, and plotting a coup against Nazarbayev. Aliyev said the charges were politically motivated, but was apprehended in 2014 by authorities in Vienna. He was held in an Austrian jail until he was found dead in 2015 in an apparent suicide.
Another potential contender is Kairat Satybaldy, the president's nephew, and a high-ranking member of the country's security services. Hagelund notes that other contenders like Timur Kulibayev, the husband of Dariga's younger sister Dinara and one of Kazakhstan's richest people, is in the mix. Also in the running is Nurali Aliyev, Dariga's eldest son and the deputy mayor of Astana.
"There isn't any kind of succession system built into place in Kazakhstan. The idea of someone else besides Nazarbayev sitting at the top is unprecedented," said Eric McGlinchey, associate professor of politics at George Mason University.
Sunday's vote came amid a growing financial crisis in Central Asia spurred by a fall in oil prices, Kazakhstan's main export, and an economic downturn in Russia, Kazakhstan's strongest ally. The change in economic fortunes has fomented fears among its leadership about growing dissent in the country in an era of cheap oil. In February, the Kazakh government announced it expects economic growth to slow to 0.5 percent in 2016, a huge drop from the growth of the past fueled by high oil prices. Moreover, inflation has risen to 15 percent, with Kazakhstan's currency, the tenge, losing 30 percent of its value in 2015.
Amid the economic malaise, Nazarbayev may be looking to buy time to maintain political order among the country's elites, according to McGlinchey.
"As soon as you identify someone as the successor, then you undercut your own position," said McGlinchey. "Not saying who will take over after him is a good way for Nazarbayev to keep all sides loyal to him and not face any opposition."
By delaying the naming of a successor, Nazarbayev is able to keep the reins of power in Kazakhstan. In 2015, the president was re-elected to a new five-year term with a whopping 98 percent of the vote, according to official results. Similarly, Sunday's parliamentary elections saw the president's party retain 82 percent of the electorate, nearly identical results to the previous parliamentary vote in 2012.
"The fact that Nazarbayev is still ruling the same means that he really isn't ready to give up power yet and will likely hold on until he can't any longer," said Luca Anceschi, a Central Asia expert at the University of Glasgow. "The problem is that he likely won't know that moment until it's too late."
Foreignpolicy.com, 21.03.2016