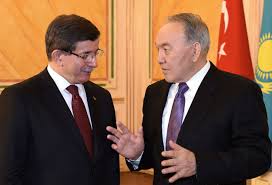 Turkish Prime Minister Ahmet Davutoğlu visited Kazakhstan, on February 6, where he and his host government discussed bilateral cooperation on large-scale transit corridor projects (Akorda, February 6). As a "new Silk Road" of transportation infrastructure slowly emerges across Eurasia, Turkey and Kazakhstan are becoming important transit hubs within this network.
Yet, their commonality of interests is complicated by worsening Russian-Turkish relations over Moscow's Syria policy, which took a dramatic downturn in the aftermath of the November 24 shooting down of a Russian Su-24 bomber that Turkey had accused of violating its airspace. Kazakhstan sees improved economic ties with Turkey as a positive element in reviving its own moribund economy, which has been battered by low oil prices. But given Kazakhstan's close economic ties to fellow Eurasian Economic Union (EEU) member Russia, Ankara will need adroit diplomacy to avoid rankling its northern neighbor. Meanwhile, Turkey, whose economy was heavily damaged by both Russian sanctions and slumping tourism due to terrorist attacks in Ankara and Istanbul, is again flirting with the idea of a closer association with the EEU, and hopes that Kazakhstan may be able to ease Turkey's access to the Eurasian regional market.
Behind the scenes, Kazakhstani President Nursultan Nazarbayev has sought to reconcile Russia and Turkey. Six days after the downing of the Russian jet, Nazarbayev touched upon the incident, telling his citizenry, "We are greatly saddened by the events that occurred between Russia and Turkey. As of now, all the details are not known. But the fact is that the Russian bomber was not attacking Turkey. It did not go to Turkey. It was at war with terrorists." Nazarbayev showed an acute awareness of the potential consequences of diplomatic inaction, adding, "I am someone who has worked for many years in order to bring Russia and Turkey closer together, to make their relationship friendly. Since the time of [Turkish] Prime Minister [Süleyman] Demirel, starting with [Russian] President [Boris] Yeltsin. And all of this that was built over many years could now come to nothing. However difficult it is, there needs to be a way to work together, to create a commission to identify those responsible, to punish them, to admit any mistakes and to restore the relationship. This is what I am urging our friends in both Russia and Turkey to do" (The Astana Times, November 30, 2015).
Despite the recession gripping both their economies, Turkey and Kazakhstan have well-established bilateral trade contacts with the potential for significant expansion, particularly when the long-delayed Baku–Tbilisi–Kars railway begins operations later this year. This new transit corridor will allow both countries to profit from China–European Union trade as well as give Kazakhstan, via Turkey, access to the Mediterranean and beyond, ending this Central Asian republic's geographical isolation and lessening its consequent dependence on Russia. Turkey's Ministry of Foreign Affairs notes the rising tempo of bilateral trade; "The trade volume between the two countries amounted to $3.1 billion in 2012. Moreover, projects of Turkish firms in Kazakhstan exceeded $17 billion (Mfa.gov.tr, accessed February 17).
On February 6, Turkish Prime Minister Davutoğlu began a two-day official visit to Kazakhstan, where he met with Nazarbayev. The agenda included discussions to deepen relations in the fields of transportation, energy and trade. Syria loomed over the discussions, however. The Kazakhstani presidential website Akorda.kz noted, "Today we need to look for the ways out of the situation. The reasons for everything that is happening today are still unclear. The conflicts in Syria and Iraq have demonstrated the lack of unity between Muslims. The moment has come when a conflict between the Sunnis and the Shiites is becoming more real as it had been predicted in the West. The tension between Turkey and Russia is a great challenge for us as well. Both countries are our important allies and partners" (Akorda.kz, February 6).
But once more dismissing Kazakhstan's initiatives, Russian Ambassador to Turkey Andrei Karlov said, on February 9, there was no need for a mediator to mend ties between Turkey and Russia, repudiating efforts not only by Kazakhstan, but Azerbaijan and Kyrgyzstan as well to defuse the crisis through diplomacy (Today's Zaman, February 9).
Shifting the focus away from politics to economic matters, during a press conference in Astana, Davutoğlu optimistically told reporters that Turkey could be a conduit to the European Union for Kazakhstan while the latter was a gateway to the Eurasian Economic Union for Turkey. Warming to his theme, Davutoğlu said, "As soon as the Middle Corridor—a transportation network extending from the Caspian Sea through Turkey and Azerbaijan to Central Asia and China—becomes active, Turkey and Kazakhstan will be two central countries of Eurasia" (Anadolu Ajansi, February).
More explicitly, the conversation between Davutoğlu and Nazarbayev also turned to the possibility of Turkey establishing a free trade zone with the EEU market, which boasts 182 million consumers stretching across Eurasia. Discussions on establishing such an economic arrangement were suspended after the downed Su-24 incident last November. Regardless, Ankara hopes that its partner Astana may be able to smooth Turkey's access to the EEU market, for instance by allowing Turkish businesses to build facilities on Kazakhstani soil. Turkey had already taken a small step in this direction by reaching an investment agreement with Kyrgyzstan in early February that will allow a Turkish textile manufacturer to build a factory in Kyrgyzstan and export its locally made products to all other EEU members duty free (Vestnik Kavkaza, February 8). But while the EEU has negotiated a favorable trading agreement with Vietnam last May (Wtocenter.vn, July 9, 2015), given the heightened tensions between Russia and Turkey, Ankara's closer association with the trading bloc remains a long shot at best in the current political climate.
While Kazakhstan and Turkey would like to improve bilateral trade to stimulate their economies, Turkey's conflicting foreign policy toward Russia over Syria is complicating Kazakhstan's efforts to remain on good terms with both countries. As Kazakhstan took over chairmanship of the Eurasian Economic Union for 2016, Turkey can expect to receive a fair hearing, but Russia is not likely to be enthusiastic—much less EEU-member Armenia, with its historic grievances dating back to World War I. As long as Turkey and Russia remain unwilling to compromise, regional economic issues will continue to take a back seat to politics.
Ocnus.Net, 25.02.2016