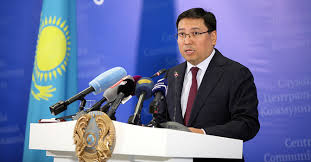 Kazakhstan has slashed its growth forecast for this year, finally acknowledging the scale of damage wrought to its economy by the slump in the price for its main export commodity.
The government now predicts that the economy will expand by 0.5 percent in 2016, down from its previous forecast of 2.1 percent, National Economy Minister Yerbolat Dosayev said on February 23.
The projection has been revised because of low oil prices, he said in remarks quoted by the Kazinform news agency. Still, Dosayev said the government was hopeful growth would still be "in the positive zone."
Others are less optimistic.
Standard and Poor's ratings agency released a forecast last week predicting zero growth, while the London-based Economist Intelligence Unit think-tank believes the economy will actually shrink this year for the first time since 1998, by 2 percent.
The government has now adjusted the figures in its budget to reflect low oil price forecasts and the crash of Kazakhstan's tenge against the dollar, Dosayev said.
It is now basing the budget on a year average oil price of $30 per barrel, which is close to current levels, rather than the previous $40.
Although Astana can balance its books by adjusting prices in the budget, current oil price levels are below those many economists believe make extraction profitable for Kazakhstan.
The government has also adjusted the tenge-dollar exchange rate in the budget to 360 tenge, from 300. The tenge — which has lost around half of its value against the dollar since last summer — is currently worth slightly more than the rate in the adjusted budget, at 349 to the dollar.
President Nursultan Nazarbayev warned the public last week to tighten its belt as there would be no speedy end to the economic crisis, which is the result of recession in Russia and a slowdown in China, both major trading partners, as well as low oil prices.
He issued that warning shortly after announcing that the government would dip into the pension pot for funds to help fight the downturn.
EurasiaNet.Org, 23.02.2016