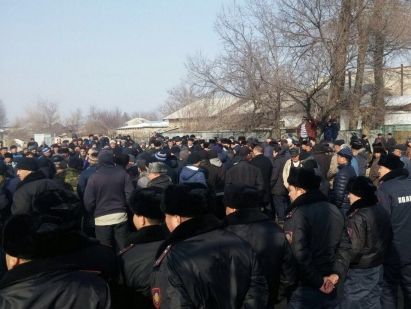 Ethnic tensions are bubbling in southern Kazakhstan, where local authorities have stepped in to restore calm following the murder of a child by a member of an ethnic minority.
Worryingly for Astana, this is the second time in a year that the south of the country has witnessed a local dispute splitting along ethnic lines and breaking out into scenes of unrest, albeit small in scale.
A mob took to the streets in the village of Buryl in Zhambyl Region following the murder of a six-year-old child to demand the ejection from the village of the family of the murder suspect, the NewTimes.kz website reported.
The ethnic element to the dispute emerged because the child, an ethnic Kazakh, was allegedly stabbed to death by an ethnic Turk from the village during a robbery on February 15.
Local authorities held a public meeting to calm tensions on February 17, the day after a mob of 100 mainly Kazakh villagers besieged the house of the family of the suspect, who is under arrest.
Video of a meeting held in the village and attended by elders, posted by NewTimes.kz, showed elders and officials appealing to a rowdy crowd and a heavy police presence.
There were no reports of serious damage or injuries, unlike during a riot last year in the village of Yntymak in southern Kazakhstan following the murder of a Kazakh man by an ethnic Tajik neighbour.
Following the murder, which was sparked by an argument between two friends over the use of a greenhouse, the homes of Tajik families were damaged and vehicles set alight in a night of violence, which was soon quelled after local authorities enlisted elders to calm tensions.
Southern Kazakhstan is a melting pot of ethnicities, with minorities including Uzbeks, Uighurs, Koreans, Kurds, Germans, Azeris and Armenians living side by side. The Meskhetian Turk community from which the murder suspect hails was deported to Central Asia from the Caucasus during the rule of Soviet leader Josef Stalin in the 1940s.
President Nursultan Nazarbayev touts Kazakhstan as a model of tolerance and harmony among its 140 or so different ethnic groups, which generally rub along together relatively peaceably. He has stepped up his rhetoric about the need for unity in multiethnic Kazakhstan in the light of Ukraine's ethnic-tinted descent into violence.
The latest unrest reveals, however, how arguments can quickly escalate and split locals along ethnic lines in Kazakhstan, where Kazakhs form the majority of the population, at 66 percent, and Russians make up the next largest group, at 21 percent.
Ethnic-based clashes are rare in Kazakhstan but have erupted occasionally in the past, usually sparked by local arguments. In 2007, Chechens fought a pitched battle with Kazakhs in the village of Malovodnoye outside Almaty that began over a game of billiards.
The authorities tend to play down such incidents, describing them as routine crimes.
"There is no need to seek scandal [in the holding of the public meeting in Buryl]," Yerganat Manzhuov, the deputy regional governor, said of the latest incident, in remarks quoted by the Novosti-Kazakhstan news agency. "Whoever has committed a crime will be punished in accordance with the law."
EurasiaNet.Org, 17.02.2016