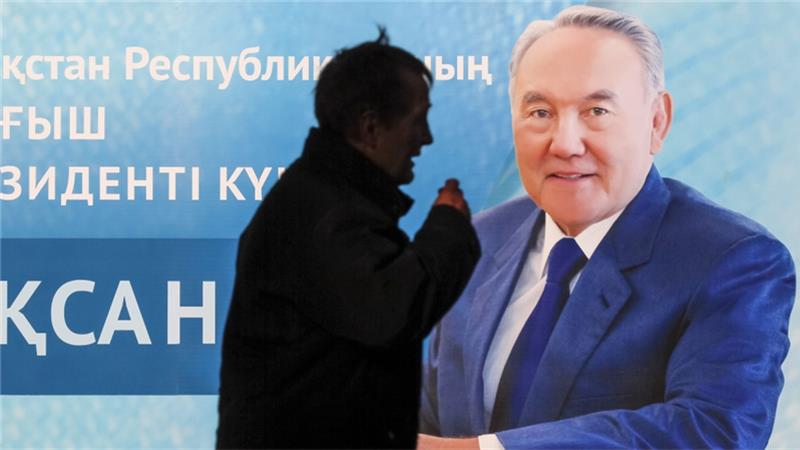 Activist jailed for inciting social hatred on Facebook, then released after apology, as dropping oil prices hit hard. Something surprising just happened in Kazakhstan.
Not the fact that an opposition activist was jailed for two years for inciting social hatred on Facebook, but that he was freed within days, and only after publishing an apology on the same platform which got him into prison in the first place.
"From the evidence against me, I fully admit my guilt and sincerely repent," Serikzhan Mambetalin wrote on January 29, and went on to add that his actions were not worth the tears of his parents or his five-month-old son.
Followers of his story were disappointed.
"We didn't have time to finish our popcorn," one quipped. "Be an example for Kazakhstan, and go eat prison swill!"
Mambetalin has been barred from "socio-political activities" for five years and, as one rights observer put it to me, he emerged from detention a crushed man.
He and his co-defendant Yermek Narymbayev (serving a three-year sentence) had posted excerpts from an unpublished book and were convicted of fomenting social, ethnic or religious hatred and offending "national honour".
Since 2012, dozens of Kazakhstanis have fallen foul of amendments to the country's criminal code, which rights groups say has been used to silence dissent.
Many of those jailed - Mambetalin and Narymbayev included - have questioned Kazakhstan's close relationship with its northern neighbour and trade partner, Russia, and the government is anxious not to allow any cracks to open up in the country's multi-ethnic society, where some 20 percent of the population is ethnic Russian.
As in many post-Soviet countries, social media in Kazakhstan has become one of the last remaining mechanisms through which people can read alternative views and express their opinions.
Unsanctioned public gatherings are illegal, and traditional media is tightly controlled by the state. Opposition broadcasters, newspapers and websites have been shut down.
I went to Kazakhstan to look at the effect the falling oil prices are having on the economy.
Like many oil producers, Kazakhstan's main source of income has been drastically cut and this in turn has massively depreciated the local currency. The Tenge has lost more than 50 percent of its value against the US dollar in six months.
Naturally, people are worried. The price of imported food has soared, while many struggle to pay rent or loans, which are linked to the US dollar.
The risk of a fine or even prison hasn't stopped a small group of holders of dollar-linked mortgages from gathering in recent weeks in Almaty and in the capital Astana.
They have made a lot of noise (and some international headlines) banging pots and pans and wearing paper helmets printed with the slogan $0$. But publicly their anger is directed at the banks, not the authorities.
As if mindful of the public's mood, snap parliamentary elections have been called for March.
The government's English language newspaper Astana Times says it will give the authorities a "mandate" to deal with the crisis.
But it looks more like a smokescreen, to distract everyone from the elephant in the room. Namely, that the country has massive foreign debts to pay back and, as a presidential adviser tells me, a budget depleted by 40 percent.
Hundreds of thousands of state employees will no doubt be mobilised to make the election a logistical success, and based on previous votes the electorate will put the president's Nur Otan Party firmly back in control of the rubber-stamp parliament.
President Nursultan Nazarbayev will turn 76 this year and while the country has enjoyed almost two decades of growth under his leadership, the economy is predicted to contract for the first time since 1998.
Negotiating the bumpy ride may not be suited to the top-down decision-making that emanates from his palace. One insider told me that those closest to the president are too afraid to tell him how serious the situation is.
Kazakhstan lacks political figures who can genuinely question the state of things - either in parliament, or on social media. Mambetalin and Narymbayev were vocal critics but, like the protesting mortgage-holders smarting from the hikes in their repayments, hardly political heavyweights.
President Nazarbayev has weighed in on the pot-wielding protesters, warning that he will stop any "provocateurs" who might "scream from traffic intersections", threatening to take advantage of the economic situation.
Given the consequences for Mambetalin and Narymbayev, anyone frustrated by the way their government has been handling the crisis will think twice before taking to social media, or the street, to express their point of view.
Source: Al Jazeera, 11.02.2016