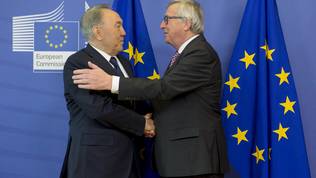 Kazakh President Nursultan Nazarbayev ordered his government on Wednesday to allocate 360 billion tenge (689 million pounds) to build affordable housing to support the economy, which has been hit by the long slide in oil prices.
Nazarbayev's Nur Otan party is almost certain to retain control of the lower house of parliament in a snap election on March 20, and public discontent over worsening economic conditions has so far been muted.
But the government is keen to cushion the blow of oil's fall, which could undermine an implicit social contract whereby 18 million Kazakhs have over the last two decades traded political freedoms for stability and relative prosperity.
The value of Kazakh exports, dominated by oil and metals, plunged 42 percent last year, largely due to lower oil prices, sending shockwaves throughout the economy. The tenge currency, meanwhile, has lost nearly half of its value against the dollar since August, when the authorities scrapped their policy of pegging it to the dollar at a fixed rate.
Some say Nazarbayev has called the election next month in a tactical move aimed at avoiding having to campaign at a later date, by which time the country's economic woes may have worsened.
Nazarbayev's office said the housing to be built would either be sold at "socially oriented" prices and with state-backed mortgages or it would be rented out. Private developers will also get loans from the state.
He also ordered the government to increase spending on infrastructure development, agricultural projects and school construction.
"The efficient use of the allocated funds will contribute up to 1.0 percent to economic growth," Nazarbayev's press service quoted him as saying on its Twitter feed.
Nazarbayev said additional spending has become possible because state finances have been improved by the change in the exchange rate, which has greatly increased the tenge value of the country's exports and related tax revenues.
(Reporting by Olzhas Auyezov; Editing by Hugh Lawson)
Reuters, 11.02.2016