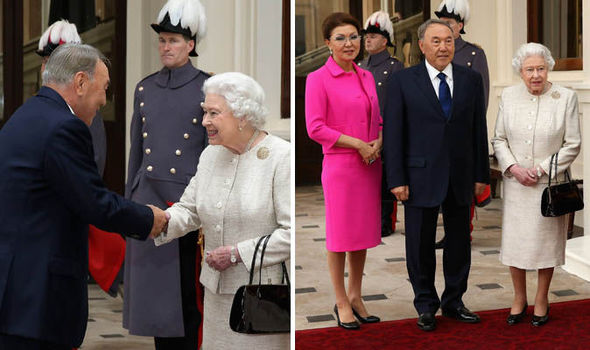 THE Queen rolled the red carpet out today for the Kazakh dictator whose son-in-law bought Prince Andrew's house for £3 million more than the asking price.
Nursultan Nazarbayev, the president of Kazakhstan, was given a guard of honour in the quadrangle at Buckingham Palace when he arrived to have lunch with the monarch, Prince Philip and Andrew.
The 75-year-old politician, a former Communist who has been president of the central Asian republic for 26 years and was re-elected in April with 97.7 per cent of the vote, is in Britain on an official visit as a guest of the Government. He has completed 40 new trade deals with British firms worth £3 billion.
Mr Nazarbayev was met at the red carpeted Grand Entrance of the palace by the Queen and Philip, along with Andrew, a frequent visitor to Kazakhstan who enjoys close relations with some of its leading businessmen.
In 2007 Andrew controversially sold his former marital home Sunninghill Park – a wedding present from the Queen – for £15 million, £3 million above the asking price, to President Nazarbayev's son-in-law Timur Kulibayev. It has never been explained why it happened.
Mr Nazarbayev was accompanied to the palace by his daughter, deputy prime minister Dariga Nazarbayeva, who was dressed in a vibrant pink suit. The pair joined the royal party for lunch in the ornately decorated 1844 Room.
Ms Nazarbayeva was appointed deputy prime minister by her father in September, sparking speculation that she may eventually succeed him as ruler of the mineral-rich central Asian state.
In 2007, she was forced to quit parliament and relinquish her media interests when her then-husband, former high ranking politician Rakhat Aliyev, fled into exile.
Aliyev, who became an opponent of the president, was arrested in Austria for the murder of two Kazakh bankers.
He died in February in a prison cell in in Vienna.
Human rights groups have condemned his regime and accused the Kazakh authorities of systematically repressing the opposition, torturing criminal suspects and cracking down on peaceful protesters and journalists.
Downing Street said David Cameron raised the issue of human rights with the president when they met on Tuesday.
Kazakhstan, lampooned by British comedian Sacha Baron-Cohen in his film Borat about a Kazakh journalist touring the US, is the second-largest post-Soviet oil producer after Russia.
Former prime minister Tony Blair has been a prominent adviser to the regime..
In her 63 years on the throne the Queen has met many dictators, often at the behest of her ministers.
She hosted Ugandan dictator Idi Amin on a visit to London in 1971.