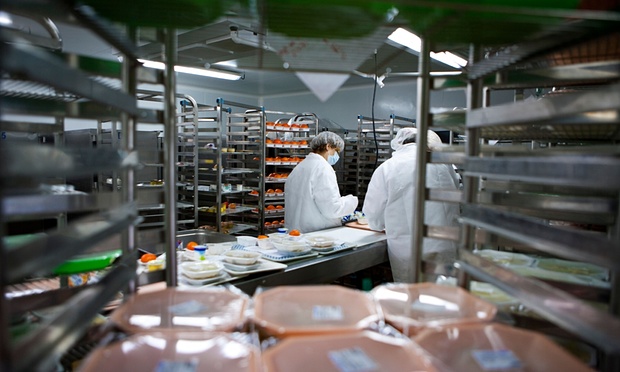 Internal documents seen by the Guardian suggest the UK catering giant's Kazakh unit made 'facilitation payments' for an unspecified period up to 2011. An international subsidiary of Compass Group, the British catering giant that supplies more than 1,500 UK primary schools and 30 NHS Trusts, paid bribes to government officials in Kazakhstan, documents seen by the Guardian reveal.
Theunit's agents made "facilitation payments" to customs officers in the former Soviet republic for an unspecified period up to 2011, internal Compass papers show, with the transactions originating in the same international division that was separately accused of bribing a UN official to win contracts.
The company paid £40m to settle civil litigation in the UN case in 2006, without admitting legal liability.
The new allegations are detailed in documents that relate to an employment tribunal claim brought by a former finance director of a Compass subsidiary in Kazakhstan. Karim Pabani says he was sacked after blowing the whistle on corruption, but Compass is fighting the claim.
Pabani, who joined ESS Support Services in August 2011, alleges in his tribunal witness statement that "a Compass Kazakhstan staff member was routinely given cash advances to make bribes to government officials".
Separate internal emails, seen by the Guardian, show the same employee asking the company for a personal loan. The email chain suggests the request was initially questioned because the employee already owed the company money, but it was eventually approved in 2012 after she was awarded a bonus to help repay the outstanding sum.
Compass has yet to respond in detail to Pabani's employment tribunal claims, but a spokesman for the caterer said: "Compass is vigorously defending these allegations, but as the matter is subject to ongoing legal proceedings we are not able to comment further at this time."
One Compass document, however, which was co-authored in September 2013 by the group's human resources director, Jane Kingston, and its general counsel, Mark White, admits: "As part of the Group's implementation of adequate procedures to prevent bribery and corruption in the business and in order to create a defence under the Bribery Act 2010, a Group-wide roll-out of the Code of Business Conduct had begun in February 2011 and before the 2010 Act came into force.
"As part of the roll-out, the Group became aware of small facilitation payments being made through the freight forwarders in Kazakhstan in order to release goods from customs and immediately required the practice to stop. The position was closely followed up in order to ensure that the practice had indeed stopped."
The Serious Fraud Office (SFO) defines a facilitation payment as "a type of bribe and should be seen as such. A common example is where a government official is given money or goods to perform [or speed up the performance of] an existing duty. Facilitation payments were illegal before the Bribery Act came into force and they are illegal under the Bribery Act, regardless of their size or frequency".
Lawyers said that facilitation payments, sometimes referred to as "speed" or "grease" payments, were previously outlawed under the Public Bodies Corrupt Practices Act 1889, as well as via the common law offence of bribery.
Compass declined to say if it had reported the facilitation payments to any law-enforcement authority, or if there had been any legal censure on the company. It has made no public statement on the payments, but in a letter to Pabani explaining his sacking, the company said the facilitation payments were already known about and had been dealt with before his arrival in post.
Alison Geary, a white collar crime specialist at the law firm WilmerHale, said: "In order to come within the reach of the Bribery Act a company must be carrying on business in the UK. However, a UK company can be found liable for the acts of its foreign subsidiaries if the foreign subsidiary was performing services for the UK company. It is an offence under the Bribery Act to make a payment to a foreign official or a third party that is not legitimately due in order to influence that foreign official."
Any decision over SFO prosecutions for the making of facilitation payments is covered by the code for crown prosecutors, and the joint prosecution guidance of the SFO's director and the director of public prosecutions.
Factors tending in favour of a prosecution include "payments that are planned for or accepted as part of a standard way of conducting business". Those tending against include payments that come to light "as a result of a genuinely proactive approach involving self-reporting and remedial action", such as the approach Compass explained in the letter detailing its reasons for dismissing Pabani.
Compass's code of business conduct states: "The giving of facilitation payments by Compass employees is prohibited. You should not make such payments, even if they are for nominal amounts or are 'normal' practice in the country in which you operate."
The company said it was "committed to setting the highest standards for responsible business practice, which is underpinned by a global framework of policies and measures and is supported by comprehensive communications and training".
It also said that "investigations carried out in respect of the UN issues in 2005 gave no reason to believe that the issues extended beyond a few individuals within ESS to other parts of ESS or the wider Compass group of companies."
www.theguardian.com, Monday 22 June 2015