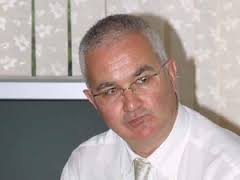 I am in Astana, the gateway to southern Siberia. The temperature in the afternoon is around -10 degrees Celsius. All around us the ground is covered in ice, but Astana residents still say, "We've made it through winter now, and the scent of spring is in the air." Everyone is getting ready to celebrate Nevruz on March 21. Personally, I love the cold of Astana. It's a dry cold, a cold that keeps people strong and doesn't make them ill. For Kazakhstan, the winter season is especially important. Dec. 1 is the "first president of the Kazakhstan Republic" day, marked by the president turning on the lights of a new year's tree, then a couple of weeks later on Dec. 16 is Kazakhstan's Independence Day.
Politically speaking, Kazakhstan had a hard winter this year. The crisis in Ukraine had negative political and economic effects on Kazakhstan; turbulence from the West and Russia has been strong. The annexation of Crimea by the Russian Federation, the general crisis in Ukraine and statements from Putin along the lines of "Until now there has never been a state formed on Kazakhstan lands," all worked to make Astana increasingly nervous. One of the results of this has been Kazakhstan attempting to focus on its heritage this year; the Kazakhstan History Museum which opened in Astana is one such example. In the meantime, President Nursultan Nazarbayev has declared 2015 the 550th year of the Kazak dynasty. While 2015 was also slated to be the year that Kazakhstan moved from the Cyrillic to the Latin alphabet, cold winds blowing in from Moscow may have postponed that move indefinitely.
Further negative effects on Eurasian Customs Union member Kazakhstan this past year have included the economic embargo by the West on Russia, as well as the falling oil prices. Inflation in Russia has made Russian goods cheaper and Kazakh goods more expensive. While $1 equaled 150 Kazakhstan tenge from 2009 onwards, in February 2014 $1 equaled 180 tenge with further devaluation expected. A result of this has been that newly developing small and mid-sized industries in Kazakhstan are unable to compete with Russian goods.
While the actions of the West and the Russian Federation continue to negatively affect Kazakhstan, there is also a different influence from the South having an impact -- laboratory-created, hybrid Salafi ideology has been an increasing concern for Astana. Despite Syria's distance from Kazakhstan, it has begun to have more of an effect on the country than Afghanistan. At this point, there are assertions that some 300-1,000 Kazakh youths have gone to join the Islamic State of Iraq and the Levant (ISIL) in Syria, and there are concerns that they have passed through Turkey to do so. It does appear that Salafist ideology has become increasingly influential throughout Kazakhstan – affecting not only prayer habits but dressing habits as well -- to the extent that certain traditions and customs are now falling by the wayside. In the meantime, while imams are no longer being sent from Turkey to Kazakhstan, some religious leaders are leaving the country to receive training in Egypt and Pakistan.
Presidential elections in Kazakhstan, which had originally been scheduled for 2016, have been moved up to April 26, 2015 -- a decision made in order to give the country both economic and political motivation after this particularly difficult period. At this point, Kazakhstan owes a lot to its founding president and his visionary leadership; with Nazarbayev at the helm the country has managed to both embrace its long-standing cultural traditions while at the same time becoming more modern. It has also been able to protect its unity without rejecting different religions and ethnicities. In fact, one could say Nazarbayev has managed to create a new sort of "Kazakh model" that has proven its success to the rest of the world. One important symbol of this level of international respect is the fact that Astana will be hosting the 2017 EXPO, making it the first country in Central Asia to host such a significant trade fair.
March 02, 2015, Monday