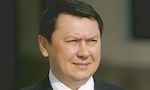 The lawyers of former Kazakh diplomat and Malta exile Rakhat Aliyev are insisting that his death in an Austrian prison was no suicide, and are calling for an independent investigation into the matter.
Dr Aliyev, a former Kazakh ambassador to Austria who was set to face trial over the murder of two Kazakh bankers, was found hanging in his cell in Vienna'sJosefstadt Prison in an apparent suicide. He had long insisted that this allegation – and various others – were politically motivated: his former father in law is Nursultan Nazarbayev, the authoritarian president of Kazakhstan since the country's independence in 1991.
But at a press conference held yesterday, his lawyers Klaus Ainedter, Manfred Ainedter and Otto Dietrich said that they were convinced that their client's death was not a suicide, stating that there were more questions than answers surrounding the case.
Among other things, they pointed out that his death occurred on the day he was set to testify against two fellow prisoners who he accused of trying to extort money out of him. These prisoners, Dr Aliyev had claimed, had threatened to kill him and make it look as though it was a suicide.
Multiple suspicions flagged
At the press conference, the lawyers argued that the way Dr Aliyev was found made the conclusion that it was a suicide unconvincing.
They noted that Dr Aliyev's body showed no signs of a struggle, even though the natural instinctive reaction of a person who is choking would be to try to remove the choke-hold.
Furthermore, the lawyers explained, their client was found in a seated position and hanged by soft bandages, with initial investigations suggesting that his death was a protracted and painful affair, and questioned why their client did not choose a less painful suicide method. They noted that he could have computer cables, ties or belts which were available in his prison cell, as was a pair of scissors.
They said that it was strange that Dr Aliyev was wearing jogging pants when he was found, noting that he was very conscious of his appearance and paid a lot of attention to how he dressed. He had actually booked an appointment with the hairdresser before his court appearance.
The lawyers were critical of the prison authorities declaration that Dr Aliyev's death was the result of a suicide just two hours after his body was discovered, arguing that the results of toxicology tests needed to be made available before any such conclusions could be reached. They noted that traces of barbiturates – sedative drugs which are illegal in Austria and which can be lethal in high doses – were found in his body.
The legal team also noted that the doctor who carried out the autopsy had a conflict of interest as he was listed as a witness for the prosecution in Dr Aliyev's murder trial. This was one of the reasons which led the lawyers to request a second autopsy; a request which has been accepted.
Dr Aliyev's widow Elnara Shorazova did not attend the press conference, but in a letter that was delivered to media representatives, she insisted that it was out of the question that her husband ended his own life. Ms Shorazova also said that Dr Aliyev would never have deserted his family in such a manner, and also said that he was looking forward to the trial, seeing it as an opportunity to uncover the witch-hunt he was being subjected to.
The lawyers similarly argued that their client had plans for the future, stating that he was determined to fight his case and that he was in very high spirits.
At the press conference, Dr Aliyev's legal team also questioned the way Kazakh authorities investigated the case, presenting footage of the head of security of Nurbank – the Kazakh bank the two murdered bankers worked for, and which Dr Aliyev had taken over – saying "nice fairy tale" in Russian and laughing, ostensibly at the end of his statement to the police.
Aliyev's rise and fall
Dr Aliyev was a gynaecologist by profession, but his marriage to Dariga Nazarbayeva – the Kazakh president's eldest daughter – helped him gain national prominence. His first wife, with whom he had two sonsand a daughter, was believed to be her father's chosen successor before the relationship between the two deteriorated significantly in recent years.
Over the years, Dr Aliyev served as chief of the Kazakh tax police, the deputy chief of the secret services and first vice foreign minister. In the process, he amassed a fortune through numerous business interests.
But he was no stranger to controversy: in 2000, bodyguards to former Prime Minister Akezhan Kazhegeldin – who had become a critic of Nazarbayev after resigning the post in 1997 – claimed that he ordered for them to be tortured to get them to confess that Mr Kazhegeldin was plotting a coup.
Dr Aliyev became ambassador of Austria for the first time two years later.
In February 2006, opposition politician Altynbek Sarsenbaiuly was shot dead with two aides, and a month later, Ms Nazarbayeva published an article alleging that her husband was one of the main suspects, among other things, creating a rift between her and her father in the process.
In January 2007, Dr Aliyev took over Kazakh bank Nurbank, but that same month, its vice president Zholdas Timraliev and chairman Aibar Khasenov were reported missing. Dr Aliyev fled to Austria the following month, while the bankers' families called for an investigation, and he was actually appointed ambassador for the second time.
But he was dismissed the following May after criticising his father-in-law and charged for the kidnapping of the two bankers. He involuntarily divorced from his wife a month later, stating that this divorce had been forced by the Kazakh president.
In January 2008, a Kazakh court convicted him in absentia of kidnapping, treason and plotting a coup against the president, sentencing him to forty years' imprisonment. The two bankers' bodies were found in 2011, prompting Kazakh authorities to accuse him of murder. In 2013, Kazakh authorities also named him as a suspect in the Sarsenbaiuly murder.
Kazakhstan's attempts to have him extradited were refused by Austria due to concerns over the country's human rights record, but the country opened its own investigation into the bankers' murder. While Dr Aliyev insisted that allegations were politically-motivated, the Austrian authorities concluded that there was a clear financial motive.
Dr Aliyev's marriage to Ms Shorazova – a Kazakh-born naturalised Austrian citizen – in 2010 granted him freedom of movement within the EU.
He moved to Malta, which had no diplomatic ties with Kazakhstan at the time, where he acquired numerous residences. However, he remained subject to investigations on fraud charges in Malta, Germany and Austria.
The two bodyguards he allegedly tortured filed a criminal complaint against him in Malta, but this was turned down in May 2013 after the court ruled that it had no jurisdiction over what may have taken place in Kazakhstan in the late 1990s. A new challenge was filed, only for the court to be informed on March 2014 that he had left the country the previous August: he had moved to Cyprus, where he unsuccessfully applied for Cypriot citizenship.
In June 2014, Dr Aliyev voluntarily turned himself in to the Austrian authorities and agreed to cooperate with them in the investigation. Dr Aliyev was charged with abducting and killing the two bankers the following December.
(c) 2013 Standard Publications Ltd. All rights reserved. Provided by SyndiGate Media Inc. (Syndigate.info).
03/03/2015