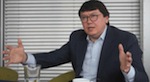 Austria has asked Switzerland to carry out an autopsy on Rakhat Aliyev, a Kazakh dissident found hanged in an Austrian prison last week, to dispel any suggestions of a cover up after a first post mortem found traces of sedatives.
The authorities say Aliyev committed suicide and there was no indication of the involvement of any third party in the death, but Aliyev's lawyers have contested the official line on how their client died.
"The authorities will exhaust all investigative possibilities to clear up (this case) completely and transparently," Justice Minister Wolfgang Brandstetter told the Oesterreich paper in an interview printed on Sunday.
"Foreign experts will be brought in if needed. A second autopsy in Switzerland is set," said Brandstetter, who had been a lawyer for Aliyev before becoming minister.
An initial post mortem in Austria found traces of obscure sedatives in Aliyev's body, which hardened his legal team's suspicions about the circumstances surrounding the death.
Prosecutors say their investigation continues and the full report from the first autopsy may take days to come through.
The justice ministry established an independent panel to oversee the case.
On the day of his death, Aliyev, a former ambassador to Austria, had been due to testify against other inmates who he said had blackmailed and threatened to kill him while making it look like suicide. The other inmates deny this.
Aliyev, 52, was accused of murdering two bankers in Kazakhstan in 2007. He said the allegations were trumped up by political rivals after he fell out with former allies there, including his ex-father-in-law, President Nursultan Nazarbayev.
Aliyev, who became a vocal critic of Nazarbayev, was in custody awaiting trial for the murders since he turned himself in to Austrian authorities in June after a four-year investigation.
Austrian prosecutors in December charged him with the murders after Vienna twice rejected Kazakhstan's requests for extradition because of the former Soviet republic's human rights record.
(Reporting by Michael Shields; editing by David Clarke)
Reuters, Mar 1, 2015