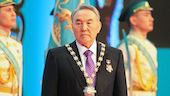 Moves are afoot in Kazakhstan to hold a snap presidential election. Proponents say an early election would give incumbent strongman Nursultan Nazarbayev a fresh mandate as the country faces a slumping economy and regional geopolitical tensions over the Ukraine conflict.
Nazarbayev, who has ruled Kazakhstan since before the collapse of the Soviet Union, won a snap election with little opposition in 2011.
The council of Assembly of People of Kazakhstan (APK), an umbrella organization representing the interests of Kazakhstan's ethnic groups, called for the early election over the weekend. Nazarbayev chairs the organization and appoints its members.
"The country's president, Nursultan Nazarbayev, must be given a new mandate of national confidence in order for the country to successfully navigate a period of global travails," the APK's council said in a statement issued on February 14, hinting at Kazakhstan's economic difficulties and at regional tensions stemming from the escalating conflict in Ukraine.
"A mandate of confidence in the Leader of the Nation [one of Nazarbayev's official titles] will unite and rally the people at this new stage of world development, allowing all efforts to be concentrated on the most important questions of state development," the council said.
This public appeal from a quasi-official body for a snap election (which has been rumored for several months) means an early vote is practically a fait accompli. And it is no secret who is the favorite to win.
As the English-language government newspaper The Astana Times pointed out, parliamentarian Rozakul Khalmuravov told Khabar TV that the election would help quell speculation about the succession to Nazarbayev, which has been rife for years. What Khalmuravov meant, the newspaper commented, is "that President Nazarbayev would be widely expected to win the next election."
Yet some observers believe a fresh victory by Nazarbayev at the age of 74 is unlikely to lay speculation to rest, since it does not resolve the increasingly pressing question of who will succeed the ageing president and how smooth the transition process will be. Instead, it defers a decision and changes the electoral timetable for the president, who is not due to face a vote until December 2016.
Nazarbayev, who has been in power for over two decades, is personally exempt from the usual presidential term limits and has the constitutional right to stand for re-election for life.
He last returned to office in April 2011, winning a stratospheric 95.6 percent of the vote in a snap election criticized by international observers. Kazakhstan has never held an election judged free and fair by credible observers.
The APK asked its nine representatives in parliament to table a motion to hold an early poll, citing "multiple appeals by the country's citizens" that it claimed to have received. Legally, an election can be held two months after it is called—making late April the most likely timeframe if a decision is rushed through parliament.
It is not yet known if Kazakhstan's beleaguered opposition will field a candidate for an early vote. It boycotted the last election, in which Nazarbayev faced only stalking-horse candidates—one of whom admitted to voting for the strongman.
Eurasianet.Org