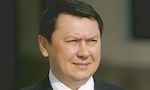 Rakhat Aliyev, the ex-husband of Kazakh President Nursultan Nazarbayev's eldest daughter, surrendered today in Austria seven years after police in his home country sought his arrest in a murder probe.
Aliyev, 52, will remain in a Vienna jail until officials finish an investigation into the murder of two kidnapped bankers, Austrian prosecutors said in a statement. Aliyev "voluntarily" turned himself in and "cooperated" with authorities, said Aliyev's lawyer, Manfred Ainedter.
Kazakhstan charged Aliyev with kidnapping two Kazakh bankers in 2007. Austrian prosecutors refused to extradite Aliyev, a former Kazakh diplomat who served in Vienna, because he couldn't be guaranteed a fair trial in the Central Asian country. In 2008, Aliyev was tried in absentia for plotting a coup and sentenced to 20 years in jail.
The case attracted European Union attention after the mutilated bodies of the two bankers were discovered in 2011. Under international rules, Austria has an obligation to investigate and try Aliyev if they suspect him of committing a crime.
Aliyev has denied the charges.
Aliyev owned 5.2 percent of Nurbank OJSC when he was suspected of kidnapping Zholdas Timraliyev and Aybar Khasenov, two top executives at the bank. Their bodies were discovered on the outskirts of Almaty in May 2011.
Kazakh prosecutors reopened a probe into the murder of an opposition leader in December after the convicted killer changed his testimony and accused Aliyev of ordering the attack. Altynbek Sarsenbayev was gunned down in February 2006 along with his assistant and driver.
To contact the reporter on this story: Jonathan Tirone in Vienna at This email address is being protected from spambots. You need JavaScript enabled to view it.

To contact the editors responsible for this story: Alan Crawford at This email address is being protected from spambots. You need JavaScript enabled to view it. Anthony Aarons, Peter Chapman