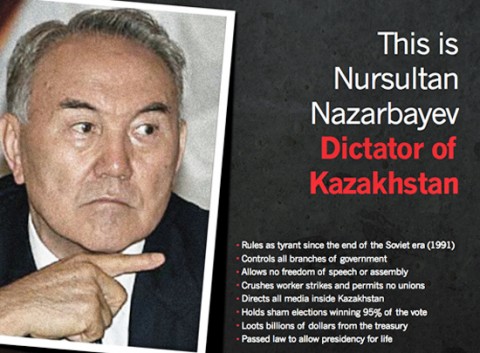 It's not often that Kazakhstan's backyard politicking come to the fore. It's rarer yet when such sniping is aired in English, made available to that much larger of an audience. It's political gossip at its finest – open and sharp, with accusations anted and points countered with language as colorful as the content is heavy. There's a certain guilty pleasure in it all. If this didn't carry so many denotations of human rights concerns, this could almost be fun.
The latest bit of political roundhouse arose last month, when the Human Rights Foundation, founded and managed by Thor Halvorssen, penned an open letter to US legislators in the Washington Examiner. The letter, stretching a trio of pages and featuring a slit-throat image of Nazarbayev, called on Congress to pass legislation aimed at Kazakhstan that would mimic the Magnitsky Act, passed by the House earlier this week. Termed the 'Zhanaozen Act,' the legislation would, in theory, prevent the officials involved in the eponymous massacre from enjoying unrestricted travel rights to and from America. Such an act, if passed, "would compel Nazarbayev to allow space for dissent," HRF wrote.
Names – dozens of names – line the final page of the letter, a litany of transgression laid bare. Nazarbayev's name leads the lineup, with appearances from Karim Massimov, erstwhile prime minister; Timur Kulibayev, Nazarbayev's son-in-law and former head of the nation's sovereign wealth fund; Askhat Daulbaev, the nation's attorney general; and a half-dozen policemen who, according to HRF, falsely testified on their roles in the Zhanaozen massacre.
As a letter of protest, the text wasn't terribly atypical: HRF detailed the histories, the complaints, and the proposed solutions, offering general and specific examples in all instances. A roll-call of signees, the few voices of Kazakhstani dissent publicly aired, attached their names to the letter, from theater director Bolat Atabaev to noted journalist Lukpan Akhmedyarov to editor Igor Vinyavsky, all of whom has seen the hard stick of the Nazarbayev Administration over the past year. The letter, in and of itself, fit with a tradition of public grievance, attaching names to attendant atrocities and seeing what may come.
Where the letter stood uniquely, however, was that it was focused on Kazakhstan, rather than the typical targets of Central Asian human rights efforts. Nazarbayev, through pure relativity, has been able to avoid much of the human rights ire facing his neighbors. His prosperity, his stability, and his PR machine have kept such letters at bay, and has kept Nazarbayev's larger reputation seemingly unimpinged.
It wouldn't take long to generate a response. One week after the letter was published, Stephen Sale, a Washington-based lawyer representing Alexander Mirtchev — the "Bulgarian fixer" mentioned within the latter half of HRF's text – offered a verdict:
Contrary to the libelous advertorial, Dr. Mirtchev had never had any involvement whatsoever in the violence in Zhanaozen, nor has he been involved in "peddling lies" or in any way conducting any public relations activities on behalf of the Government of Kazakhstan. The outrageousness of these allegations befits what we know about their ultimate author, fugitive KGB (nor KNB) Major General Rakhat Aliyev, who is recognized as Kazakhstan's most notorious serial human rights violator. Dr. Mirtchev has long been targeted by General Aliyev, who is divorced from President Nazarbayev's daughter.
In lieu of offering any distinct rebuttals to HRF's letter – as it is, the letter was directed at US legislators, rather than any of those delineated in the rogues gallery – Sale has rerouted the accusations, rebutting with counterclaims of his own. Instead of the purported human rights concerns carried by the HRF, Sale apparently believes that the initial letter must have come from shadow-hand of Aliyev. The lawyer winds his way through all of the outstanding allegations facing Aliyev, detailing the murders and court dictates that still tail the former vice foreign minister.
While Sale acknowledges that Aliyev was "not a signatory to your advertorial," he tethers Aliyev to signee Irina Petrushova, editor-in-chief of Respublika, a newspaper "owned by fugitive banker Muchtar Ablyazov [sic.]." Again, while Aliyev's contact remains circumspect, Sale posits that Aliyev and Ablyazov, the two bogeymen of Kazakhstan's political machine, have been working hand-in-glove to sully Mirtchev and his adopted country's name:
While the above explanation is somewhat involved, it is nonetheless necessary to an understanding of the targeting of our client by General Aliyev in close collaboration with Ablyazov. General Aliyev previously made similar allegations against Dr. Mirtchev in the 2009 book The Godfather-in-Law and the blog This email address is being protected from spambots. You need JavaScript enabled to view it..
With all of of HRF's insults, all of this vilification and smearing of a man and a nation's good name, Sale noted that he expected "remedial action" from the organization:
In closing, we insist that these allegations against Dr. Mirtchev be removed from your websites, that you retract the allegations against Dr. Mirtchev, that you refrain from any repetition or republication of these allegations, and that you apologize to Dr. Mirtchev.
Mirtchev has been affronted. He's been pricked. He'll expect restitution.
To which, of course, he'll receive none, without being willing to present such a case in court. He'll need to defend these claims in front of a neutral party. I'm not sure if HRF's letter was purposefully set forth as some form of bait, if HRF wanted to goad one of those mentioned therein to step up in defense, but Mirtchev has, as Joanna Lillis noted, waded right in. And Halvorssen is more than willing to comply.
In a scathing response published in Forbes last week, Halvorssen takes Mirtchev's challenge on its face:
Kazakhstan is exhibit A in what HRF calls the "post-modern dictatorship." The post-modern dictator doesn't use firing squads to eliminate opponents, or operate vast gulags. He is subtle in cultivating a climate of fear, allowing some degree of free speech and private property. ...
In the case of Kazakhstan, the president-for-life and his agents are listed as having hired several firms to do his bidding: BGR Public Relations, Qorvis Communications, Global Options Group, APCO Worldwide, and Policy Impact Communications. Beyond these PR mercenaries, post-modern dictators also use individuals who do not operate as lobbyists, but rather as advisors and fixers. Tony Blair recently sealed a Kazakh contract for $13 million, wherein the former British prime minister is expected to "help buff Nazarbayev's personal image internationally." He subsequently doubled the windfall. Prince Andrew was considerably cheaper—his payoff came in the form of a £3 million real estate overpayment for his old house. ...
Fascism doesn't triumph without help, and it will try hard to silence those who expose its enablers.
We'll see Alexander Mirtchev in court.
The move is Mirtchev's, a US citizen, to make. Despite any thin-skin desires, though, he may yet refrain from pushing HRF into a legal battle. Indeed, his response only swelled the impact of HRF's initial letter; a court battle would only grant greater audience to HRF's work. As Halvorssen wrote:
When human rights defenders in Kazakhstan learned about the letter from Mirtchev's lawyer, they could hardly contain their excitement about the opportunity: "Really? In a U.S. judicial court? Could we come to the U.S. and testify about Mirtchev's crimes?" They warned: "There may not be enough room in the courtroom for those of us with something to say."
As aforementioned, if it weren't for the human rights concerns that prompted this public spat, all of this quarreling would be plenty fun to watch unfurl. But as much as we'd like to laugh along as members of the chorus, there are still lives shifted as the dissension continues. Vladimir Kozlov, who was mentioned in both HRF's letter and Sale's response, was sentenced last month for attempting a government overthrow via Zhanaozen. He was also the subject of a searing, skewed documentary last week that parsed his connections to Ablyazov.*
*One of the stranger notes in Mirtchev's letter noted that "[w]hile the United States Government was initially skeptical of the involvement of Ablyazov and Kozlov in inciting the bloodshed in Zhanaozen, we understand that our Government now accepts the fact of the conspiracy by Ablyazov and Kozlov based on such damning evidence as their own words on the telephone transcripts." This claim stands contra the CSCE's response, the statement from the US representative to the OSCE, and the State Department's clear, if parsimonious, note. It would seem that Sale is either misinformed, privy to classified information, or lying.
Kozlov's sentencing appeal is impending, but once more this "criminal and fraudster" has been dragged through the mud, tied ever closer to Ablyazov. His appeal is almost certain to falter. His imprisonment is almost certain to continue, regardless of whether Mirtchev and Sale push HRF to court.
And here's hoping Mirtchev would be willing to back up his claims in court, even if there may not be enough stenographers to transcribe all that would arise in such a hearing. There are only so many opportunities for Kazakhstani dissidents to air their claims for an open audience. And there are only so many opportunities for the rest of us to listen along.
Registan.net