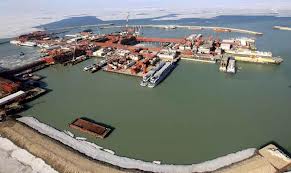 Kazakhstan President Nursultan Nazarbayev said he expects "serious" output from the nation's largest oil deposit this year after waiting almost half his 23 years in office for the $48 billion project to start. The Kashagan field was halted in October, a month after production started, because of defects found in pipes carrying lethal sulfur-laden natural gas from the oil field. The operating company, a venture that includes Exxon Mobil Corp. (XOM) and Royal Dutch Shell Plc (RDSA), is completing tests at the site and hasn't said when output will resume.
"Everything's in place: output, drilling, the oil and gas, a gas-processing plant," Nazarbayev said in an interview at the presidential palace in the capital Astana. "The pipeline will be repaired and will work."
The world's largest discovery in 40 years, Kashagan promised to make Kazakhstan one of the world's top 10 oil producers. The project, which included the construction of man-made islands in the Caspian Sea, has been beset by cost-overruns and delays, postponing billions in revenue for the government.
Nazarbayev, president since the former Soviet Republic's independence in 1991, plans on economic growth of at least 6 percent a year through 2018, helped by production at Kashagan. When it's finally running as designed it will produce more than 370,000 barrels a day, an amount that could double if a second phase goes ahead.
"Kazakhstan must decide how much oil to produce," Nazarbayev said in the interview. "We can say let the rest be for future generations. But we don't want to do it that way, we will continue our work."
Test Results
Kashagan's operating company is waiting for test results due this month before making a decision on when to resume production. The inspection of the 90-kilometer (56-mile) gas pipeline has been completed and the data is being interpreted, it said last month.
Last month, energy consultant Wood MacKenzie Ltd. estimated output will start no earlier than the end of the second quarter, while Visor Capital, an Almaty-based investment bank, has said the field may be out for the rest of the year.
"That's impossible," said Nazarbayev, who expects repairs to be complete by the end of the first quarter.
The cost of developing Kashagan doubled to $48 billion from early estimates and the planned start of output slid by eight years to 2013 as the partners grappled with the field's poisonous gas and the fact the Caspian is frozen solid for several months of the year.
Soviet Republics
Kazakhstan, second to Russia among energy producers in the former Soviet republics, plans to boost oil output to 110 million tons in 2018, or about 2.2 million barrels a day, from 81.8 million tons last year, according to oil and gas ministry's website.
If Kashagan stays off line for the rest of 2014, the country's production may fall slightly this year, based on a forecast from the Oil and Gas Ministry.
Production from most onshore oilfields in Kazakhstan has peaked, according to a presentation on the ministry's web site. Future growth depends on developing new fields and expanding offshore projects, including Kashagan and the Chevron Corp.-led Tengiz project, which contributed 30 percent of 2012 output, according to the ministry.
"The government and Tengiz venture partners agreed on expansion," Nazarbayev said, adding that developers must promise to hire Kazakh companies and buy locally made equipment.
"I want to say it clearly, we ask and sometimes demand that oil companies create Kazakh content."
Cost Overruns
In 2008, state-run KazMunaiGaz increased its stake in Kashagan, because of the delays and cost overruns. Four years later, the state also purchased a stake in its second-largest oil producing field Karachaganak, led by Eni and BG Group Plc (BG/), after it presented the venture with tax claims.
While Kazakhstan is raising its ownership of oil fields, the method is "not the way Hugo Chavez did it, but in a civilized manner: not through nationalization, but acquisition," Nazarbayev said. "It's not a trend, it's a good investment of free cash."
Exxon, Shell, Total SA (FP) and Eni SpA (ENI) each hold 16.81 percent of the project. KazMunaiGaz has 16.88 percent. China National Petroleum Corp. bought an 8.33 stake percent in September, and Japan's Inpex Corp. (1605) owns 7.56 percent.
Exxon and Shell have warned they may quit Kashagan unless they gain more control in the venture and Kazakhstan's government agrees to extend the production-sharing contract for 20 years, two people with knowledge of the matter said in 2012.
"Investors want to work more," Nazarbayev said. "They ask to extend the Kashagan contract, but this is an issue for talks, what kind of conditions they will propose."
An extension would require "a whole new agreement," he said. "We always found compromise and this time we will."
To contact the reporters on this story: Nariman Gizitdinov in Almaty at This email address is being protected from spambots. You need JavaScript enabled to view it.; Torrey Clark in Moscow at This email address is being protected from spambots. You need JavaScript enabled to view it.
To contact the editor responsible for this story: Will Kennedy at This email address is being protected from spambots. You need JavaScript enabled to view it.
Bloomberg.Net