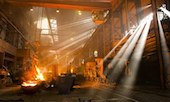 When Kazakhstan's president, Nursultan Nazarbayev, rang the bell to open trading on the London Stock Exchange (LSE) in late November 2006, he was symbolically ushering in a new era. Companies flush with cash from Kazakhstan's energy-driven economy were flocking to list in London, where they were welcomed as rising stars.
Seven years later, one of the Kazakhstani stars on the London exchange burned out: on November 22, 2013, the Eurasian Natural Resources Corporation (ENRC) beat an ignominious retreat from the LSE, buffeted by tumbling share prices, corruption scandals, legal tussles, and boardroom backstabbing.
It was a far cry from the triumphant day in 2007 when ENRC floated in London, worth £6.8 billion ($11 billion) and pricing shares at 540 pence (about $8.75). By the end of their last day of trading, share values had plummeted by 60 percent, to 217.25 pence (about $3.50) apiece. And in a double-whammy, the Kazakhstan Stock Exchange downgraded ENRC as it exited the LSE.
This public implosion was humiliating for ENRC executives and an embarrassment for the LSE (which stands accused of offering lax listing regulations). With Astana involved in ENRC's ownership structure, it also is fueling caution about Kazakhstan's investment climate, raising red flags for foreign investors.
"The scandals that have engulfed ENRC over the last few years illustrate well the enduring political and commercial risks associated with investing in Kazakh companies," Kate Mallinson, Central Asia expert at London's GPW Consultancy, told EurasiaNet.org. "Corporate governance has not significantly improved at the major Kazakh state companies while increasingly exacting anti-bribery legislation in the West demands tighter scrutiny of potential joint venture partners."
Against a barrage of negative publicity, ENRC share prices tumbled as it became mired in allegations of corruption and poor corporate governance.
Small wonder that the trio of well-connected oligarchs who founded the company – Alexander Machkevitch, Patokh Chodiev, and Alijan Ibragimov (each boasting a fortune of $2.1 billion, according to Forbes rich list) stepped in, with a helping hand from Astana, to take ENRC back into private hands – a move that will significantly reduce the level of oversight it faces.
The trio (holding a combined 55.33 percent of shares) teamed up with the Kazakh government (owning 11.65 percent) to form a consortium to buy ENRC back, supported by another shareholder close to Kazakhstan's government, copper giant Kazakhmys, which sold its 26-percent ENRC stake to the consortium at a hefty loss.
ENRC's exit from the LSE (where 11 Kazakhstani companies remain listed) was controversial. Minority shareholders cried foul as the oligarchs mounted a takeover bid this summer, believing they were undervaluing the company. The minority stakeholder uprising fizzled, however.
The company put a brave face on its LSE withdrawal. "The consortium [...] recognized the inherent value in the Company's assets and 70,000 strong workforce, which is principally based in Kazakhstan, a value that was no longer being fairly reflected in its share price in London," it said in a statement e-mailed to EurasiaNet.org.
"The Company also recognized that London could no longer provide the capital and expertise to accelerate the growth of the business and has found this support plentiful elsewhere," the statement added, without offering specifics.
Even though it has quit the exchange, ENRC will remain bogged down in London for some time. An investigation opened by the UK's Serious Fraud Office in April into "fraud, bribery and corruption" involving ENRC operations in Kazakhstan and Africa (it has interests in the Democratic Republic of Congo, Zambia, Mozambique, and South Africa) is ongoing.
ENRC denies wrongdoing. It says it "welcomed" and "fully complied with" the probe, will continue cooperating, and believes it will be exonerated: "It is anticipated that the investigation will confirm that the Company had an effective compliance structure, and that allegations of any wrongdoing were wildly exaggerated."
The ENRC episode has sparked a tightening up of LSE listing rules and a parliamentary inquiry into extractive industries. The probe is focusing on the question of reputational risk concerning companies listing in the UK.
There are also unwelcome repercussions for Astana, threatening to undermine its investment-friendly image: Kazakhstan ranked 50th out of 189 countries surveyed for ease of doing business in the World Bank's most recent annual ranking.
"Clearly the scandal does nothing to improve external perceptions of Kazakhstan's business environment," Alex Nice, regional analyst at the Economist Intelligence Unit, told EurasiaNet.org. "The case highlights some of the weaknesses of many Kazakh companies – corruption, weak governance, concentrated and opaque ownership and management structures."
ENRC insists it "was fully compliant with corporate governance requirements" in the City of London. "Leading senior figures from the UK's city and commercial community were recruited at great cost to provide independent governance to protect minority shareholders," it said.
Company representatives have complained about troublemakers within and without, blaming "elements of the independent board" for allegedly "leaking highly confidential and price sensitive information to the media in pursuit of their own self-interest" and "a handful of senior financial journalists in London" who published "unchallenged information from sources determined to undermine the Company."
ENRC's departure from the LSE has helped create a trail of costly lawsuits: the company is suing former director Sir Paul Judge over media leaks that he denies making; Judge, meanwhile, is countersuing for libel. ENRC is also suing law firm Dechert for allegedly overcharging millions for an internal corruption probe, and ENRC's former corporate finance director, Kirill Stein, is suing it for $28 million in payments he contends that he is contractually owed.
So will the ruckus deter other companies from seeking their fortunes in London? "The affair may make companies with a similar governance profile more cautious about seeking a listing," Nice suggested.
Others are not convinced. "The ENRC debacle is unlikely to deter Central Asian companies from listing in London in the medium term," Mallinson said, and London "is likely to continue to welcome controversial investment from the region."
EurasiaNet.org