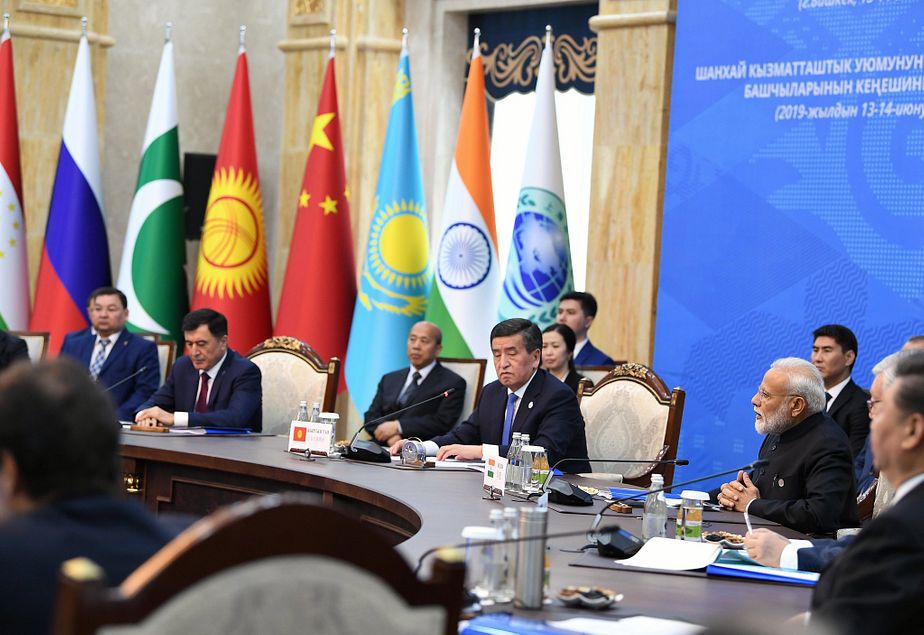 Russia's invitation for India to link up with Eurasian Economic Union recalls the SCO expansion saga.
At the end of last year, Russian envoy Nikolai Kudashev said that Moscow is hopeful about reaching a free trade agreement between the Eurasian Economic Union (EAEU) and India by 2020. Currently, the EAEU, an exclusive international organization for regional economic integration in the post-Soviet Union area, encompasses Armenia, Belarus, Kazakhstan, Kyrgyzstan, and Russia. Undoubtedly, Russia plays a prevailing role in the union that dwarfs other members.
Strengthening his statement, Kudashev stressed that in the past year, Russo-Indian relations has experienced extraordinary developments. In addition, Indian Prime Minister Narendra Modi and Russian President Vladimir Putin are expected to meet frequently in 2020, including in Moscow's Red Square for the annual Victory Day celebration, which demonstrates the importance Russia attaches to the meeting.
However, the idea of India linking up with the EAEU brings a sense of déjà vu. Like the enlargement of the Shanghai Cooperation Organization (SCO), this appears to be a Russian tactic of using India to balance China's increasing economic power in Central Asia.
In 2017, India and Pakistan officially became permanent members of the SCO. It was the first time the organization had expanded since it took its current form in 2001, doing away with a 2008 agreement to temporarily halt consideration of new members. Since 2008, Russia had begun to look more favorably on the issue of membership expansion, particularly absorbing India as a member, which eventually broke open the SCO's expansion issues. Russia pushed to bring India into the SCO, while another dominant power within the SCO, China, reluctantly agreed with Russia's proposal on the condition that Pakistan should also be invited.
Therefore, we cannot help but ask: What will happen if India is invited into the EAEU? What does that say about Sino-Russian relations in Central Asia?
Diplomatically, due to the increasingly close Sino-Russian relations, Russia would never publicly admit a desire to curb China's influence in Central Asia. Instead, Moscow will act strategically through the goal of greater economic cooperation with India.
Due to pressure from the United States, China and Russia have consolidated their cooperation not only in the political sphere – which has been a consistent fact for decades and been noticed globally – but also in the economic arena. In the past, Sino-Russian relations were often described as being "hot in politics, cold in economics" and "hot at the official level, and cold at the people's level." But nowadays this narrative has been transformed. China has been Russia's largest trading partner for nine consecutive years. In 2019, Sino-Russian trade continued to grow after surpassing $100 billion for the first time in 2018. In the same year, the Siberian Gas Pipeline and the first road bridge linking Russia and China were built, deepening bilateral economic ties. In terms of people-to-people exchanges, in 2018, more than 2 million Chinese tourists traveled to Russia and nearly 2.5 million Russians traveled to China.
However, the high level of political trust and the extensive economic cooperation between the two countries does not mean there is no Sino-Russian competition in Central Asia. In reality, with the implementation of the Belt and Road Initiative (BRI), China's economic power has boomed in Central Asia. According to Dr. Adil Miankhel, by April 2017, China had invested $304.9 billion in the region, "in sectors including transport, communication, energy infrastructure, financial linkages, technology transfer and trade facilitation." Compared to the economic power of China, "particularly the volume of funds for infrastructure in the framework of the BRI, Russia and its rigid, protectionist, and politicized Eurasian projects pale," Benno Zogg argues. Thus over time, Alexander Gabuev says, Central Asia "has been incrementally affected by the BRI and become more reliant on China's investment and trade, and yet the Kremlin considers it to be part of Russian historic sphere of influence."
In order to play this geopolitical game and maintain good relations with China at the same time, the Russian government accepted membership in the BRI by issuing a joint statement with China on May 8, 2015, pledging to cooperate on jointly constructing the EAEU and the BRI. "The EEU [a previous acronym for the EAEU] and Silk Road projects can harmoniously supplement each other," Putin said at the time.
However, Professor Jeanne L. Wilson noted that this declaration with China was signed by Russia unilaterally, even though the presidents of Kazakhstan and Belarus, fellow EAEU members, were also present in Moscow at that time. Arguably, these Central Asian countries would not want their trade relations with China restricted within a Russia-centric framework. This, Wilson notes, explains why the longtime first president of Kazakhstan, Nursultan Nazarbayev, "has been adamant that the EEU is to function solely as an economic, not a political structure." In order to reduce the suspicion of EAEU members and the world, Russian First Deputy Prime Minister Igor Shuvalov has also stated that the EAEU is not a political unification.
Since the disintegration of the USSR, even as the Central Asian countries remain strongly attached to Russia in the fields of security, economy, and culture, they have become independent and enjoy full sovereignty. In order to enhance their own national identity, some Central Asian countries have endeavored to "de-Russianize" themselves, such as limiting the use of Russian language and promoting local languages in Turkmenistan, Uzbekistan, and Kyrgyzstan, albeit on the precondition of not offending the Russian government. In this context, increasing trade with China and cooperating with the BRI — in other words enhancing the influence of China — not only accords with the economic interests of Central Asian nations and their political elites, but also indirectly promotes their nation building. That strong motivation can be seen in the attitudes of Central Asian governments toward occasional anti-China protests. According to Bradley Jardine, "anti-Chinese sentiments are on the rise in Kazakhstan and Kyrgyzstan due to the abuse of China's Muslim population." However, governments in both Central Asian states "have sought to stifle news of the camps from spreading by arresting or fining prominent activists and anti-China protesters."
Even though in 2019, Chinese Premier Li Keqiang and the prime ministers of the EAEU members jointly issued a "Joint Statement on the Entry into Force of the Economic and Trade Cooperation Agreement between China and the EAEU," the economic cooperation between China/the BRI and the EAEU in practice still looks gloomy. Based on a series of in-depth interviews, Gabuev believes that China and Russia have built "intellectual and bureaucratic frameworks to accommodate mutual interests in Central Asia, including ideas of 'linking up' the BRI with the EAEU." However, there are still many problems that prevent true EAEU-BRI coordination such as the vague description of the BRI, the different perspectives of top-down decision-making in the two countries, and low engagement from local businessmen in such a link-up. More importantly, not only do Central Asian countries prefer to deal with China bilaterally, but China also prioritizes cooperation with Central Asian countries on a bilateral basis, rather than through the EAEU. Thus, despite some multinational projects that requires multilateral coordination, the 2019 joint statement looks more like a political comfort to help Russia "save face."
A free trade agreement between the EAEU and India would be an effective strategic step to contain the economic influence of China in Central Asia. However, considering the previous lessons learned from both the SCO and the BRI in Central Asia, it is possible that Central Asian countries will prefer to bypass the EAEU to cooperate with India bilaterally. Russia may already know this. That said, inviting India to join might still conform to Moscow's interests if Russia finds a multiplayer-competition in Central Asia more appealing than a China-dominated landscape.
Yuan Jiang is a Chinese Ph.D. student currently studying at the Queensland University of Technology. He is affiliated with the QUT Digital Media Research Centre. His writing has appeared in The Diplomat, South China Morning Post, Australian Institute of International Affairs, and Global Times, among others
Original source: THE DIPLOMAT