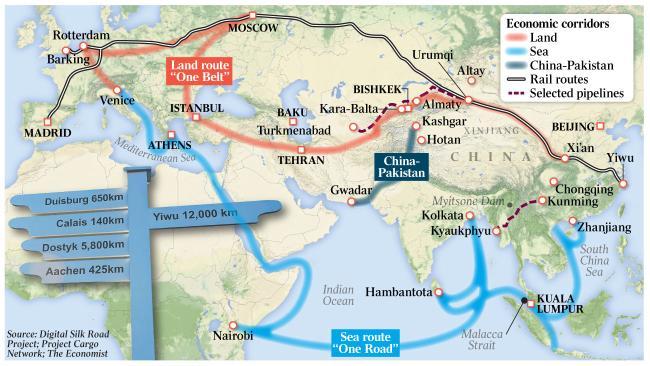 Seeking to attract more foreign investment from its prime position in China's huge Belt and Road trade project, Kazakhstan launched a new financial hub on Thursday which has already secured the backing of its giant neighbour.
The Astana International Financial Centre (AIFC), a self-styled "mid-shore" special economic zone, hopes to attract players ranging from Chinese state funds to Swiss private banks by offering tax breaks, easy entry and a Common Law court.
The move is part of Kazakhstan's ambition to become a Luxembourg-style intermediary between larger nations and a gateway for foreign investment across Central Asia.
However, it might take months before securities trading actually opens in Astana, and when it does, it will split the oil-rich nation's already minuscule liquidity pool between two stock exchanges.
Modelled on the Dubai International Financial Centre, AIFC wants to host all sorts of market players: family offices, private banks, brokers, asset managers, Islamic finance institutions and fintech companies.
Unlike DIFC though, AIFC will not require that its members maintain physical presence in the windswept Kazakh capital where temperatures range from -40 to +40 Celsius (-40 to 104 Fahrenheit).
It will also charge much lower fees than the established hubs and offer 50-year tax breaks.
Like DIFC, the Astana hub will employ its own court and arbitration centre staffed with British judges and barristers.
In fact, it hopes that its dispute resolution services will be used even by outside companies such as regular Kazakh businesses which often complain about ordinary courts' lack of independence and integrity.
An even greater ambition is to serve as an arbitration centre for contracts between Chinese and Russian companies, AIFC employees say. Some foreign investors have enquired about the possibility of using AIFC as a platform to invest in Uzbekistan.
CHINESE BACKING
Kazakhstan often refers to itself as the buckle in Beijing's Belt and Road project - Chinese President Xi Jinping's landmark scheme to build infrastructure to connect China to the rest of Asia and beyond.
China has already demonstrated its support for the AIFC with both the Shanghai Stock Exchange and the state-run Silk Road Fund becoming shareholders of AIFC's Astana International Exchange (AIX) alongside Nasdaq.
"The Shanghai Stock Exchange is a 25 percent shareholder and they are contributing staff and resources but more importantly they are providing a gateway for us to talk to Chinese funds, Chinese brokers," AIX chief executive Timothy Bennett, who has previously run New Zealand's NZX bourse, told Reuters.
"On the regulatory level one of the big opportunities for us is RMB and the ability to trade, clear and settle in RMB and their help with the regulatory process around that is very beneficial."
Trading on the new exchange is likely to open in September or October with the listing of one of the three state-controlled companies - Kazakhtelecom, the world's biggest uranium miner Kazatomprom or flag carrier Air Astana - as part of the government's privatisation campaign.
Bennett said AIX would seek to attract active investors rather than chase ratings of index providers such as MSCI which largely drive passive fund flows.
SHALLOW LIQUIDITY
So far, Kazakhstan has little to show for it when it comes to stock market development. Daily equities trading has averaged just $11 million this year on the Almaty-based Kazakh Stock Exchange and most of the large Kazakh companies floated abroad have since delisted for various reasons.
An earlier attempt to create a regional financial hub in Almaty, Kazakhstan's biggest city, has failed and some of the biggest Kazakh banks had to be bailed out after a property price crash triggered by the 2008 global crisis.
AIX hopes to partly address the liquidity issue by linking up with Euroclear, Europe's largest securities settlement house for securities. The move means that foreigners looking to buy Kazakh securities will no longer need to open accounts with a Kazakh depository.
Still, two stock exchanges in a country of 18 million is "one too many", a Western executive said privately as he attended the launch event which took place on the eve of the 78th birthday of President Nursultan Nazarbayev who has run Kazakhstan since 1989.
Reporting by Olzhas Auyezov; Editing by Toby Chopra
Reuters, 05.07.2018