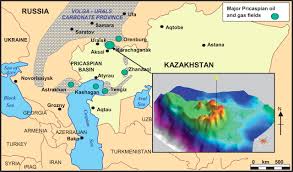 Kazakhstan and global oil majors developing the Karachaganak gas condensate field aim to "peacefully resolve" their dispute over a production sharing agreement, Kazakhstan's Energy Ministry said on Thursday.
Russia's Lukoil, one of the oil majors, said this week Kazakhstan had filed a $1.6 billion claim against the consortium led by BG Group and Eni.
The ministry did not comment on the size of the claim in its statement but said the dispute was related to calculations of the parties' shares in the field's output and had been discussed in several meetings.
"There is an understanding today that the sides are determined to find a concerted solution and peacefully resolve the issue," it said.
Eni and BG, recently acquired by Royal Dutch Shell Plc , each own 29.25 percent of the Karachaganak project in northwest Kazakhstan, which they jointly operate. State-owned KazMunayGaz owns 10 percent, Chevron Corp 18 percent and Lukoil 13.5 percent.
The Kazakh government said this year the consortium would start an expansion project in 2017 that would cost $12 billion. In 2015, the field produced 141.7 million barrels of oil equivalent in the form of gas and liquids. (Reporting by Raushan Nurshayeva; Writing by Olzhas Auyezov; Editing by Katya Golubkova and Mark Potter)
www.reuters.com, 07.04.2016