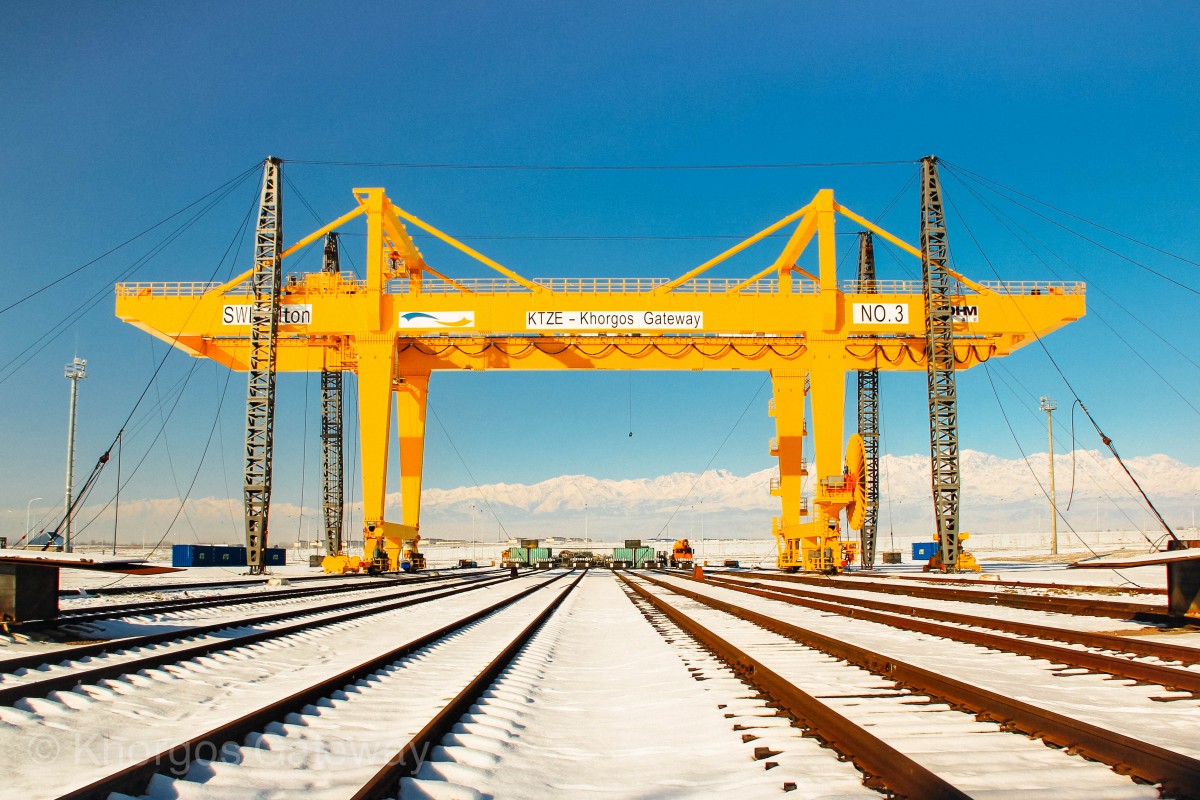 In the far east of Kazakhstan, right on the Chinese border, in a place that is ringed by mountains and flanked by deserts, a massive new epicenter of trade is rising up from an empty expanse of parched dunes. It is called Khorgos-East Gate, a massive logistics and industrial zone that's at the heart of a new network of trans-continental trade routes called the Silk Road Economic Belt — the overland portion of the One Belt, One Road (OBOR), a large scale infrastructural, economic, and political endeavor that aims to bolster connectivity between the economies of countries from China to Western Europe.
"I know it doesn't look like much now," Karl Gheysen, the project's CEO, admitted as we looked out across a barren landscape that extended from the dry port to the mountains far beyond, "but we're building a new Dubai."
This isn't an off-the-cuff comparison. DP World is running the show at Khorgos-East Gate; the same company which runs the Jebel Ali port and free trade zone in Dubai — the very entities which helped spark the birth of the booming city we know the place as today.
The Khorgos-East Gate Free Economic Zone (FEZ) was announced on July 2, 2014 by Kazakhstan's president Nursultan Nazarbayev. The idea for the project is said to have come directly from the president himself, for whom the revival of the Silk Road has been a prime objective since taking power in 1990.
"Here at the border with China we have what we call in logistics an event," Gheysen explained. "The event is the change of rail gauge. So whatever you do the train will stop here. So Nazarbayev said, 'Okay, fine, we have something here, we have an event, so we will create something around that event,' and this is the result, and it's magic."
China's rail gauge is 85mm narrower than those in the countries of the former Soviet Union, so a train cannot fluidly travel between the two geopolitical realms. Instead, it needs to stop at the border and have its cargo transferred to a locally-gauged train before it can be transported onward, creating a trans-continental relay system not unlike those of the ancient Silk Road.
The Inland Container Dock (ICD) is a 240 hectare portion of Khorgos-East Gate that was commissioned on 29th of July, 2015, as China-Europe trans-continental trains began rolling through. The container port currently has capacity to process 540,000 TEU annually, with six berths where multiple trains can be handled at the same time. Although within five years Gheysen predicts that they could be seeing over a million TEU passing through — which is more than many seaports in the world.
An entire city is being built here. The space available for the Khorgos-East Gate project is a colossal 4,591 hectares, which is roughly the same as the Jebel Ali Free Trade Zone in Dubai. Clearly, this place is not meant to just be a dry port where containers are merely moved from one train to another but a complete epicenter for trade and commerce in and of itself. In addition to the container port, there are large scale logistics and industrial zones that are currently being built. Ultimately, Khorgos-East Gate is meant to become a one stop shop where products can be manufactured, warehoused, imported, exported, and transshipped. A shopping area where merchants can come and see samples of products that they can purchase and have put right on trains is also in the works, "like in Dubai," said Hicham Belmaachi, Khorgos Gateway's marketing manager.
Also like Dubai, Khorgos-East Gate is a tax-free special economic zone which offers investors an array of incentives and subsidies. There is no CIT, VAT, land, or property taxes levied here. There are also customs preferences given to operators inside the FEZ, which include exemptions of customs processing for imports. The process for bringing in foreign workers is also streamlined.
"In the first stage we create a dry port, after that a logistics zone, then an industrial zone," said Erkin Zhusanbayev, an administrator at KTZ, Kazakhstan's national railway, of which Khorgos-East Gate is a wholly owned subsidy.
Even though the land was just cleared for the industrial zone, investors are already showing up. Hardly a week before my visit representatives from Jiangsu province were there sealing a commitment to invest US$600 million.
It is predicted that Khorgos-East Gate will create 50,000 jobs by 2020, and a residential area for 110,000 people is already under construction.
Although it is the location of Khorgos-East Gate that is its biggest selling point. Positioned in proximity to the Eurasian Pole of Inaccessibility, the land mass's farthest point from an ocean, it is almost by definition at the heart of Eurasia. Khorgos-East Gate sits on the cusps of the Chinese and CIS markets, with South Asia, the Middle East, and Europe hardwired into a complex network of new trade routes which are set to use it as a hub. Running immediately adjacent to this new logistics and industrial zone is the emerging Western Europe-Western China Expressway, which will connect the coast of China with Saint Petersburg, Russia when completed in a year or two. Kazakhstan is also running JV terminals at Lithuania's Klaipeda port, China's Lianyungang port, the port of Bandar Abbas in Iran, and potentially another at India's Mundra port — all of which are set to connect into Khorgos-East Gate, a place that aims to transform Kazakhstan from a Central Asian backwater into the crossroads of Eurasia.
"The story of Dubai is what I want to do here," Gheysen proclaimed. "Dubai also got created around a small port where they made an economic zone and everything grew exponentially. That was the beginning 35 years ago of the Dubai that we know now."
Wade Shepard is the author of Ghost Cities of China.
Forbes, 28.02.2016