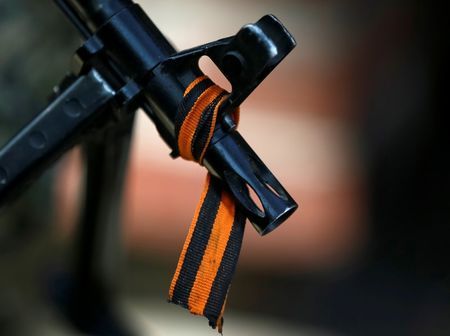 In the city of Kostanay in northern Kazakhstan, the ribbon of St George, a black-and-orange symbol of resurgent Russian patriotism that was adopted by separatists in Ukraine, hangs from every second car's rear-view mirror.
Most people in this town and the surrounding region are ethnic Russians, distinct from the mainly Muslim ethnic Kazakhs who are in the majority nationwide and control the main levers of power in this oil-producing former Soviet state.
Demographically, the region therefore has much in common with Ukraine's Crimea peninsula and the eastern Donbass region, whose majority Russian-speaking populations pulled out of Kiev's orbit with help from Moscow.
There is no separatist rebellion in northern Kazakhstan, but the ethnic Russians, who make up more than a fifth of the country's 18 million population, are feeling increasingly insecure and some sympathize with the separatists in Ukraine.
The Ukraine experience has made the Kazakh authorities highly sensitive to any signs of disloyalty by ethnic Russians. Ethnically based political parties are banned.
Last year, a court in eastern Kazakhstan sentenced a user of Vkontakte, a Russian-based social network, to five years in prison for posting a poll which asked people whether they would support the idea of that region, which also has a big ethnic Russian population, becoming part of Russia.
"Their bodies are in Kazakhstan but their minds are in Russia," said political analyst Dosym Satpayev, talking about what he described as the significant portion of the Kazakh population influenced by Russian media.
"There are signs that (the authorities) in Kazakhstan are beginning to realize it also faces a separatist threat," said Satpayev, who runs the Risk Assessment Group, a think tank.
There are no signs of Moscow promoting separatism in Kazakhstan, although it wants to keep the country in its orbit.
But it remains unclear who will succeed ageing President Nursultan Nazarbayev and whether the new leader will maintain close ties with Russia. Ukraine's break with Russia prompted separatist upheavals there.
Moscow has a clear interest in what goes on in its neighbor. At 3.7 million, Kazakhstan's Russian diaspora is the second-biggest after Ukraine and its northern and eastern regions are home to major industrial enterprises with Russian links. Northern Kazakhstan is a major coal and grain region.
RUSSIAN ORBIT
Most of the landmarks in Kostanay, a city of 200,000, date back to the 19th century, when the territory became part of the Russian empire and settlers arrived. More people arrived from Russia when Kazakhstan became part of the Soviet Union.
Kostanay lacks the glitz that oil wealth has given to the cities of Astana and Almaty. People live in nondescript gray apartment blocks built en masse under Soviet leader Nikita Khrushchev, who oversaw a large-scale campaign to turn "virgin lands" in Kazakhstan into farmland.
Today, most people in Kostanay speak Russian. The Kazakh language can barely be heard in the streets, in contrast with southern Kazakhstan, where ethnic Kazakhs generally use it.
Although the Russian and Kazakh economies are reeling from the slump in the price of oil - both countries' main export - nearby Russian cities such as industrial Chelyabinsk remain a magnet for job seekers.
The Kostanay region, meanwhile, has been hit hardest among Kazakhstan's administrative units, according to official data.
Some locals working across the border acquire a second, Russian citizenship, which is illegal but possible due to lack of coordination between Russian and Kazakh authorities.
CRIMEA SCENARIO
Perhaps mindful of the legal penalties, people in Kostanay do not express separatist sentiments in public. Many say they display the St George's ribbon to commemorate the Soviet victory in World War Two, not because of any association with the pro-Russian separatists in Ukraine.
But some in the city sympathize with the pro-Russian movements in Ukraine and see parallels with Kazakhstan.
"I think Kazakhstan won't be able to make it without Russia," says 19-year-old Vladislav, who declined to give his full name because of the sensitivity of the subject.
"As for the Crimean scenario, everything went fine there - which cannot be said of Donbass and nobody wants the latter, nobody wants a war."
Reuters, March 4, 2016