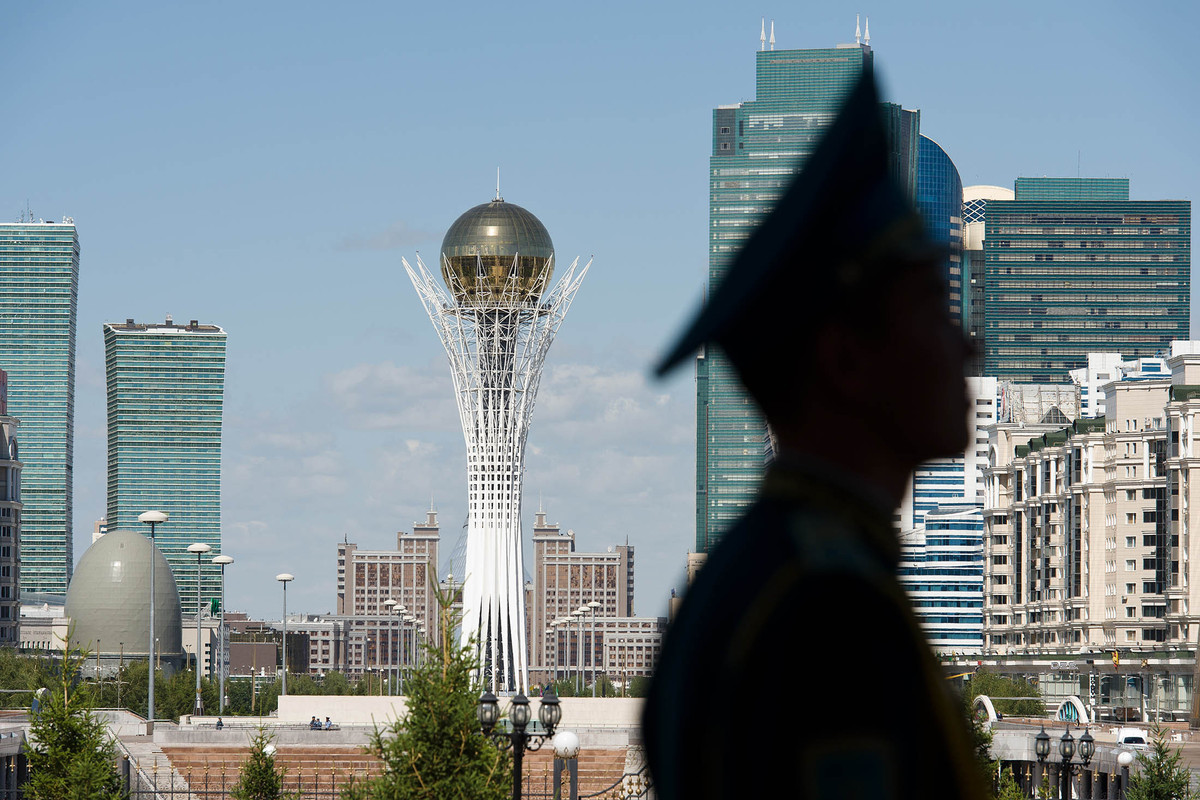 KKR & Co. founder Henry Kravis, Blackstone Group LP Chairman Stephen Schwarzman and Carlyle Group co-founder David Rubenstein were among the guests when Kazakhstan President Nursultan Nazarbayev hosted a dinner in New York.
Apart from the dining at the Four Seasons Hotel, there was access to a possible $93 billion on the table as Nazarbayev, who presides over Central Asia's biggest energy exporter, seeks to boost returns on the country's wealth funds. The $64 billion National Fund has struggled to achieve an average of 2 percent annually for the past five years.

After President Nazarbayev, who spoke about investment opportunities in Kazakhstan and institutional reforms the nation embarked on this year, speakers from the U.S. including former Federal Reserve Chairman Ben Bernanke took the floor to talk about global geopolitical and economic challenges.

As the price of oil flirts with an 11-year low and returns from commodities slump to levels last seen in 1999, new inflows into the $7.1 trillion of assets controlled by the world's sovereign wealth funds from Kazakhstan to South Korea are in jeopardy. Norway's $840 billion fund posted its biggest loss in four years in the second quarter as global markets were roiled by a selloff in Chinese stocks and the prospect of higher U.S. interest rates.

"We are sitting on a huge pile of cash and not making real returns," said Berik Otemurat, who organized the September dinner and who helps manage $800 million of the Kazakh Central Bank's reserves as chief executive officer of National Investment Corp. "It's especially urgent to address this, given the gloomy outlook for oil prices and reduced inflows into the National Fund."
Officials at KKR, Blackstone and Carlyle Group declined to comment on the dinner.

Kazakhstan now plans to increase investments in real estate, private equity and hedge funds as it seeks to boost returns. Facing a similar predicament, Arabian Gulf funds are switching their investments out of financial services and into hotels and retail, as well as funding infrastructure in Africa, where yields are higher, Moody's Investors Service said in a Nov. 12 report.

Some funds are also liquidating assets as oil revenue shrinks, according to Richard Buxton, chief executive officer of Old Mutual Global Investors in London.

"Will we continue to hear the gentle sucking of cash going back to the Middle East next year? Yes," Buxton said on the sidelines of a Dec. 8 conference in London. "Sovereign wealth funds are calling in cash."

Switching into alternative assets brings challenges. Korea Investment Corp. lost $595 million on seven direct commodity-related alternative investments through the end of June, according to the state auditor. The then-Chief Executive Officer Ahn Hongchul said in July that he planned to lift the $87 billion fund's allocation to alternative investments to 50 percent over the next five years to compensate for declining returns. He resigned days before the audit's findings were published.

National Investment Corp.'s managers have held meetings in Kazakhstan with officials including Ng Kok Song, former chief investment officer of Singapore's GIC Pte. They've also visited counterparts in countries including China and Abu Dhabi.

Sovereign funds had invested $1.9 trillion in equities and $900 billion in fixed income and short-term liquid assets at the end of 2014, according to Moody's. They allocated just $400 billion to alternative investments including real estate, infrastructure, private equity and hedge funds, the ratings company said.

Real estate is particularly attractive after it returned an average of 14.1 percent last year for the funds, almost double their 7.4 percent target, according to a survey by Cornell University and advisory firm Hodes Weill & Associates published Dec. 2.

Sovereign investors were net buyers of $36.1 billion of real estate globally through Dec. 7, a 60 percent increase from 2014, according to data compiled by Real Capital Analytics Inc. Deals completed this year include the acquisition of Canary Wharf financial district in London by a venture including Qatar Investment Authority and the purchase of a stake in 11 Manhattan office buildings by Norges Bank Investment Management.

Hedge funds have been less successful in attracting money, according to Martin Visairas, the global head of capital introductions at the prime finance unit of Citigroup Inc. Allocations this year are "flattish to slightly positive" and it will be a similar situation in 2016, he said.
Kazakhstan is bucking the trend. It allocated more than $350 million to Grosvenor Capital Management, a fund of hedge funds, and money manager Hamilton Lane Advisors, Otemurat said.

The country also started to allocate money to hedge funds and private equity businesses directly, including Citadel LLC's Kensington fund and Blackstone Capital Partners, he said.

"I have always thought about ourselves as a newly-born giant kid standing on the shore of an ocean of opportunities for the country, being afraid to make our first steps without breaking a leg," Otemurat said. "Before you run you have to learn how to walk."
www.bloomberg.com, December 28, 2015