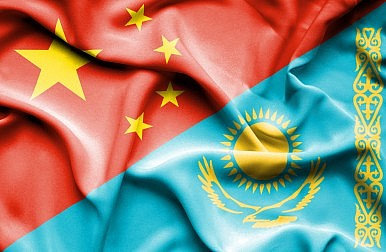 Kazakh Prime Minister Karim Massimov made the most of his trip to China this week. While in China Massimov attended the Kazakh-Chinese Business Council (KCBC) in Beijing, where a handful of commercial deals were made. He also met with his Chinese counterpart, Li Keqiang, to settle a variety of bilateral deals.
The two went on to attend the Shanghai Cooperation Organization heads of government meeting in Zhengzhou and then Massimov continued on to Wuzhen, to attend the second World Internet Conference and meet with Chinese President Xi Jinping.
The Astana Times reports that $10 billion in commercial deals were agreed to during the business forum and according to Reuters, the package of deals signed Monday in Beijing is worth $4 billion. The deals cover projects in several sectors including oil and gas, uranium mining, and telecommunications.
A private Chinese company, CEFC Energy, will take over 51 percent of KMG International, which mostly operates in Central and Eastern Europe. KMG International, according to its website, owns one of the biggest oil refineries in the Black Sea region, the Petromidia Navodari facility in Romania. In 2007, the Kazakh state oil and gas company, KazMunayGas, acquired a 75 percent stake in KMG International, then known as Rompetrol (a name still used in European branding). In 2009, KazMunayGas acquired the remaining 25 percent.
The Chinese takeover of a controlling share of KMG International is a visible sign of Kazakh cooperation on the European end of the larger Chinese Belt and Road initiative.
Indeed, several economic plans between Kazakhstan and China fit nicely together. The Belt portion of China's economic integration plan, first iterated during Xi's September 2013 visit to Central Asia, is a targeted revival of the Silk Road. In November 2014, Kazakh President Nursultan Nazarbayev unveiled Nurly Zhol, the bright (or sunny) path, which is essentially an infrastructure development initiative. Earlier this year Paolo Sorbello categorized it aptly as "a sort of Kazakhstani 'New Deal,' devised to bring the country out of crisis."
In his state of the nation address, Nazarbayev dramatically said, "Kazakhstan owns a territory so vast it would tire the wings of a bird to fly over it. Thus, this plan requires huge funds and hard work." The initiative included several types of infrastructure development — transport and logistics, industrial, energy, utilities, housing, schools and education, and business development.
Other Kazakh initiatives — the 2050 Strategy and the 100 Steps – also are predicated foreign investment — with China an obvious source. The alignment of the Chinese Belt and Road with Kazakhstan's Path and Steps mirrors other forms of bilateral harmonization.
Most of China's interests in Kazakhstan are still related to energy. In addition to the KMG International deal, China National Chemical Engineering agreed to a $1.87 billion project with Kazakhstan Petrochemical Industries for a natural gas-fueled chemical complex. CGN Mining will partner with Kazatomprom to develop uranium deposits in Kazakhstan, and CGNPC Uranium Resources (like CGN Mining, a subsidiary of the state-owned China General Nuclear Power Corporation) will work with the Kazakhs on supplying fuel to China. Not to be left out, Sinopec signed a memorandum of understanding with KazMunayGas covering several areas from petrochemicals to renewable energy.
But Kazakhstan is increasingly a diplomatic partner for Beijing, too. Kazakh media, such as the Astana Times, have adopted Chinese rhetoric with regard to win-win cooperation, describing initiatives to develop stronger trade and business ties as "mutually beneficial." On the cyber front, Kazakhstan and China are also on the same page. In Wuzhen, China's views on how states should manage the internet were on full display. As Shannon Tiezzi notes in her analysis, Beijing isn't giving up on "cyber sovereignty," or the idea that states should have control over the internet within their countries. This runs counter to the Western view of internet governance that views the internet as a global commons and sees state interference as deeply worrying. Kazakhstan leans toward the Chinese side of that particular global debate.
Massimov delivered remarks at Wuzhen in Chinese, though according to Tiezzi his accent is awkward to say the least.
According to Xinhua, in his meeting with Massimov Xi said the "comprehensive strategic partnership" between China and Kazakhstan experienced rapid development in 2015 and that the two countries share a solid foundation of political trust and strategic coordination for bilateral cooperation.
The Diplomat, 17.12.2015