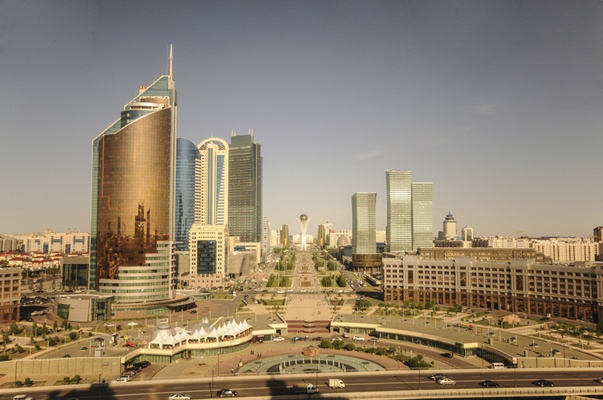 Kazakhstan said on Tuesday it would tear up its monetary policy mechanism and come up with a new approach, scrambling to find a coherent response to the sliding world oil prices that have pushed down its national currency.
But markets were confused about what the government meant when it said it would switch to a flexible key interest rate, with some fearing the change would make the currency market more volatile instead of more stable.

Kazakhstan has been supporting the tenge currency in recent months mainly by sharply restricting short-term liquidity, which means the central bank's benchmark interest rate has had little effect, making it unclear what would be achieved by the change.

The global crude production glut which has pushed prices down to levels last seen during the credit crunch of 2008-2009, has forced many oil-rich countries to find an adequate policy response to ease pressure on currencies and combat inflation.

Kazakh National Economy Minister Yerbolat Dosayev, a member of the central bank's board, said that a flexible interest rate would be introduced from April with the aim of bringing inflation down from its current level of around 10 percent to 3-4 percent in 2020.

"This will allow (the central bank) to increase effectiveness of monetary policy operations and to increase its impact on money market rates," Dosayev told a government meeting.

Tuesday's announcement is the latest in a string of unexpected moves by President Nursultan Nazarbayev and the authorities, including a reshuffle at the National Bank of Kazakhstan (NBK).

Economists and market participants were baffled by the government's proposed change to monetary policy.

"If the NBK is still targeting inflation, then the key rate needs to be set at a certain level, it can't be flexible," said Tatiana Orlova, a senior economist for Russia at the Royal Bank of Scotland in London.

"There is still a big need in clarification of the national bank's policy going forward and there is still a huge lack of credibility which needs to be addressed."

WRONG MESSAGE?

For Kazakhstan, additional headwinds have come from the economic challenges faced by its neighboring countries and largest trading partners, Russia and China. Exports to both have fallen, sending the current account into deficit.

The country, which receives more than 60 percent of its export income from oil and gas, abandoned a currency peg to the dollar in August, allowing the tenge to slide in line with the price of oil and Russia's rouble .

In September, it introduced a key interest rate as a tool of monetary policy.

That rate is now set at 16 percent, but with the bank sharply limiting the availability of short term liquidity, the banking sector pays little heed to it. The repo rate on overnight loans <.kztonia> has instead swung wildly between 9 percent and 135 percent on low volumes.

Last week, the NBK postponed its monetary policy meeting for a second time, indicating that liquidity will remain scarce on the local market.

Market participants took Tuesday's announcement as an indication of how long the central bank will limit market liquidity and how long the key rate will remain unchanged.

"De facto (this means) that until April of next year there will be no rate policy meetings, which is not good for the market," said a trader at a Kazakh bank, who asked not to be identified.

The tenge has stabilized at around 307-308 per dollar after falling 9 percent when Daniyar Akishev, a former economic aide to Nazarbayev, took over as central bank chairman on Nov. 2.

"Based on today's oil prices and the rouble, the tenge should fall ... but the situation with the lack of liquidity in the market constrains the tenge from a sharp fall," Aivar Baikenov, head analyst at Asyl-Invest investment house.

Orlova at RBS said that the tenge now looks like it is operating under a peg rather than a floating currency regime.

"The recent mess in forex and monetary policy has actually pushed the economy slightly closer to a crisis than it would have had otherwise been. When you make u-turns in the direction of policies every two weeks, the public would not know what to make of it," she said.

"By sticking to more consistent and clearer policies, Kazakh policy makers would ease the burden of the current commodity situation on the economy."

(Writing by Lidia Kelly)

Reuters, December 8, 2015