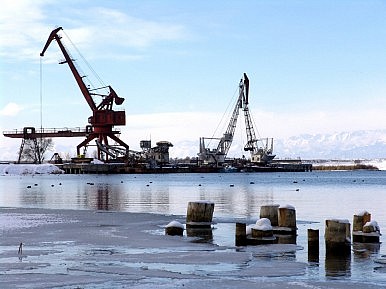 It's unclear that Astana can match big ambitions with the reality of an underdeveloped bureaucracy.
Kazakhstan, without a doubt, has capitalized on its natural resource wealth, using massive oil and gas deposits to pull the country from post-Soviet poverty into the ranks of emerging economies. Its GDP, at 231.9 billion, dwarfs its fellow Central Asian neighbors. By other economic measures Kazakhstan has also excelled: GDP per capita was upwards of $13,000 (US) in 2013 and GDP growth was over 6 percent until 2014.
But the good days of easy growth are ending for Kazakhstan. GDP per capita has contracted slightly, to just over $12,000 in 2014, according to the World Bank, and growth has slowed dramatically since 2013. The World Bank projected in May that the country's growth would fall to a low of 1.3 percent this year. Other estimates are barely more optimistic. The Asian Development Bank, for example, expected 1.9 percent growth in its spring outlook, but revised that figure to 1.5 percent in September. There are countless indicators of the trouble: inflation and exchange rates, scapegoating the central bank head who set the tenge to float freely from its erstwhile peg, and the ending of bread subsidies.
One of the causes is the very same commodity that Kazakhstan built itself up on: energy resources. As global oil prices plummeted over the past year, Kazakhstan maintained production. Averaging 1.72 million barrels per day through 2014, the U.S. Energy Information Administration (EIA) now forecasts that Kazakhstan will average 1.71 mb for 2015. OPEC estimates that this will fall further in 2016, to an average of 1.57. This production slowdown reflects an understanding, in part, by Astana that prices are not expected to return to their previous highs. But it is also a reflection of lagging investment and dragging project start-dates, the massive Kashagan project, for example, isn't expected to restart until mid-2017.
Astana is aware of the economic turbulence it is experiencing. So, what's to be done? Kazakhstan has made big gestures trying to attract foreign investment and other sources of economic diversity, like tourism. But as an article in the Financial Times suggests, Kazakhstan might be working too-hard scurrying to settle deals in Europe and unveiling a massive privatization plan:
These plans are evidence that Kazakhstan intends to grasp the nettle of reform, unlike other commodity-oriented emerging markets such as Brazil, Russia and South Africa. Yet, it is not inertia that ails Astana, but the opposite. Its scattergun hyperactivity extends beyond privatisation plans to an ambitious list of infrastructure projects.
"These myriad ambitions seem to flow from the top," the FT notes, going on to explain that this might overburden the country's weak bureaucracy. President Nursultan Nazarbayev has big ambitions–that's clear from his top 30 economy plan and 100 steps scheme–but can the country's functionaries carry out that vision? Can its legal structures manage the burdens of international trade? Can corruption be measurably reigned in? Further, it is unclear that this "hyperactivity" inspires the intangible, but crucial, confidence necessary for economic stability.
The Diplomat, 13.11.2015