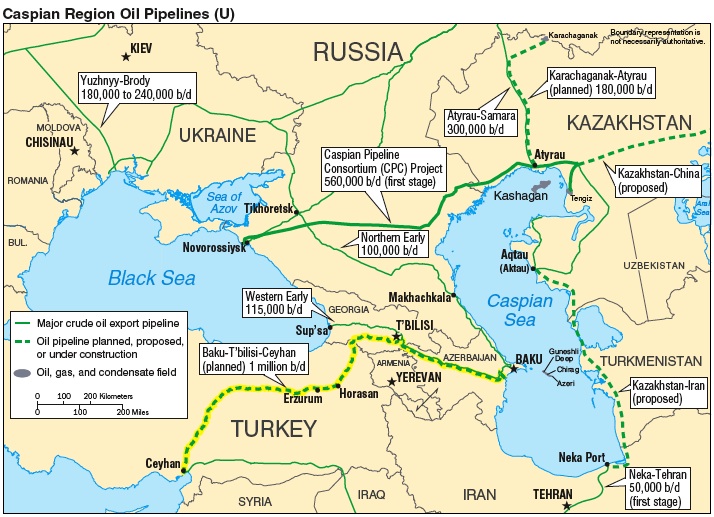 Russian politician Andrei Zhirinovsky is all mouth, so it would not normally have caused a stir when he suggested earlier this year that Russia should simply annex the parts of neighboring Kazakhstan that have a large Russian population. But the ultra-nationalist leader of the Liberal Democratic Party actually frightened the Kazakhs, because there is a bigger game going on.
Kazakh President Nursultan Nazarbayev, in power since before Kazakhstan got its independence from the former Soviet Union in 1991, was so alarmed that he openly expressed doubts about whether Kazakhstan should join Moscow's "Eurasian Economic Union" (EEU) when it launches next January. "Kazakhstan will not be part of organizations that pose a threat to our independence," he said in August.
The EEU is the same organization that Ukrainians rebelled against joining last year when their pro-Moscow former president, Viktor Yanukovych, abandoned plans for closer ties with the European Union (EU). But Kazakhstan under Nazarbayev has always been on good terms with Russia, so Russia's autarch, Vladimir Putin, immediately cracked the whip.
"Kazakhstan never had any statehood (historically)," Putin said. Nazarbayev merely "created" the country ― with the clear implication that it was an artificial construct that might, if the wind changed, just be dismantled again. With Russian troops in eastern Ukraine "on holiday" from the army (but taking their armored vehicles and artillery with them), it was a veiled threat that Kazakhstan had to take seriously.
There has actually been a Kazakh state. Almost the entire area of the current country, and substantial parts of neighboring countries, were ruled from the 15th to the 18th centuries by a powerful Kazakh khanate, the traditional form of state among the Islamic, Turkic-speaking peoples of Central Asia. The reason it never evolved into a modern state is that the whole area was conquered and colonized by the Russian empire.
Russia is still the only great power within easy reach of the Central Asian states, and it underlined its displeasure with Nazarbayev by holding military exercises near the Kazakh border in early September. But Putin was not just restoring discipline in a prospective member of the EEU, his pet project to rival the EU.
Putin's strategic objective is to control oil and gas traffic across the landlocked Caspian Sea. The last thing Moscow needs is cut-price competition from Central Asian producers in its European markets.
Moscow at the top of the Caspian Sea and Iran at the bottom have their own pipelines to get oil out to the markets. Azerbaijan, on the western shore, has built pipelines through Georgia into Turkey, one of which reaches the Mediterranean, so Russia cannot control its exports. But Moscow still has a stranglehold on the big oil and gas producers on the eastern side of the sea, Kazakhstan and Turkmenistan.
Neither of those former Soviet republics can escape Moscow's grip unless it can move its oil and gas in pipelines across the Caspian seabed to Azerbaijan and out to the Mediterranean from there. So Putin has been trying for years to get a Russian veto on any such pipelines. He's nearly there.
If the International Law of the Sea applied, then each country's Exclusive Economic Zone, with control over seabed developments, would extend 300 nautical miles from its coast. The Caspian is not that big, so all five EEZ's would meet in the middle ― and Kazakhstan and Turkmenistan's zones would both touch Azerbaijan's, so the question of trans-Caspian seabed pipelines would be beyond Moscow's control.
But since the Caspian Sea is not part of the world ocean, the five countries around it can agree on any local rules they like. Russia is by far the greatest power on its shores, and the rules it likes would confine each country to a 15-nautical-mile sovereign zone and a 25-mile exclusive fishing zone.
Under this regime, the middle of the sea would remain a common area where any development would need the consent of all five countries. Hey presto! A Russian veto on any pipelines crossing the Caspian Sea, and continuing control over oil and gas exports from Central Asia to Europe.
Following a summit meeting of the five countries' leaders in Astrakhan at the end of September, it's practically a done deal, although the final treaty will not be signed until 2016. Late last month Richard Hoagland, U.S. assistant secretary of state for South and Central Asian affairs, visited Astana, the Kazakh capital, and said that the U.S. firmly supported Kazakh independence and territorial integrity, but everybody knows who's boss in the region.
Sidelining Kazakh and Turkmen competition in the European gas and oil markets will not help Moscow much, however, if Putin's behavior on Russia's western borders continues to frighten the Europeans. They will be scrambling to cut their dependence on Russian gas and oil as fast as they can, and the fracking Americans, with their soaring production, will be more than happy to help.
Gwynne Dyer is an independent journalist whose articles are published in 45 countries.
www.koreatimes.co.kr