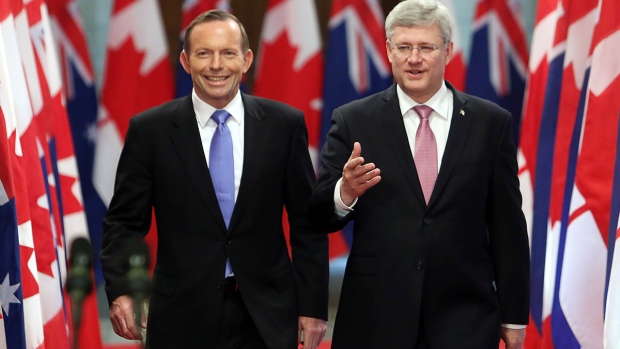 Australian Prime Minister Tony Abbott and Canadian Premier Stephen have just landed near the bottom of a ranking of the world's worst climate villains.
The 2014 Climate Change Performance Index, published by Germanwatch and the Climate Action Network, called out Abbott and Harper for aggressively dismantling and blocking clean energy policies in their countries. They came in at 57th and 58th in a list of 61 names, and have some illustrious company at the bottom. Let's take a look at the worst five.
1. King Abdullah of Saudi Arabia
Dead last on the Climate Action Network's list and holder of the worst record among the G20. A desert country that was long the world's foremost oil producer, Saudi Arabia seems both naturally and intentionally destined to be a man-made climate change skeptic. Although the U.S. is poised to overtake it in terms of oil production, Saudi Arabia reached a production of 10.24 million barrels per day in August 2013, its highest level in a number of years.
Furthermore, although the country supports much of the global thirst for oil, the ruling Saud family, especially King Abdullah, has crafted an energy policy that leaves the country relying extensively on hydrocarbons for its own consumption. Last August, it was reported that a shortage of natural gas had left Saudi Arabia dependent on oil for its electricity production. This was after King Abdullah's envoys tried to get climate change dropped from the United Nations' 2015 Sustainable Development Goals, with Andrew Scott from the Overseas Development Institute saying that "the international recognition that sustainable development cannot be achieved without renewable energy is not in the interest of Saudi Arabia, Venezuela or any other oil exporting countries." It is this failure to move his country on from its oil-rich present that makes King Abdullah the worst climate villain among world leaders.
2. Nursultan Nazarbayev, President of Kazakhstan
The list of promises broken by Nursultan Nazarbayev runs long, but one of his most blatant lies shows his energy policy to be a sham.
Last year, he pledged that Kazakhstan would dedicate 1 percent of GDP to help the country build its green economy. Just a month ago, he told Russian President Vladimir Putin that he "didn't believe in alternative energy sources, like wind or solar."
That statement is certainly an attention-grabber. Either Nazarbayev does not believe in elementary science about energy sources or he said it to keep Russia happy, given the two countries' energy links. What has puzzled many analysts, according to Eurasia.net, is that diversifying renewables makes complete sense for Kazakhstan. Nazarbayev's "Kazakhstan 2050" roadmap stated that the country could not achieve long-term economic progress without reducing its reliance on hydrocarbons. Doing so would boost exports of oil and gas, create jobs in a green economy, reduce pollution, and help remove Astana from the crushing yoke of Russian energy exports.
Although 12 percent of the country's energy comes from hydro sources, projects for other renewable sources have been dismissed as a sham, despite international loans going to build wind farms. Until Nazarbayev can show a real commitment to a green energy mix, perhaps at the Expo 2017 World Fair, he'll remain firmly in the "climate villain" category.
3. Hassan Rouhani, President of Iran
Many of Iran's woes revolve around its oil production and the pollution in the capital Tehran. Largely motivated by immediate economic and political objectives, Iran has not mapped out a solid path to renewables, despite being a signatory to Kyoto and other climate change treaties. Previous governments have made progress toward many of the Millennium Development Goals, but not on those concerning the environment. Tehran now stands as one of the most polluted cities in the world, heavy state subsidies have kept oil prices artificially low -- leading to severe vehicle emissions -- and former President Mahmoud Ahmadinejad famously blamed Western capitalism for climate change.
Although President Rouhani has been in power just over a year, there are some encouraging signs coming from his government. At the UN Climate Summit in September, he vowed that Iran was changing tack on renewable energy, promising that hydrocarbon subsidies would be reduced, atmospheric pollutants would be limited and Iran's paltry renewable installed capacity would be increased. What's needed now is action, so for the time being, Hassan Rouhani is the world's third-worst climate villain.
4. Stephen Harper, Prime Minister of Canada
Where Hassan Rouhani is trying to reverse his country's dismal track record on climate change, Stephen Harper is embracing it. For him, the melting of Arctic ice is a great commercial opportunity for Canada as the Great Northwest Passage opens up. The Kyoto Protocol is little more than a socialist scheme. But where other world leaders have elected to simply stay out of Kyoto, Harper took the initiative to try and dismantle it, cobbling together an "alliance of the unwilling" that includes Australia and Japan. In September, he intentionally stayed away from the UN Climate Change Summit despite being in New York at the time.
There are few countries where having such a staunch skeptic in office could prove so destructive. Melting permafrost, a boost to oil and gas production, and becoming the world leader in deforestation have all happened under Harper's watch. It is no surprise that the Climate Change Performance Index slammed Canada as it "still shows no intention of moving forward with climate policy and therefore remains the worst performer of all [industrialized] countries."
5. Tony Abbott, Prime Minister of Australia
Tony Abbott claims that the science of climate change is "absolute crap." That's despite the Australian government's own Bureau of Meteorology declaring that Australia's average temperature has risen by 0.9C in the last century, an increase in bush fires, and the rise of sea levels. Concentrations of greenhouse gases are at their highest levels in 800,000 years.
But even in the face of such data, Abbott has consistently muzzled climate scientists, defunded renewable energy incentive programs, refused to allow climate change to be on the agenda of November's G20 Summit in Australia and claimed that coal is good for humanity.
Environment Minister Greg Hunt, of a similar mind to Abbott, has agreed that "large areas of land are ravaged every year by bushfires" but dismissed this as being part of "the Australian experience." Tony Abbott has spoken of the inspiration he has drawn from Stephen Harper's hardline stance on climate change. Like the Roman Emperor Nero, he is fiddling while Australia burns.
Oilprice.com