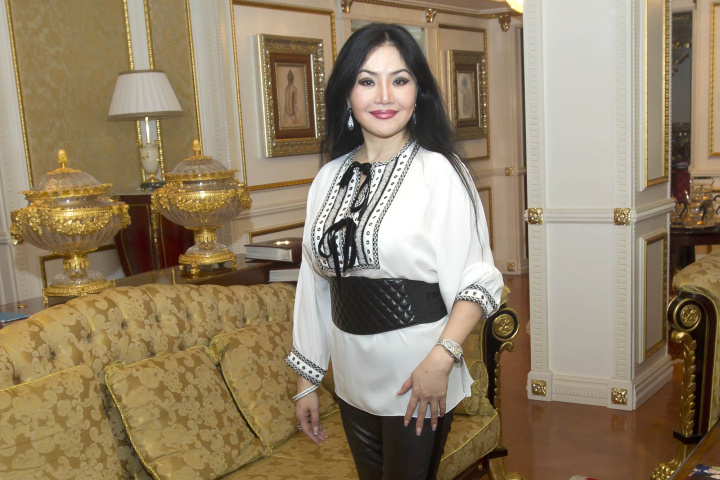 The spurned ex-wife of a Kazakh fertilizer tycoon says her former hubby is full of it. In new court papers, Maira Nazarbayeva asked a Manhattan judge to toss her hubby's lawsuit against her – in which he accuses her of swiping almost $100 million of his fortune to pay for jewelry and a Plaza apartment — because she believes he's faking an illness to duck depositions.

Bolat Nazarbayev, brother of Kazakhstan's president Nursultan Nazarbayev, sued his former spouse and his stepson in 2012 claiming that they secretly transferred the deed to a $20 million apartment at the famed hotel and condo to her name and wired $75 million to celebrity jeweler Jacob Arabov.

But in documents filed ahead of her court appearance on Wednesday Maira says Bolat's claim that he's unable to travel because of unstable blood pressure is just bull.

"It is my belief that this medical condition is fabricated in an effort to circumvent the rules of this honorable court," his former wife sniffs in a sworn affidavit.

Modal TriggerMaira Nazarbayeva and her ex-husband Bolat Nazarbayev.

Maira Nazarbayeva and her ex-husband Bolat Nazarbayev.

Bolat's health troubles — namely diseases related to extravagant living including obesity and liver problems — have caused him to miss two scheduled depositions, she maintains.

To back her claims Maira attached a recent, translated interview with a Kazakh publication called "Adam," where Bolat professes that his "health is fine," even though the interviewer notes that he has gained weight.

Maira calls the suit bogus and says her multimillionaire ex brought it only to "harass and embarrass" her.

She notes that a family court proceeding Bolat filed against her for neglecting their 11-year-old son while Maira was detained in the United Arab Emirates in 2012 was also withdrawn after Bolat never showed up for court appearances.

Bolat also takes issue with his ex, who he has labeled an international fugitive wanted for crimes committed in their homeland including having a romantic rival kidnapped, telling the press that they're still married.

He notes that a Kazakh court annulled the couple's marriage because it found that Bolat had been married to at least two other women when he wed Maira in 2001.

Bolat's attorneys have asked Manhattan Supreme Court Justice Eileen Bransten to postpone the case until Bolat's health improves.

The attorneys call the June article "hearsay" that "has no relevance to Mr. Nazarbayve's health condition as of September 26, 2013."

In a sworn statement Bolat says his doctors will not allow him to leave the country because of his ailments.

The court papers say that the businessman suffers " third-stage arterial hypertension, hypoxic ischemic encephalopathy, ischaemic heart disease, multifocal atherosclerosis, dyslipidemia, type 2 diabetes, visceralabdominal obesity, and steatosis of the liver."

But his attorneys add that, "Mr. Nazarbayev wants to prosecute this case, and wants to comply with the Court's orders, we have submitted an affidavit from Mr. Nazarbayev in which he swears under penalty of perjury that 'at the first moment that I am permitted to travel, I will come to New York for deposition.'"
New York Post