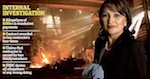 The finance director of FTSE 100 mining giant ENRC has been dragged into a row over corruption allegations, after parts of an internal probe were leaked.
The investigation by law firm Dechert into missing money at Kazakhstan-focused Eurasian Natural Resources Corporation (ENRC) contains explosive but unsubstantiated allegations from a whistleblower.
One allegation is that ENRC's subsidiary SSGPO handed contracts worth $100millio (£67million) to companies linked to family members of finance chief Zaure Zaurbekova without disclosing the connection.
Under fire: Finance chief Zaure Zaurbekova is accused of awarding contracts to family members
The report also details accusations that the value of the contracts was inflated, because the amount of work performed was overestimated and some was carried out by SSGPO rather than the contractors.
The allegations relate to the use of an outside company engaged in 'stripping' – a technical term for cleaning ovens and furnaces used in copper mining.
One section of the report, seen by the Daily Mail, suggests the 'contract stripping companies' were 'previously owned by son and brother of CFO [Zaurbekova]' and were 'hastily transferred to friendly nominee'.
It goes on to say that there was a 'lack of related party disclosures to board and regulators, including collusion of SSGPO president with... major shareholder Alijan Ibragimov'.
The contractors which performed the stripping were also said to have no previous experience in mining and did not have a licence.
One ENRC board member told the Mail that allegations Zaurbekova gave lucrative contracts to family members have already been dismissed by the company.
'There were allegations made that a relative of the CFO was involved in a company contracted to SSGPO,' the board member said. 'It was investigated and the judgment was made that the CFO did not know this.'
But the board member was unaware of any suggestion that the value of contracts was inflated, saying only: 'If you were doing a fiddle, that's how you'd do it.'
The unsanctioned release of the report adds to a history of boardroom rows that have weighed on ENRC's share price (down 3.3p to 342.8p yesterday) and saw former non-executive director Ken Olisa label the firm 'more Soviet than City' after being ousted in 2011. 'The security around this report was ultra-high, so it must have come from inside,' said the boardroom source.
About 15 months ago ENRC said it was assisting the Serious Fraud Office with an inquiry into corruption allegations at its subsidiary in Kazakhstan.
ENRC could not be reached for comment yesterday.