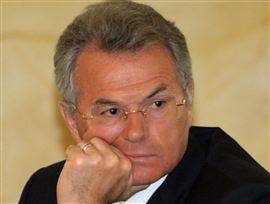 ASTANA -- Kazakh financial police have launched a criminal investigation against a former top official who is currently living in Switzerland, RFE/RL's Kazakh Service reports.
Zhandos Omiraliev, spokesman for the Kazakh Prosecutor-General's Office, told RFE/RL that police are investigating the activities of Viktor Khrapunov, who was mayor of Almaty from 1997-2004.
Omiraliev said he could not provide any details into the case. Financial police officials were not available to comment.
After leaving the Almaty mayoral post, Khrapunov worked as governor of his native East Kazkahstan Oblast before serving briefly as Kazakhstan's emergency situations minister.
He was sacked from that post in 2007 in the wake of a scandal surrounding land parcels allegedly distributed illegally by Khrapunov when he was mayor of Almaty.
In 2008, Khrapunov and several of his family members immigrated to Switzerland.
www.rferl.org