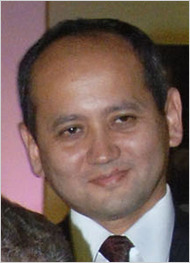 Fugitive Kazakh businessman Mukhtar Ablyazov has urged Chinese authorities to investigate a Kazakh-Chinese oil and gas deal that he claims was corrupt, RFE/RL's Kazakh Service reports.
Ablyazov, who left Kazakhstan for London in 2009 after his BTA Bank was taken over by the government, sent an open letter to Chinese President Hu Jintao, China's prosecutor-general, and the state security minister last week urging them to look into the companies involved in the deal with Kazakhstan. The letter was published today in Kazakhstan's weekly "Respublika."
Ablyazov insisted in the letter that when the Chinese National Petroleum Corporation (CNPC) agreed several years ago to buy shares of Kazakhstan's AqtobeMunayGaz oil and gas company, President Nursultan Nazarbaev's son-in-law Timur Kulibaev made CNPC create an offshore company called CNPC International (Caspian) Ltd.
Ablyazov said that 49 percent of the off-shore company's shares were sold to Darley Investment Services -- which is controlled by Kulibaev -- for $49.
Ablyazov claims that CNPC and some of its branches then bought the shares back from Darley Investment Services for $165.9 million.
Kulibaev is the deputy chairman of the Directors' Council of Kazakhstan's state fund Samruk-Qazyna, the chairman of the board at Kazakh oil and gas company KazMunayGaz and Kazakhstan Railways, along with other state companies.
Ablyazov is wanted by Kazakh authorities for alleged financial mismanagement.
www.rferl.org