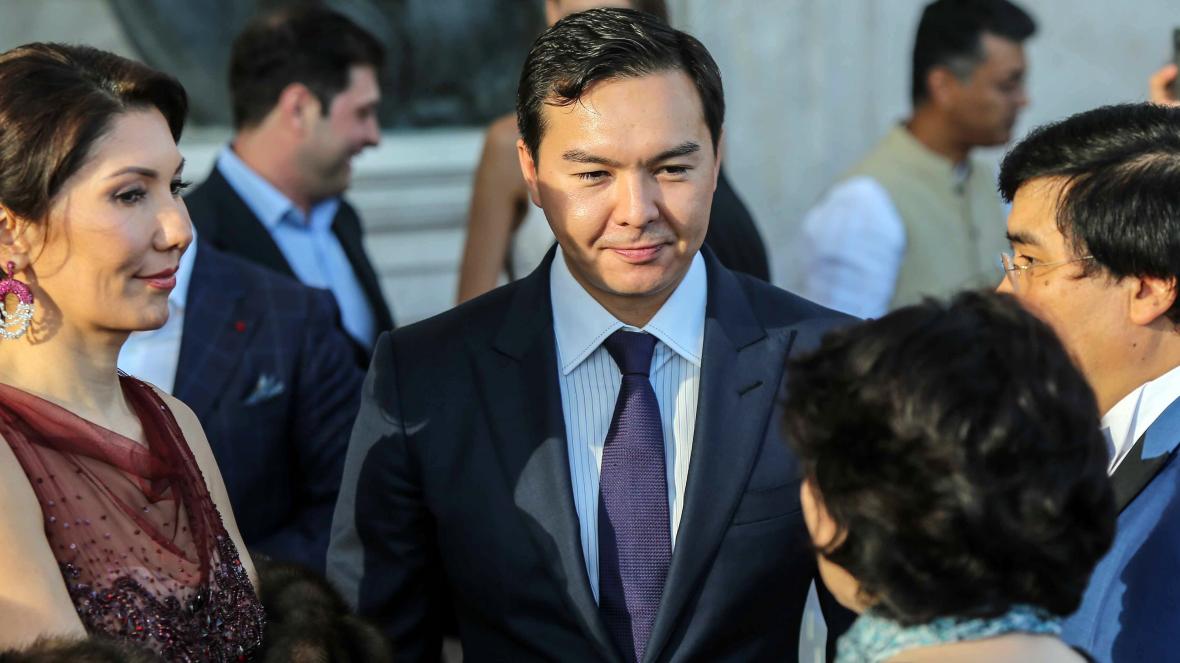 Nurali Aliyev, 35, was born into a family that has ruled Kazakhstan, an oil-rich former Soviet republic in Central Asia, with an iron fist for three decades.
His grandfather is Nursultan Nazarbayev, a notorious dictator who came to power in Kazakhstan in 1990. Mr Nazarbayev, 79, stepped down as president last year, but retained the title of "Yelbasy", or leader of the nation, a lifetime role that allows him to veto government policies. The country's capital was renamed Nursultan in his honour last year.
Mr Aliyev is the son of Dariga Nazarbayeva, Mr Nazarbayev's eldest daughter. Ms Nazarbayeva, 56, was appointed head of the Kazakh senate last year.


His late father was the former deputy chief of the KNB, the Kazakh secret police. Rakhat Aliyev, 52, was found dead in an Austrian jail in 2015 while awaiting trial over the murder of two Kazakh bankers. Austrian officials classified his death as suicide, but his lawyers said they did not believe he would have taken his own life. A former Kazakh ambassador to Austria, he had become a vocal critic of Mr Nazarbayev.


Mr Aliyev has no such problems with his powerful grandfather. Some analysts say he is being groomed to take over as Mr Nazarbayev's successor.


"The rumour mill in Kazakhstan has always had it that Nurali Aliyev is Nazarbayev's favourite grandchild," said Joanna Lillis, the British author of Dark Shadows, a book about modern Kazakhstan.
Mr Aliyev was appointed head of a major sugar producer at the age of 19. In 2007, he became head of Nurbank, one of Kazakhstan's biggest banks. A year later, he was appointed deputy chairman of the Development Bank of Kazakhstan. He also served as the deputy mayor of the Kazakh capital from 2014 to 2016.
According to the Panama Papers leak, Mr Aliyev owned two offshore companies registered in the British Virgin Islands. He is reported to have used the offshore companies for operating a bank account and a luxury yacht. He did not respond to the reports.


His brother, Aisultan Nazarbayev, applied last month for political asylum in Britain. He said he feared for his life.
"It's all about the fact that I have information about large-scale corruption between the governments of Russia and Kazakhstan," he wrote in a Facebook post. "I'm talking about billions of US dollars, stolen from the Kazakh people."


A former vice-president of the country's football association, Aisultan Nazarbayev, 29, once led a playboy lifestyle, with Kanye West giving a concert to guests at his wedding. He fell out with his family after his father's death in Austria.
At Southwark crown court last year, he received an 18-month suspended jail term for biting a police officer when he was discovered in a stranger's flat in Covent Garden.


In comparison, Mr Aliyev is a "far more staid and sober character,' said Ms Lillis. "Clearly, his being named in the Panama Papers as the owner of offshore wealth (there was no suggestion of any illegal activity) and now his name surfacing in relation to an Unexplained Wealth Order are not seen by the family to be anywhere near as damaging as the antics of Aisultan."
Original source: THE TIMES