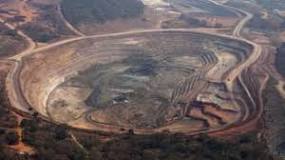 The daughter of one of the founding oligarchs of ENRC, the miner that delisted from the FTSE 100 amid corruption allegations, has been charged by the Serious Fraud Office.
The SFO said in a short statement on Friday that Anna Machkevitch was charged in connection with its long-running corruption investigation into ENRC. Ms Machkevitch, 36, is the director of London-based ALM Services UK and the daughter of Alexander Mashkevich, one of ENRC's trio of founders.
The SFO charged her with failing to produce documents demanded by the SFO through a so-called Section 2 notice. The offence carries a maximum six-month imprisonment and an unlimited fine. Ms Machkevitch is scheduled to attend a magistrates' court to face the charge on July 5.
Hers is the only existing charge emanating from the SFO's six-year investigation of ENRC. The agency previously issued an arrest warrant for Benedikt Sobotka, the chief executive of Luxembourg-based Eurasian Resources Group, the parent of ENRC, when he failed to show up for questioning but then rescinded the warrant.
ENRC was once listed on the London Stock Exchange but was made private in 2013 after allegations of fraud and corruption surfaced concerning its activities in Kazakhstan and its acquisition of assets in Africa. ENRC denies all the allegations against it. It has legally challenged the SFO over the investigation and has also sued Dechert, the law firm it once instructed.
"This is a very aggressive and unjustified move by the SFO," said Ian Ryan, a lawyer acting for Ms Machkevitch. She has "cooperated fully with the section 2 notice and is confident she will be exonerated by the court."
The SFO said in a statement: "The SFO's investigation into ENRC is ongoing and focused on allegations of serious fraud, bribery and corruption in relation to the acquisition and retention of substantial mineral assets."
Original source: FT