Despite democratic donor countries generous support Kyrgyz elites continue to roll back towards authoritarianism and kleptocracy. Twice these processes resulted in mass riots, with Kyrgyzstan's two presidents Akayev and Bakiyev fleeing the country.
In 2011, Rosa Otunbayeva the only president so far whose reputation — and freedom — remain intact handed presidential powers to democratically elected Almazbek Atambayev. His presidency was marred by a multitude of corruption scandals that implicated him and his entourage in corruption and theft of budgetary funds and loans. Trying to suppress the criticism Atambayev heavily persecuted the media, civil society activists, political opponents, leaving behind a long list of political prisoners with many fleeing into exile.
On Atambayev's orders a prominent Kyrgyz politician Omurbek Tekebayev, was charged for fraud and corruption and sentenced to 8 years' imprisonment in a case human rights organizations called politically motivated. Such methods aren't novelty in Kyrgyzstan. In 2006, long before Atambayev, in an attempt to charge Tekebaev with drug trafficking Bakiyev organized the planting of heroin-filled "Matreoshka" doll in Tekebayev's luggage on his European parliamentary tour. Talant Tairov, then the head of the airport security, carried out this operation upon Bakiyev's orders. Recently Mr.Tairov was brought back into his job by president Jeenbekov. Tairov's older brother Bakir was appointed Head of State Agency on Economic Crimes.
SAME PEOPLE, SAME METHODS.
With the same people coming back into power the same brutal methods against opponents continue to be applied. A strong example is the case of ex-Prosecutor General of Kyrgyzstan Aida Salyanova, who held the post from 2011 to 2015 and is known for initiating a number of corruption investigations against influential politicians. A young, competent woman, conducting high-profile arrests of officials and enjoying broad public support.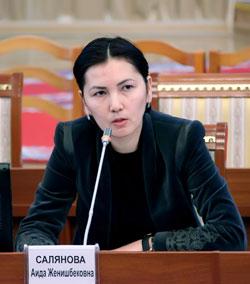 Aida Salyanova


In December 2014 rumours began circulating about deep political conflict between Salyanova and Atambayev. Reporters claimed that the Prosecutor General had taken leave of absence and would subsequently resign. To deny the rumours, President Atambayev held a press conference on December 27, 2014 praising her highly and stating that Salyanova was "just tired", and will return to the post.
On January 19, 2015 Aida Salyanova officially submitted her resignation from the post of Prosecutor General of Kyrgyzstan. The same day, in what looked like a bribery attempt, Atambayev rushed to award her with a medal "for significant contribution to the fight against crime and corruption in Kyrgyzstan."
THE RULERS' CORRUPT FRIENDS
The conflict between the president and the prosecutor is rooted in 2014 when she launched an investigation into corruption in the purchase of coal for Bishkek Heating and Power Plant. Yearly contract was worth $28 million. The "Kazakh Trio" of oligarchs Alexander Mashkevich, Patokh Shodiev and Alijan Ibragimov — involved in several international scandals and investigations by European law enforcement for fraud, bribery and corruption — kept winning the contracts year after year.
Following her investigation Salyanova accused Atambayev of complicity to corruption in these coal deals.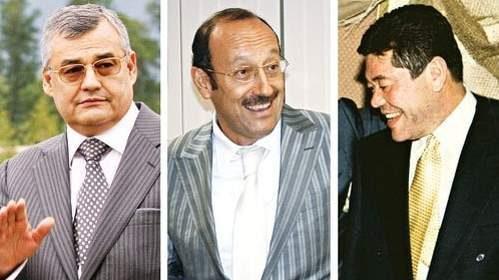 The Kazakh "Trio", Alexander Mashkevich, Patokh Shodiev and Alijan Ibragimov
THE PRICE OF THE REBELLION


After Salyanova's resignation, the authorities twisted the coal supply case investigated by Salyanova in such a manner that Salyanova's own husband Abdykaparov was charged with abuse of office and fraud soon after her resignation – on March 11, 2015.
The coal story begins with the opening of bids, which took place on 18 April, 2014. Kazakh Company "Zhezkazgan Energosbyt" was the lowest bidder with $ 26.5 million. Next was Adalinn LLP with $ 31.5 million, and Darsan Komir LLP with $ 32.8 million. The most expensive bidder with $ 35.9 million was the Progress Company, a "Kazakh Trio's" legal entity registered in Kyrgyzstan.
Consequently, "Zhezkazgan Energosbyt" won the bid and after signing of contract delivered the coal, which to this day remains unpaid by the Kyrgyz government. However, the then Minister of Energy of the Kyrgyz Republic Osmonbek Artykbaev (now under arrest) challenged the results of the tender in court, and the representative of "Zhezkazgan Energosbyt" Mr.Baihombaev was forced to flee Kyrgyzstan fearing for his life. He was later caught by Kyrgyz KGB in Belarus, but was set free after testifying against Abdykaparov. He parroted KGB's version of events, that Salyanova's husband allegedly, interfered in bidding process and arranged "Zhezkazgan Energosbyt" to win. This was confirmed in journalist investigation. It is still unclear what damage has been caused by the alleged actions. "Zhezkazgan Energosbyt" in any case was still the lowest bidder.
Commercial director of joint stock company "Electrical Stations", the coal purchasing agency, Mr.Imanov, spent 9 months in KGB detention center refusing to support the KGB investigators story and to provide false testimony against Abdykaparov. He insisted to have never met Abdykaparov.
On October 2, 2016 Imanov as well as Abdykaparov were found guilty for bid tempering and sentenced to lengthy prison terms albeit conditional. With Salyanova bogged down in courts and "Zhezkazgan Energosbyt" out of the way at least two goals were achieved: Salyanova was incapacitated and the "Rassvet" company affiliated with Mashkevitch-Chodiev-Ibragimov remained the exclusive supplier of coal.
Two months later, on December 26, 2016, Kyrgyzstan's authorities initiated another criminal case, against Aida Salyanova, for renewal of an attorney license for Alexei Eliseev, a Bishkek lawyer who received political asylum in Latvia. In response to accusations, she said there were no legal grounds to refuse the renewal of license. Salyanova regarded the authorities' actions as an attempt to intimidate her.
On October 10, 2017 Salyanova was sentenced to five years' imprisonment suspended until 2029, until her child is 14 years old. Observers and opposition Ata-Meken party reported gross violations by the court and prosecution and appealed to president Jeenbekov, who remained deaf to the call for justice.
THE MURDER CASE AS A PRETEXT FOR POLITICAL PERSECUTION


On March 16, 2014 a girl's body with signs of violent death was found on the outskirts of Bishkek. The victim was a 19-year-old student Kamila Duyshebaeva.
The circumstances of her death are unknown, and the case remains unsolved. During the investigation it was found that Aida Salyanova's relative Kalybek Eltuybasov was acquainted with the girl, and on the eve of her disappearance gave her a ride to one of the city's cafés. Eltuybasov claimed that he never saw the young woman again. His words were confirmed by video records reviewed by investigators.
After 3 years, on June 29, 2017, outside of statute of limitation, the Ministry of Interior initiated a case of obstruction of the investigation, and announced that Kalybek Eltuybasova was wanted for deleting records from sauna camcorders, where he spent the evening with friends before and after meeting with Duyshebaeva. The "witness" whose testimony was used to charge Eltuibasov later reported in a journalist's investigation, that he slandered Eltuybasov after being pressured by authorities.
MANIPULATION AND MISINFORMATION


Taking advantage of the acquaintance between Salyanova's relative and the deceased girl, authorities fed media statements to make audience perceive the Ex-Attorney General's relative as a murderer. Headlines read: "The case on the murder of Camila Duyshebaeva reopened. Interior Ministry announced search for Kalybek Eltuybasov", or "Case of K.Duyshebaeva. A relative of the former Attorney General A.Salyanova Kalybek declared wanted","Kalybek Eltuybasov (Salyanov) is wanted in the case of Camila Duyshebaeva".
Kyrgyz authorities went as far as abusing the Interpol system again. Eltuybasov's Interpol search was organized by Pervomaisky district court judge Aibek Ernis ulu — the same judge who meticulously executed orders of the authorities in sentencing Tekebayev and other opponents of the authorities.
Kalybek Eltuybasov was forced to flee the country and seek asylum in the United States. In February 2019 in a court hearing the American judge insightfully described the Kyrgyz authorities: «respondent has demonstrated a well-founded fear of future persecution, […] although Eltuibasov is being charged with a crime of general applicability, the record contains substantial evidence that the charges are fabricated. […] since Kyrgyzstan's independence and no matter the presidential or parliamentarian regime, pressure and criminal charges against outcast high-ranking personalities have stemmed from the 'logic' of a neo-patrimonial regime. In this context, any challenge to the corruption status quo results in retribution."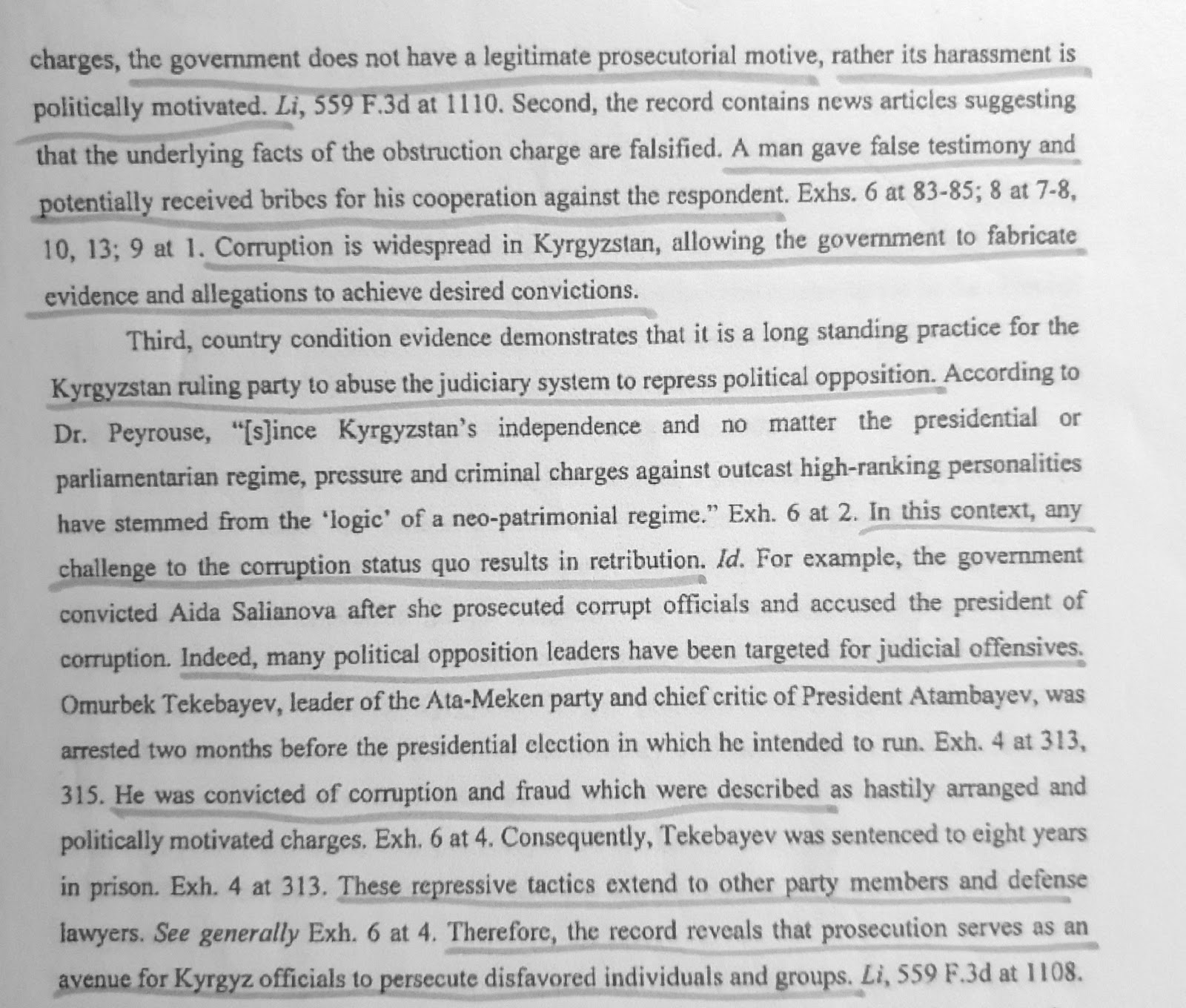 Excerpt from Kansas city immigration court decision on Kalybek Eltuibasov
Assassination
Three months after Kalybek Eltuybasov was declared wanted, on the night of November 6, 2017, several armed men in camouflage uniforms and masks broke into the house of Aida Salyanova's brother. As a result of the armed attack Ulan Salyanov was killed.
Although no money or valuables were stolen the law enforcement agencies tried to characterize it as a simple robbery and denied any suggestions that the case was politically motivated. This was the official position of Ulan Israilov – Atambayev's former bodyguard, whom the latter appointed the Minister of Interior.
Aida Salyanova insisted that the murder was politically motivated. She was also her brother's main defender in the invetigation. Thanks to her persistence the main suspect was detained at the end of December 2017. Two more were arrested in Russia in 2018. A witness in the case stated that one of the suspects confided about an offer to kill a high-ranking person. The witness, however, doesn't know who the target was.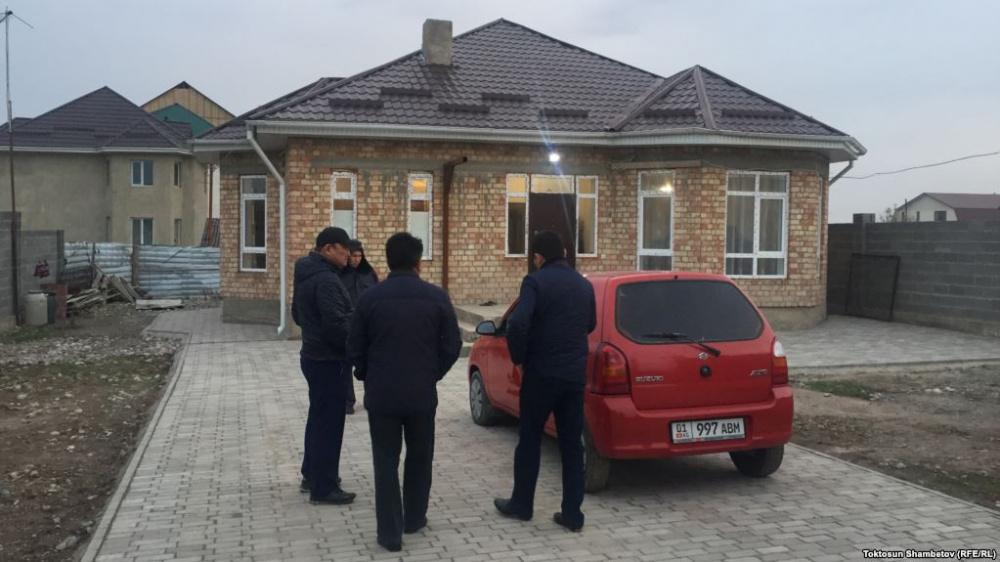 Ulan Slyanov's house.
Foto: Toktosun Shambetov RFE/RL
ANOTHER ACCUSATION
On June 5, 2019 Aida Salyanova was arrested and was charged with participation in the release of criminal boss Aziz Batukayev.
Aziz Batukaev is a "thief-in-law" and a member of the transnational criminal organization "Brothers' Circle". He was sentenced to 16 years in prison for drug trafficking and illegal possession of weapons.
EVACUATION OF A VIP
Evacuation of the crime boss was brilliantly executed.
In 2013, the crime boss pretended to be terminally ill. On February 27, 2013 his sister Yaha, now serving a 17-year prison sentence in Russia for involvement in the heroin trade, submitted a letter to the Minister of Health of Kyrgyzstan, requesting medical tests for her brother.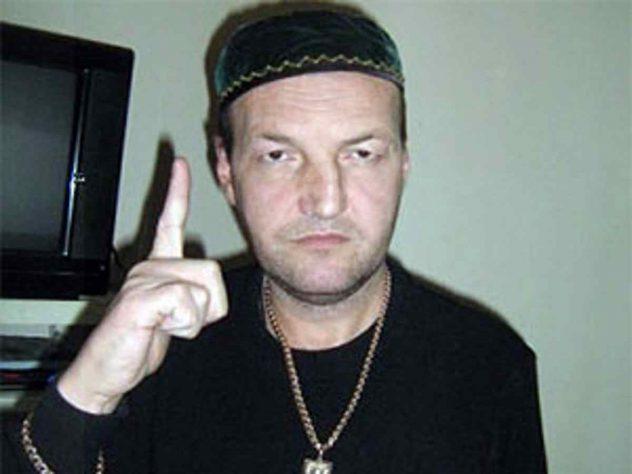 Aziz Batukayev.
Foto Prime Crime
On the same day the head of the Kyrgyz State Penitentiary Service (SPS) and the Institute of Hematology sent a medical specialist to the colony. Officials allowed Yaha Batukaeva to transport the consultant with test tubes to and from the remote, inaccessible Naryn province in her private car. The next day the laboratory ran the tests and concluded that smears contained acute myelogenous leukemia.
It took a month and 5 government agencies (the State Penitentiary Service, the Institute of Hematology, the Ministry of Health, 3 prosecutors supervising penitentiary facilities and a judge) to release the crime boss.
Its worth noting that 8 years of efforts by international organizations, the UN and the Western politicians to free the prominent and seriously ill elderly human rights activist Azimzhan Askarov who was sentenced to life in prison on trumped-up charges have been fruitless. The case of the Chechen criminal boss's evacuation is a unique example of the concerted actions of the Kyrgyz state apparatus, which in all other cases, systematically stalls. It indicates that when the Kyrgyz government is interested, it can be shockingly effective.
From the investigative papers the actions of each official are clear and confirmed by paper trail. For example, General Rysaliev who was then the Head of the State Penitentiary Service initiated the process of the release, The Ministry of Health and the Institute of Hematology covered the medical part. 3 prosecutors, Mr.Akmatalyev, Mr.Aymambetov and Mr.Jumatayev participated in the court proceedings and expressed their official consent for the release.
In the ongoing investigation the above mentioned prosecutors testified against Salyanova stating they acted on her verbal orders and thus shifting the blame on her. Salyanova's attorney Rabiga Sydykova believes that the 3 implicated prosecutors received leniency in return for false testimony against Aida Salyanova. According to Salyanova's defense team these charges lack any evidence.
VIP CRIMINAL, THE SON OF KGB CHAIRMAN, SCANDALOUS OLIGARCHS
Immediately after the trial, escorted by the State Penitentiary Service Chairman Rysaliev's Aide and an armed SWAT, the Chechen drug trafficker was taken to the Manas airport where a private jet and a new passport prudently ordered by Rysaliev a month before awaited. When asked about the SWAT escort Mr. Zarylbek Rysaliev told a Parliamentary committee that he ordered it "For safety reasons, in case of the assassination attempt against Batukaev". As if he the person in question was not a dangerous criminal, but a VIP.
Among other high officials implicated in this case, the son of the former Kyrgyz vice-prime minister supervising the law enforcement block, who at different periods of time held posts of the chairman of the State National Security Committee (KGB) and Minister of the Interior Shamil Atakhanov — businessman Daniyar Atakhanov played an interesting role in this operation.
The Kyrgyz Parliamentary committee received a certificate from the Ministry of Transport and the Manas Airport on the chartering and servicing of a private jet Bombardier Challenger 300 which whisked Batukaev away to Grozny, Chechnya. The application for flight service to Kyrgyz air navigation stated "Transporting a Private VIP". "Anilia" and "APR" companies and their director Atakhanov Jr. were identified as the host.
AGAIN THE KAZAKH "TRIO"?
At the parliamentary committee hearing company representatives reported that Daniyar Atakhanov is also a permanent host for the Kazakh oligarch Alexander Mashkevich, who often flies to Kyrgyzstan on his private aircraft.
"Anilia" LLC is a subsidiary of "CIM KG INTERMEDIARY", owned by Mashkevich. In 2015 Mr. Adylov Sultanhodzha became the head of the firm. Mr.Adylov also directs and co-owns companies with Bolot Abirov – the contractor for "Eurasian Natural Resources" coal — a corporation owned by the "Trio", a probe into which brought grim consequences for the ex-Prosecutor general. According to some reports in July 2019 Bolot Abirov hastily left the country. There was no official report that authorities are looking for him.
REVENGE OF THE INTERIOR MINISTER?


The ongoing investigation against Salyanova may be biased due to desire to settle scores.
The investigating body is the Ministry of Interior. The head of the Ministry is Major General Kashkar Dzhunushaliev.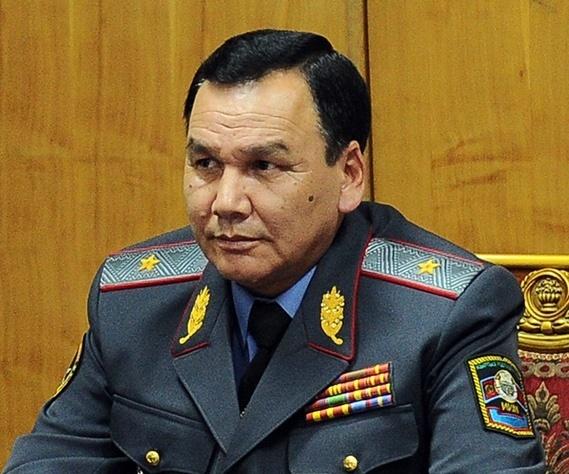 Kyrgyz Minister of Interior Kashkar Dzhunushaliev
On February 2, 2012, Aida Salyanova opened a criminal investigation against him, alleging that Kashkar Dzhunushaliev, then deputy head of the Ministry of Interior, bypassed the legal procedures and issued a license to sell fire-arms and ammunition to his own daughter. The criminal case then ended in nothing. When the case came to the court, from March 2012 to August 2012 the defendant Dzhunushaliev fell ill. In August 2012, a judge of the Pervomaisky district court ceased the case on illegal issuance of license for fire-arms trade. The judge did not give any comments to reporters. By comparison, the rightful renewal of lawyer's license to an immigrated lawyer landed Salyanova with a 5 year prison sentence.
Two years after that probe Kashkar Dzhunushaliev becomes Minister of Interior, and the judge Subankulov, who acquitted him warrants Aida Salyanova's arrest.
THE CHARGE AGAINST ATAMBAYEV
It is clear that new president Jeenbekov is scrambling to charge Atambaev. Scandal around Aziz Batukaev's release is a perfect pretext. Perhaps knowing that Salyanova is being pressed for testimony against him and fearing his nemesis will be used by new Kyrgyz ruler against him, Atambayev made a public appearance stating "I'm sure that Salyanova has absolutely nothing to do with the Batukaev's case".
On August 9, 2019 Atambayev was arrested and authorities finally brought charges against him including on Batukayev's release.
It is known that the investigation expects Salyanova's testimony against the former president. However, Salyanova's aides report that in spite of the pressure exerted on her ex-prosecutor General will not commit perjury.
The efforts of the current Kyrgyz authorities to charge Atambayev at any cost, cutting corners and extorting the desired testimonies will yet again result in a grossly fabricated case. Despite abundance of evidence pointing to Atambayev's committing graft, grand corruption and other crimes the opportunity to bring him to true justice is being lost due to unprofessionalism and corruption of investigators and judges and their servitude to authorities. Atambayev may walk free or claim the charges against him are political persecution. These claims may partially be true with Bakiyev's old homies back in power.
Author: Satina Aidar
is a lawyer from Kyrgyzstan, she writes here under a pseudonym.
Original source: KIAR. Kazakhstani Initiative on Asset Recovery.