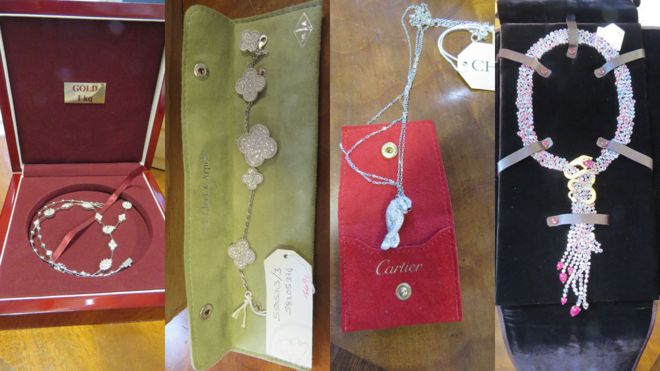 The jewellery seized by officers: A diamond cluster and bar necklace, a magic Alhambra bracelet, a diamond Panthere pendant and a sapphire and ruby serpent pendantNCA
The 49 items of jewellery were seized by officers on Tuesday as part of a continuing investigation

More than £400,000 of jewellery from the world-famous Christies auction house has been seized by the National Crime Agency, as part of a major investigation into a woman who spent £16m in Harrods.
The 49 items of jewellery were seized on Tuesday by officers investigating the woman and her husband - who are the first targets of a new power looking into unexplained wealth invested in the UK.
Last month, the BBC won a legal battle to name Zamira Hajiyeva, from Azerbaijan, who has been ordered by the courts to explain how she could afford £22m worth of property in the UK.
That property comprised a large home near Harrods, along with two bays in the store's private car park, and a Berkshire golf course.
Mrs Hajiyeva also spent £16m in the luxury goods department store over a decade - some of which went on high value jewellery.
Her husband, Jahangir Hajiyev, is in jail in Azerbaijan after being convicted of defrauding the state bank he once ran of millions of pounds.
On Thursday morning a judge ruled that the NCA could hold the jewellery taken from Christies for six months, as part of its continuing investigation into the family's wealth.
In a statement, the NCA said that Christies had been valuing the items for Mrs Hajiyeva's daughter, Leyla Mahmudova.
"It is the view of the NCA that the source of the funds to purchase the jewellery requires further investigation," said the statement.
"Christie's auction house co-operated with the investigation, complying with a formal request for information," said the NCA statement.
The most expensive item seized is a Boucheron sapphire and ruby necklace worth up to £120,000.
While an earlier court hearing into Mrs Hajiyeva's wealth revealed she had bought that brand of jewellery from Harrods, it's not clear whether this particular item was part of her shopping spree.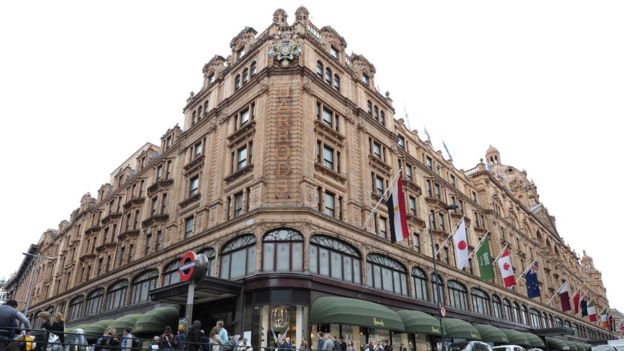 Another of the items, a Van Cleef and Arpels pearl necklace valued at £20,000, is said to have been bought by the jailed banker in 2008 in St Moritz, Switzerland.
Other items seized include a Cartier "Panthere" pendant worth up to £9,000 and a £4,000 diamond cluster and bar necklace.
Unexplained Wealth Orders are a new power to combat suspected international corruption.
The court orders target individuals and families, linked to foreign governments, who have invested in property in the UK with no clear source for their wealth.
Under the terms of her UWO, Mrs Hajiyeva must explain to investigators how she and her husband became rich enough to buy their London property, or face a second court order to seize the property.
Up to nine more UWO cases are in the pipeline, with targets including former officials linked to Russia and corrupt regimes in Africa.
In a previous statement, lawyers for Mrs Hajiyeva said she would co-operate with the court process and had not been found guilty of a criminal offence.
In court, they had argued that her husband was not a corrupt official - he had made his money legitimately and was the victim of an injustice.
The BBC has contacted Christie's for comment.
Duncan Hames, of the anti-corruption campaign group Transparency International, who lobbied for the introduction of UWOs, said the NCA's latest move revealed the scale of the task it faced - and urged businesses to report suspicious transactions.
"This really goes to show quite what a range of businesses can be potentially be exposed to allegedly illicit assets," he said. "We often hear about estate agents and banks, but anyone involved in the sale of high value goods, luxury cars, even private education, face the same risks."
Dominic Casciani, 2 November 2018