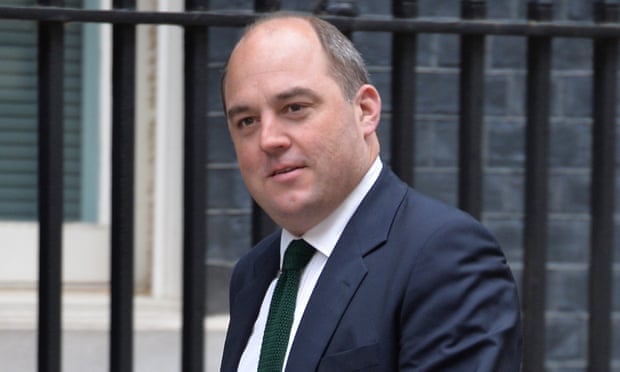 Estate agents, high street solicitors and accountants who facilitate about £100bn of money-laundering in the UK but are failing to report suspicious activity face a crackdown under a government drive against economic crime.
Security minister Ben Wallace has warned public schools, football clubs and luxury car garages they must report irregularities, pledging to "go after the status" of the worst culprits by focusing on where they spend their illegal cash.
In an interview with the Guardian, he set out plans for the new multi-agency national economic crime centre launching on Thursday, which will prioritise the most serious offenders, boosted by a £48m cash injection and a more intelligence-led approach.
Wallace told the Guardian: "The ones who pretend their hands aren't really dirty and profit from moving dirty money and knowingly conspire ... they're cowards to pretend they're nothing really to do with it. They are the ultimate. It's like the McMafia programme, they comfort themselves by being at wonderful events and not getting their hands dirty, but their hands are as dirty as the person trafficking the child that they're making their money from.
"We're going to make sure that people who are proactively being facilitators are at the front of our queue as much as the actual nominals of the organised crime groups and we're going to do everything we can to prosecute them."
The government is also expected to toughen up its approach to Scottish limited partnerships, a business loophole that it believes has been used by foreign criminals to launder dirty money in the UK.
But the principal focus of the serious and organised crime strategy, published on Thursday, is the crackdown on illicit finance and the professionals who facilitate it. If they fail to report suspicious activity they face sanctions including, ultimately, jail.
Wallace said he wanted to prevent serious offenders from using their illegal cash to boost their reputations. "Part of that is going after the status. If all you can go shopping with is a Tesco Clubcard, you're not really much of a gangster are you?" he said.
"If you're denied your ability to spend your ill-gotten gains, if you can't go and buy a flash car or a box at a sporting event or a nice house in Belgravia, if you can't do any of that then you strip away the ability for them to launder their reputation."
He added: "We need to go after the people who have not played their part in hardening the environment and reporting. So the purveyors of luxury goods, the public schools, the sporting institutions, who don't ask many questions if suspicious people come along with cash or other activities, we will come down on them."
High-value car dealers are regulated and so are required to file suspicious activity reports if they suspect money-laundering. Schools, although not obliged to report, are still subject to money-laundering laws.
The regulatory bodies for property, accountancy and the law have already been hauled in by Wallace and Treasury minister John Glen, who warned them that unless they did more to root out illicit activity, their members would face closer scrutiny.
The beefed-up response will include new specially trained police to improve and coordinate fraud investigations, more officers at the National Crime Agency to identify and seize criminals' money, and extra investment in data and intelligence assessments.
The government had been accused of not doing enough to tackle money laundering in the wake of the Panama Papers revelations, unveiled by organisations including the Guardian in 2016. Wallace admitted that the system had not been responsive enough, but added that since then UK authorities had begun 68 criminal investigations, as well as seized £1.6bn in assets since 2010 and frozen hundreds of millions more.
He added: "Too many people have felt that security and prosperity are mutually exclusive and it's just not … Post-Brexit if we're going to make Britain and the City of London successful then it has to have a reputation for cleanliness and security."
Wallace said that the banks, which are responsible for 83% of suspicious activity reports, had more to do but were willing to play their part in the crackdown. It was the estate agents, accountants and lawyers that must make additional efforts.
"My point about small and regional firms is that you can make big ripples in parts of the country by taking action if you find out people have not been [reporting]," he said.
He warned that the public also had a responsibility to face up to the role they played in supporting organised crime, singling out bootleg cigarettes, nail bars and car washes in particular. "Actually what they don't realise is that the 'wink, wink, nudge, nudge' is a guy who might push 10 packs of fags in that bar but he is [also] pushing a container and actually next week he doesn't bring in a container of drugs he trafficks some children," he said.
"It goes to the heart of how passive do you want to be? Those middle class people taking themselves into the nail bar in the local high street who don't think they're really fuelling organised crime, well they are. The point of this is that we all have a role to play."
The national economic crime centre will target domestic organised crime, such as county lines gangs that use vulnerable young people as drugs mules, as well as major international gangs.
The Guardian News, 01 November 2018